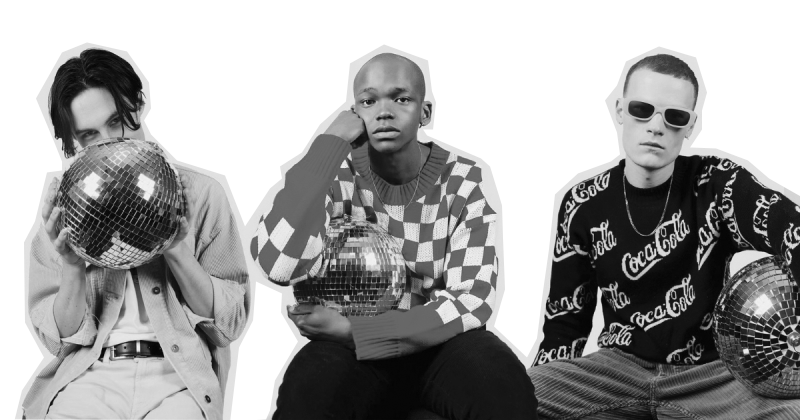 By Kobus Erasmus
Upbeat, punk guitar riffs and intricate hyperpop-inspired instrumentals filled Aandklas as Internet Girl took to the stage for their first Stellenbosch performance. The Cape Town based trio played an array of their old, new and unreleased music at the bar on 4 February. The band's live setup consisted of a DJ deck with two laptops, a synthesiser and a guitar. This unconventional setup, along with the band's electric stage-presence resulted in a surprising, fresh live performance.

Internet Girl was founded around three years ago when a perchance Instagram direct message led childhood best friends Ntstika "TK" Bungane and Matthew "Neese" Burgess to meet James "Griggs" Smith. Initially living in different parts of the country and only being able to make music online, the band's Brockhampton-esque come-up story was fulfilled when the band eventually moved in together to make music full-time.

The band released their sophomore EP parasocial interaction on the 3 February through R&R Digital, a record label based in the United States. The project includes features from the likes of Sophie Cates, Poptropicaslutz! and frequent collaborator Hugo Pooe.

Lead vocalist TK explained the themes that the concept-EP tries to explore.

"[The project] is about the dissonance between your real life and what your fans view, like the perception they have on the internet… Most of our fanbase is on the internet."

The band has seen great international success, landing top spots on coveted Spotify playlists such as "Fresh finds", "Hyperpop" and "Lorem." With a majority of their fanbase residing in the United States, the band are still finding their feet among local audiences, as explained by the band's producer/ DJ mastermind, Neese.

"Hundreds of thousands of people fuck with us online, but in real life there wasn't that [same] feeling."

The band shared that a big dream of theirs is to tour internationally.

"We really want to go on international tours. We are tapped into [our international fanbase], not on some crazy level, but we're tapped into that fanbase slightly." says Griggs, the band's lead guitarist.

Furthermore, he explained what type of music listeners can expect from the band in the future.

"I think the attitude that hiphop music sort of has… we want to bring that attitude to the songs that we make in the future rather than a very clean, poppy vibe."

Neese elaborated that future releases will still encapsulate the band's punk attitude with "Grung-ey guitars while also [focusing on] electronic production."

Not many South African artists are doing it like Internet Girl. With their cutting-edge music production and ability to deliver a stellar live performance, it truly seems as though this local band is on the forefront of the ever-changing music landscape. Follow Internet Girl on Instagram @internetgirlmusic and stream their new EP parasocial interaction on Spotify or Apple Music.