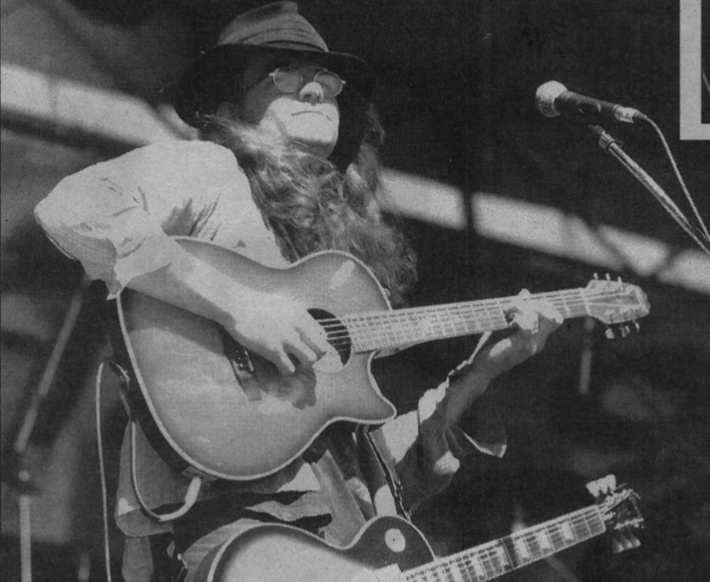 Jo making us 'Comfortably Numb'
---
ANNERI COETZEE
Any student who enjoys rock music knows that Bohemia on a Tuesday evening is a secret oasis of some of the best classic and alternative rock covers by the Jo Martin band. The duo consists of Jo Martin, originally from Cape Town, on guitar and vocals, and Tony Marx, primarily on drums and base.
Die Matie met up with this dynamic duo to talk about how things started out, their experience at Bohemia, and their music. Marx was bartending at Gecko Bar in Hermanus and asked Mar- tin, who was performing there at the time, if they could jam in the parking lot after his performance.
On the second last song, Martin called Marx from behind the bar to the stage, and the duo covered the old blues song, "One Bourbon, One Scotch, One Beer". It was Marx's first performancein front of an audience, and he only recalls being, "glad he didn't throw up"
Martin has been performing at Bohemia for 17 years, starting in 2002 as bassist for his then Johannesburg-based band, Akkedis. Marx joined him in 2006 after their meeting at Gecko. The duo has been performing together at Bohemia for over 13 years. Asked about the experience, the band said it is therapeutic, being their time to "unwind and plug-in".
"The venue is firstly one of theonly places in the whole of the Cape that still supports our typeof music. The venue, staff and people are great. It has been a great journey," said Martin. Marx added that "the crowd is always in the best vibe. It is a great experience, every time."
Jo Martin has released four al- bums to date, which include a variety of classic rock covers to alter- native rock originals. Their latest album, Resonance, which consists only of original tracks, was mastered by Peter Mew in London at Abbey Road Studios, the same studio that gave birth to the likes of Pink Floyd's twelfth album, The Final Cut, The Beatles' self-titled album and Lady Gaga's, Born this way.
Their other albums include, Ten Years Distilled, an album of "unplugged tributes to some of the greats", and Turnaround, an album of mostly original blues and rock. They are influenced by less mainstream artists like Tom Waits and Leonard Cohen. When the band isn't rocking the stage or in rehearsals, they enjoy engaging in personal activities to unwind.
"Musicians are givers. Some- times, you have to self-preserve. Whether that's writing, painting, or sitting in front of the ocean for three hours," said Marx. The band will continue per- forming at Bohemia every Tues- day, so you can catch them to- night. They also play at Gecko Bar Hermanus on the last weekend of every month.
Their albums are available at all performances for R120 a pop, or online at the band's website. Tuesday nights would be a dull affair for many if it weren't forMartin's smooth tunes. So, rock on Jo Martin. Rock on.