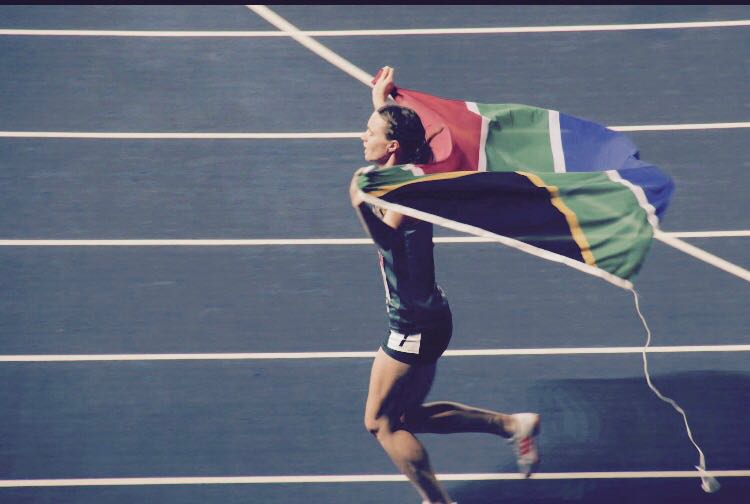 A comeback in the making for Matie athlete
Arleen Stone
In 2015 Justine Palframan achieved world renown when she won gold in the 400 m sprint at the World Student Games in Gwangju in South Korea, setting a new personal best of 51,27 seconds.
In the same year she also competed nonstop in other championships, including the SA Student Championships (where she won both the 200 m and 400 m sprints) and the IAAF World Seniors in Beijing in China, making the semi-finals of the 200 m.
However, 2016 proved to be more difficult due to a lack of proper recuperation, with Palframan's personal times becoming slower as a result. By the end of the year she considered hanging up her running shoes for good.
"I think having three major world championships in 2015 where I had to do heats, semis, and finals, and there was a lot of pressure, everything just became too much. I was exhausted and I had to run through it."
So then, by the end of the year, I lost the passion and I did not want to be around the track," said Palframan, who is currently an honours student in biokinetics at Stellenbosch University.
It has been her dream to compete in the Olympics for a long time, and in 2016 the Rio Olympics brought her one step closer to achieving this dream. But being physically and emotionally drained from the previous year, Palframan struggled to remain motivated.
"I had to try to qualify and to prove I was fit, but neither my mind nor my heart was in it."
During the difficult processes of achieving the running time needed to qualify, Palframan completely lost confidence in herself.
"Even when I eventually got the time, was proven fit, and was going to the Olympics, it was more like a relief that I was going. It was not what I was expecting to feel.
"When you have been working for this your whole life, you should be energetic, you should be ready to run and I was actually dreading it.
"After it was finished and I went home and thought about my performance, I was disappointed. But I sat and thought about all the moments I had with my family, my coach and my friends, and I just felt the passion again.
"I know there is more in me. I found the belief in myself again."
This season, under the guidance of her new coach, Suzanne Ferreira, Palframan has turned over a new leaf with a focus on regaining her love for running. Palframan added that the lack of training partners with the same season times as her, also contributed to her lack of motivation. This has all changed under Ferreira, and with the help of her new training partners.
"It's a big family group environment. I know now that I always have training partners and we are doing the same program," said Palframan.
This year Palframan and 43 others were chosen to represent South Africa at the World Student Games in Taipei, Taiwan. Not only did she place, but she was also chosen as the team's captain and flag bearer. She won silver in the 400 m in 51,83 seconds, her best time for the season and the second best time of her career.
Following her improvement, Palframan's overall goal for the future is to be able to run a race with utter enjoyment and without any anxiety beforehand.
"I still get very anxious. I do enjoy the race, but only after I've done it and I've thought about it. I want to start a race with a pure and honest smile."
Palframan is currently working on qualifying for the Commonwealth Games in April 2018 and is planning to qualify for the 2020 Olympics in Tokyo, Japan.