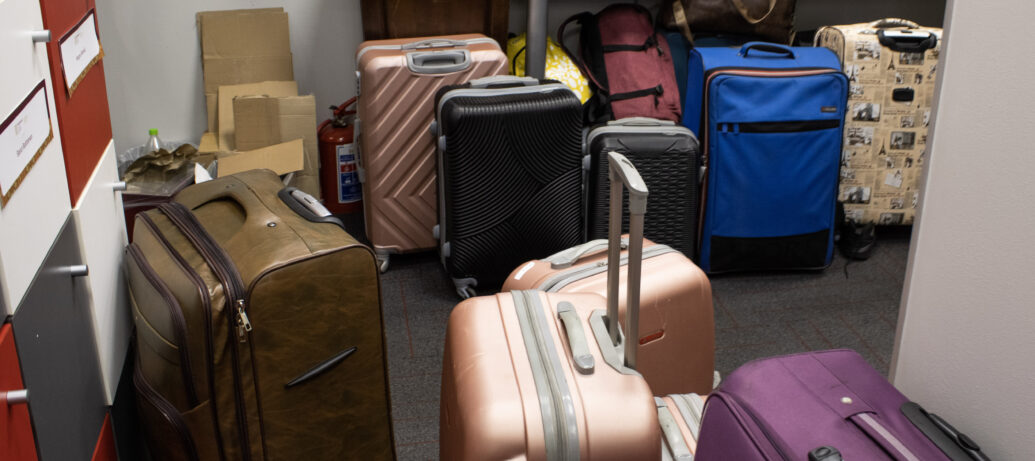 By Aurelia Mouton and Lesedi Mnisi
Many National Student Financial Aid Scheme (NSFAS) students, across South Africa, are facing an accommodation crisis due to the recently announced R45 000 accommodation funding cap. This cap was confirmed in a media statement on 5 December 2022 by the Chief Executive Officer of Universities South Africa (USAf).

Prof Stan du Plessis, SU Chief Operations Officer, said in an email to the SU community on 14 December 2022, that SU has asked NSFAS for clarity on how students are expected to cover the shortfall between accommodation costs and the accommodation cap.

NSFAS has announced that students can apply for an exemption from the accommodation cap. As per Du Plessis' statement, the university believes that when considering applications for exemption from the accommodation cap, NSFAS will prioritise university accommodation.

According to Martin Viljoen, SU's media manager, the university applied for its residences to receive exemption from the funding cap on 25 January and is currently awaiting feedback from NSFAS.

Women's junior residences at Stellenbosch University (SU) cost a minimum of R50 340 (for a sharing room) and R61 100 (for a single room) per annum. Men's junior residences cost a minimum of R51 430 (for a sharing room) and R62 550 (for a single room) per annum. Junior co-ed residences cost a minimum of R62 550 per annum. Senior residences cost between R46 750 and R65 090 per annum. These prices are for the duration of 10 months in residence, and excluding meals.

Private accommodation tends to be even pricier. For example, Nooitgedacht A (a NSFAS accredited private accommodation) costs R63 400 per annum for a single room in an eight bedroom apartment. Nooitgedacht A is approximately 1km from campus. CampusKey, which is also accredited, has prices from R52 000 up to R116 000 per annum. CampusKey has various different buildings in Stellenbosch, with the furthest one from campus being approximately a 1km away from campus. These prices are also all excluding meals and for 10 months.
According to the Skills Portal website, NSFAS received 1 587 968 applications for 2023 and as of 31 January 613 909 applicants have been provisionally funded. SU orientation week began on 31 January, thus many students (specifically newcomers) were unable to make plans for their accommodation as they were uncertain of whether they would be funded or not.

In an e-mail to the SU community on 6 February by Dr Ronel Retief, SU registrar, the university shared information regarding what they are doing to assist affected students during this time. SU has extended the closing date of registration to 3 March as well as waived registration fees until this date. The university is also providing students with the opportunity to apply for temporary SUNLearn access if they experience funding delays. SU has also teamed up with various banks – such as Capitec, Nedbank and Standard Bank – to provide loans to students. The university is in continuous contact with NSFAS to try and get clarity on student's funding.

The Rectorate and Student Representative Council (SRC) is trying to manage this accommodation crisis that has left many Maties without a place to stay; however, they are facing many logistical issues.

"According to SU's residence placement system, there is not a single available bed in residences at this stage. The Student Accommodation Office is in regular contact with residences to determine if there might be any open spaces as a result of no-shows that have not formally been reported," says Viljoen.

As per SU's website, the university has approximately 30 residences and other types of housing (such as student houses for senior students), that are able to accommodate 6 500 students altogether. All other students will have to make use of private accommodation. There are more than 30 000 students currently enrolled at SU's Stellenbosch and Tygerberg campus, as per the university's website. There is a list of private accommodation that has been accredited for NSFAS by SU available on SU's website for students seeking accredited accommodation.

Viljoen said external SU donors, who have already been supporting NSFAS funded students, have agreed to cover the shortfall caused by the NSFAS cap, to ensure that the students they have been supporting are able to remain in private accommodation.

Masilo Silokazi, chairperson of the SRC, says that "The registrar has created a committee that [is]working hard to try and figure out how to address the accommodation issue. SRC representatives are also sitting on that committee, so that they can also speak about what they have been seeing on the ground."
Members of this committee includes the SU registrar as its chair and various representatives from the SRC, Division for Student Affairs, the Student Accommodation Office, Student Fees Division, and the Development and Alumni Relations Division, said Viljoen

Prince Kelebogile Qengqa, the SRC's portfolio manager for student wellness and student leadership development, says that to date approximately 160 students have contacted the SRC to assist them with accommodation and the number remains rising. Qengqa spearheads the emergency placement accommodation initiative, where students are housed in the university's backpackers facilities on campus.

According to Qengqa, the backpackers accommodation can be found in the AmaMaties and Wimbledon hubs. 24 beds are available. After collaborating with the university management and Prof Deresh Ramjugernath, Vice-Chancellor of Teaching and Learning, the SRC were able to find more spaces to accommodate students. One of these spaces is a guesthouse in Cloetesville.

Silokazi says the SRC is striving to address the accommodation crisis in a manner that preserves the dignity of the affected students.

"Alongside trying to figure out how to deal with the crisis now, the committee is tasked [with]trying to find out where we can open more spaces so that we don't have a crisis that happens like this again", she says.

This is a developing story, check out @diematie for updates.