By Ané Havenga
University of Pretoria (UP) Tuks shifted into another gear in the second half of the Varsity Cup final, and after some edge-of-your-seat rugby in the last few minutes of the game, won with 29 – 23 over the men in maroon. This match took place on 25 April and although Maties' loss might have tempered the spirits of their supporters, seeing the Danie Craven stadium at full capacity with students and other supporters singing along to every song was still a sight to behold.
The excitement at the stadium began earlier in the evening when Tuks' Young Guns beat NWU Eagles Young Guns 22 – 14, making it their sixth title in eight tournaments. After the match, the stadium prepared for the much-anticipated final. The South African flag covered the field, the cheerleaders had a wonderful dance, fireworks were blazing, Stellenbosch High School learners sang the national anthem, and Paralympic athlete Charl du Toit welcomed everyone to the final.
Maties was in control of the first half. The forward pack controlled the breakdowns, and the backline converted and made use of the 11 penalties Tuks conceded in the first half alone. Maties went into halftime with a 20 – 10 lead after a brilliant try by right wing Mike Mavovana and five penalties from flyhalf Nevaldo Fleurs.
In the second half, Tuks brought a different dynamic, and the 19 points scored in the second half to Maties' three points helped them claim their win. It was especially Tuks' last try, from a counterattack by Stefan Coetzee and try scored by Bernard van der Linde, that raised some eyebrows in the stadium, as it was suggested that it might have been a forward pass, but the Television Match Official (TMO), Egon Seconds, said that there was no clear evidence that the ball went forward, and thus awarded the try in the 77th minute to Tuks. Walter Visser, flyhalf, kicked over for the last two points.
His brother, Impi Visser, a legend Blitzbok player and 2017 Varsity Cup winner for Tuks, said after the game, "I was a bit nervous [about] last week's semi-final against the Shimlas [University of the Free State]. I didn't know if they could pull it through. But after I saw that performance in the semi-final, I knew Tuks had a chance to take this game. It was a slow start to the final, but the Tuks boys kept believing and building the stages to stun Maties at home. What a final—what a moment for the Tuks boys! They will remember it for the rest of their lives. It is quite emotional seeing my brother play. I am very happy for him. It is a very special moment to be here with him and having the family here. I am really happy for him."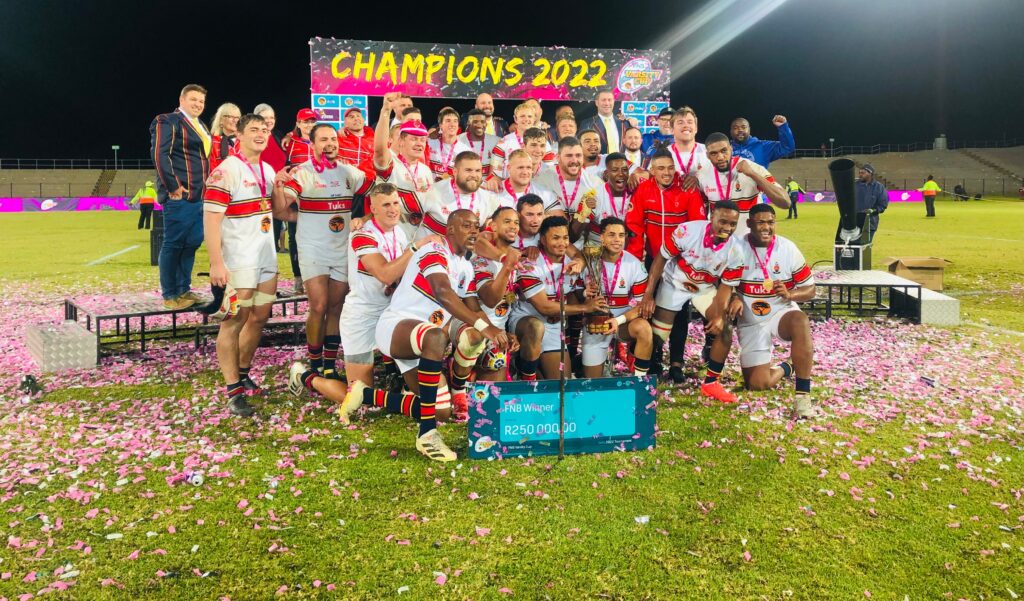 Tuks won the prestigious trophy for a fifth time. Their captain, Lincoln Daniels, was quoted in an article from 26 April on the Varsity Cup website as having said, "When it mattered, no one panicked, and everyone stepped up."
The same article quoted Nico Luus, the Tuks coach, who said, "Maties played brilliantly in the first 20 minutes. We were just sort of hanging in there. Maties dominated in the scrums and lineouts, but we won the small battles. During half-time, I made a few tactical changes. It paid off. In the latter stages of the game, our forwards started to dominate. All [in] all, it was a fantastic team effort. I am so proud of the team!"
In the article, Tuks flank Stephan Smit, the FNB Player that Rocks of the final match, is quoted as saying, "It has been a privilege to be one of the boys. We showed character when it mattered. We had to, as part of Tuks' sports culture is to never give up. You can't give up if you play to honour Tuks' stripes."
The Maties supporters in the stadium were left in shock and disappointment after coming to support Maties but leaving the stadium empty handed. Ilhaam Groenewald, Maties Sport chief director, sums it up perfectly by saying, "I, and especially our team, feel the pain of losing, but we accept our defeat with dignity because it is now time to take rest and regroup."