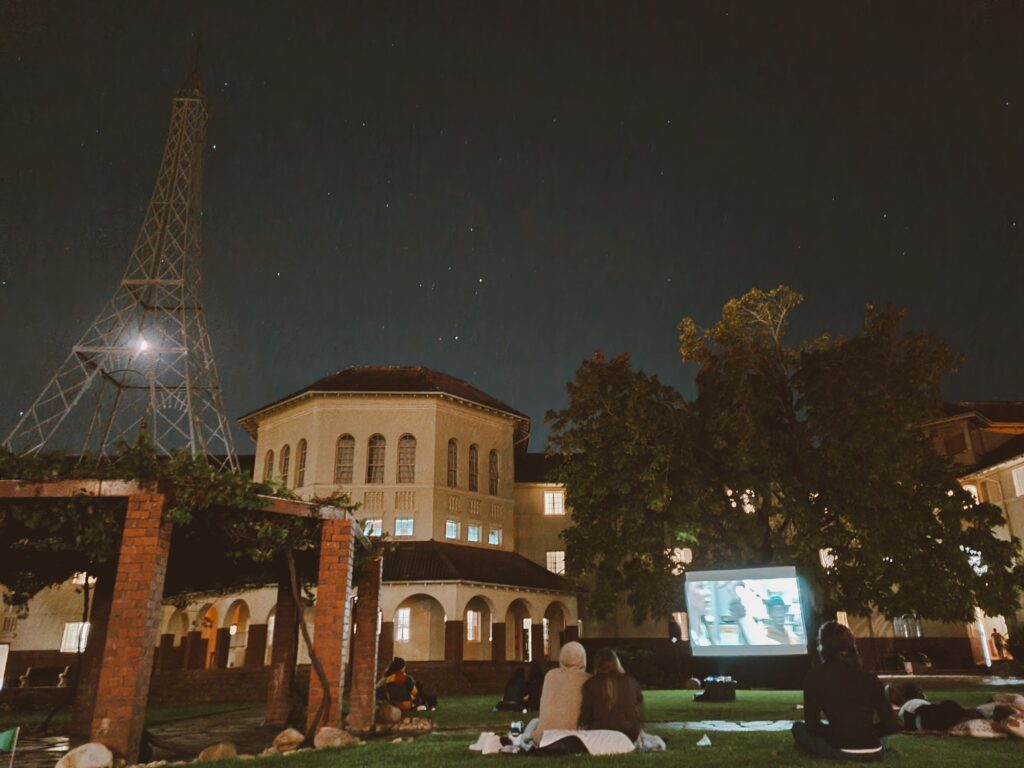 Lights, Camera, Pulp is (Almost) Back in Action!
By Jani Roux
Not so long ago cinephiles from all over Stellenbosch came together on 7 April for an open-air movie night at Dagbreek Men's Residence. The event was hosted by the Pulp Film Society and was their first public screening since renovations to their Neelsie premises began in December last year. 
Pulp kicked things off with a bang with movies from completely different ends of the spectrum. For the horror lovers, they screened the twisting tale of Last Night in Soho, after which they catered to the more faint-hearted with something to sing along to: the romantic-yet-jazzy West Side Story.
Annadeé Oerlemans, a first-year BCom (Industrial Psychology) student, commented, "The movie night was fantastic. The popcorn is 10 out of 10 and the movies are a must-see."
Die Matie spoke to Kaiser Aryee, BAHons (Psychology) student and chairperson of the society, to find out what has been happening behind the scenes. Aryee seemed hesitant to disclose the exact date the cinema will open its doors, but she believes it will be worth the wait when the new cinema is filled with comfortable sofas, the welcoming smell of popcorn and loads of funky films to watch.
Pulp is well known for their unconventional choice in movies. According to Werner de Swardt, previous owner of Pulp Cinema and associate of Pulp Film Society, the films are chosen according to the "c-principle": classic, contemporary and curious. He said that this principle "was a good bet and definitely paid off, [because] Nu Metro and Ster Kinekor [don't] show all the other cool indie films."
As for the future of Pulp, Aryee is confident that "the cinema will continue screening high-quality movies where there is always something to watch."
Another up-and-coming event the Pulp team is bringing to the screen is a mobile cinema. So, be prepared to eat your popcorn and watch your movie under the stars in a spooky forest or at the foot of a mountain, which is bound to make your movie-going experience that much more memorable.