BY KUHLE MANGANA
Die Matie looked back at two incredible female athletes that shone brightly in the 1990s. Not only did they represent Maties, but they also represented South Africa (SA) at the Summer Olympics in their respective years. We spoke to three phenomenal female athletes that are playing or have played for Maties.
Elana Meyer, former Maties long-distance runner, won the silver medal at the 1992 Summer Olympics for the 10 000 m event according to a Die Matie article of 10 August 1992. After the Olympics, Die Matie reported "Meyer became a household name throughout half of the world's population" (Maties presteer by spele, Die Matie 10 August 1992).
"Meyer, Maties' trump card, once again performed brilliantly by winning the 3000 m for women in a time of 8.50'37" and thus breaking the old SAU and provincial record, as well as winning the 10 km road event for women," Die Matie wrote.
In the previous year, she went on to win the 3000 m event at the 1991 South African Universities (SAU) athletics championships, according to a 1992 article of Die Matie ("Elana goes for gold at SAU", Die Matie: 2 February 1992). With this achievement, she broke the old SAU and provincial record. Meyer captained the SAU team while being named the best women's athlete of the championships.
Another Maties athlete, Marianne Kriel, won a bronze medal at the 1996 Summer Olympics in Atlanta for the 100 m breaststroke. This comes after Kriel rewrote four South African records at the 1992 Olympics Barcelona.
"The SA records that had to be rewritten in Marianne Kriel's name, was the 100 m freestyle (57,59); the 100 m backstroke (1:03,20) that she improved in the elimination rounds and later the day in the B-final to 1:03,12. The fourth record that Kriel improved was the 100 m butterfly stroke," Die Matie wrote on 20 August 1992 ("Maties presteer by spele").
Kriel was also nominated as Maties sportswoman of the year in 1993, according to a Die Matie article of 14 October 1993 ("Matie sportsterre vereer").
Andrea Cornelissen, first-year medicine student and Maties Sport high jumper, was told by many of her loved ones that she would not be able to pursue both her athletics career and studies. However, this did not stop her from following her dreams and passion. "No one can limit and cap your potential, and no one should be in a position to instil doubt in you," Cornelissen says.
One of her career highs was jumping a distance of 6,05 m at the University Sport South Africa (USSA) Track and Field Championships that took place earlier this year. This was the light at the end of the tunnel for her because she missed out on two seasons due to injuries. She also lost her grandfather who was one of her biggest supporters.
Speaking on how males and females are treated in her training group, Cornelissen says, "I have not felt that I have to prove something to my coach or go the extra [mile]. Our coach is really good at tending to what we need as specific athletes and I have never felt intimidated."
However, Cornelissen speaks about intimidation she once experienced while on tour. She had an interaction with another team's coach, where the coach interacted and looked at the female athletes in an inappropriate way.
She feels that male athletes never have to worry about "who's around me that I could go to if something goes wrong". After this interaction, Cornelissen found herself hyper aware of her surroundings.
Cornelissen notes that discrimination against female athletes often does not happen blatantly. She recalls being at a competition where the men's 100 m warm up was televised. The women's high jump event was at the same time, but that event was not televised. A men's warm up at that time was prioritised over a women's event.
Sandisiwe Tabata, a hockey player that represented Maties from 2017 to last year, said that men's sports get more exposure than women's sports. Tabata represented the South African (SA) women's team in 2020 and is currently coaching the Maties hockey ladies fourth team.
Tabata makes an example of how Allyson Felix, an Olympic sprinter, was discriminated against after having a child. "That was something that opened the world's eyes to what athletes have to go through to maintain their contracts and how it is set to unrealistic standards, and is set to a male standard."
Tabata advises other female athletes to take inspiration from women in sports that have already made something for themselves. She is inspired by the recent signing of SPAR Proteas captain Bongiwe Msomi to Roc Nation Sports.
"To have that materialise, makes things much more attainable," Tabata says. Tabata continues to say that as a female athlete, it is amazing to excel and to be recognised and valued on a global scale.
Illse Davids, former Olympic hockey player that represented Maties from 2013 to 2016, feels that there is no special treatment for men and women in hockey. However, she has seen a few gaps globally. "The [United States of America's] women's soccer team is paid less than the men's team even though they are bringing in the accolades and are doing much better," says Davids.
Like Cornelissen and Tabata, some of her career lows were experiencing injuries. Davids was selected for the 2012 SA women's hockey Olympic team, after recovering from an injury.
"A highlight for me was beating America in one of our matches," she says. Davids played varsity hockey in the States and some of the players she attended university with, were in Team America.
With 175 caps for the national team, Davids is coaching and is currently the hockey and swimming manager at Bloemhof High School in Stellenbosch. "I love being involved in the growth of hockey and just seeing the players flourish," Davids says.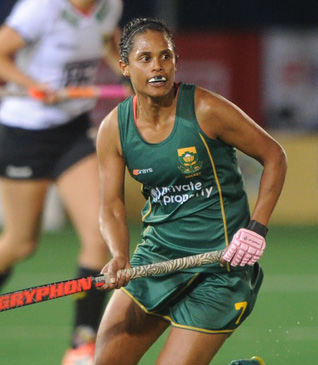 When asked about advice she can give to other female athletes out there, Davids says, "Set your goals and believe in your journey. Know why you want to achieve what you've set out to achieve because that's also going to help motivate you."