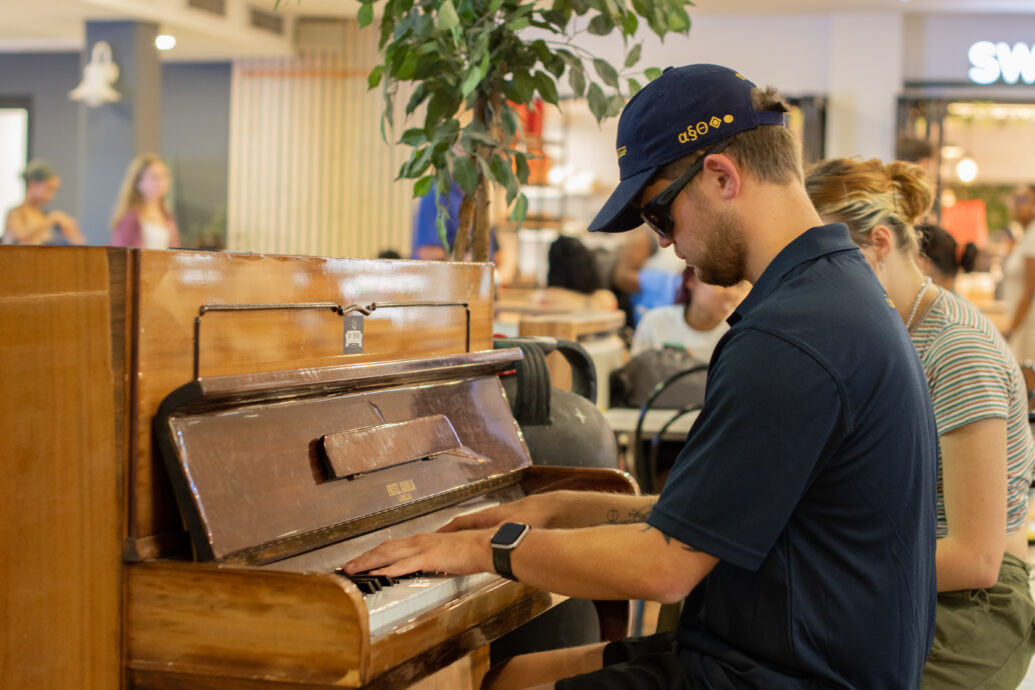 I watch the pianist's fingers waltz over the keys of black and white: swiftly and elegantly, with a certain adamancy. Through their search for an honest melody, they seem to reveal more about the artist than the music itself. With every note, they paint a picture of a place where the soul could be at peace
The pianist is Grant Rousseau, fourth year BEd student. In his mastery you can see that music rushes through him. To him this piano is more than just another instrument as he explains, "The piano can be a way of expressing whatever we can't put into words".
"If it's classical music, it's also a great way to connect with the past… it's a different kind of thinking," he says, going further to commend the timelessness of the music and the way that it could be used as a means of communication when words fail.
To the left of the piano sits the owner of the Neelsie piano, Freddie Kruger, the man behind the beloved coffee shop MyBrew. To him it is a way of giving back and bringing people together.
"It belongs in a house, but it's in the Neelsie. We took the chance and it's amazing to see how many people enjoy it. I mean it creates such a lekker atmosphere," says Freddie.
Rousseau echoes this incentive, saying "[When] you're playing, some people come up and either they are also piano players or they are just interested and they strike up conversations like that. I've met a lot of people just from playing the piano here".
"I was born with only 30% of my vision, and as a result I can't play sports… so it was part of a case of [having to pick] something, so I picked music. I started going for lessons when I was seven, but within six months they told me that unfortunately, you're not going to be able to continue, because you can't read music. I can't see the music in front of me, so obviously that means that I can't play. There aren't any braille options[available for music] – as it currently stands," says Cole Baker, second year BCom Law student, who is also a frequent visitor to the piano.
He stopped formally playing, but after itching to play again after four or five he taught himself to play by listening and finding the keys that mimic the sounds. To him the piano is a way to help others, through positive representation that might be in his situation.
Baker continues, "I think that people kind of stigmatize what you can and can't do when you're disabled… Other people (that) may struggle with something similar may see me in light of a disabled person and a person who is able to overcome the challenges I have and might be able to do the same thing. It's just about being present and seen on campus and I think there's no better place than plonked right in the middle of the Neelsie".
As seen through Baker's story, the impact of the piano might even be felt further than just the music that stems from it. It seems that not just the students of Stellenbosch are being brought together. Lecturers, professionals and maintenance staff are showing off their musical abilities too.
"There's one specific guy I have in mind that no one knew he could play a piano and not even the faculty or the people that he works for knew that he is such a master behind the piano and he came here and he sat down and everybody was just gob smacked by the talent that he showed," says Kruger.
Baker describes it beautifully:" (music) touches something intangible that really can't be done justice with words… It's just an all-encompassing art. And I feel like everybody and anybody can relate to some sort of music; it's something that just brings people together".
The piano is a statement piece; a piece that reminds students to slow down, reflect and remember that they are part of the greater melody of life.