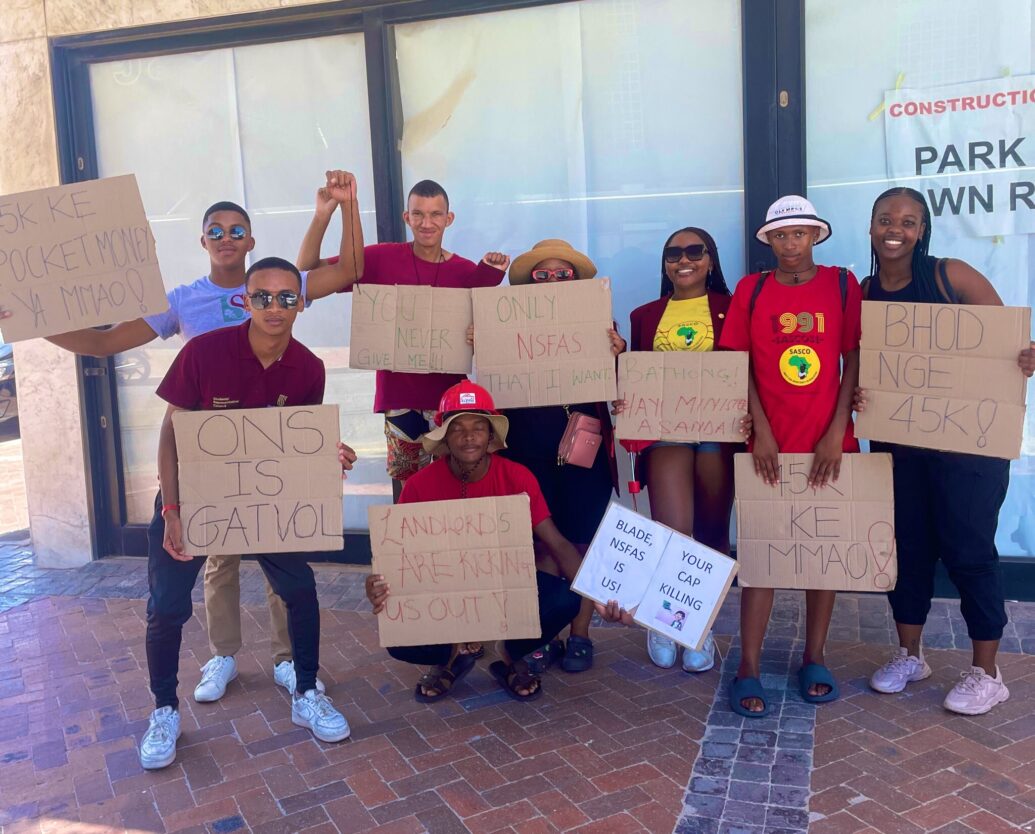 By Lesedi Mnisi
The Student Representative Council (SRC) of Stellenbosch University (SU) held a peaceful protest outside the offices of the National Student Financial Aid Scheme (NSFAS) in Cape Town on Friday 10 February. This was in an attempt to raise their concerns regarding the R45 000 accommodation cap. This protest was held during the visit of Dr Blade Nzimande, Minister of Higher Education, Science and Technology, to the NSFAS offices on Friday.
During their protest, the SRC was provided access to the Chief Operating Officer of NSFAS, Nthuseng Mphahlale, who listened to their concerns and their rejection of the R45 000 accommodation funding cap. This was announced in a post on the SRC's Instagram page.
"Currently, the majority of our students on @myNSFAS can't afford to stay in private accommodation due to the R45 000 cap that was approved by the NSFAS Board and the Minister. Leaving many homeless," the SRC said in their post.
The main concern raised by the SRC was regarding the NSFAS accommodation funding cap. William Sezoe, vice-chairperson of the SRC, said this situation has caused various students to be "unable to access accommodation spaces".
Sezoe said that "access denied to accommodation is basically access denied to education".
Die Matie reported in the edition that was published on Monday, that many NSFAS students across South Africa are still facing an accommodation crisis due to a R45 000 accommodation funding cap that was announced in December. (See below for this report.)
Die Matie learned that Mphahlale would visit the SU (Stellenbosch) campus on Monday 13 February to engage with SU management and the SRC regarding their concerns. This meeting was confirmed in an Instagram story post made by the SRC. The meeting was called to gain more clarity from NSFAS regarding the conversation between the SRC and Mphahlale on Friday 10 February.
According to Sezoe, those in attendance of the meeting with Mphahlale would be private landlords and members of the SU management and SRC. He said the university has established a NSFAS Cap Contingency Committee that will assess the challenges caused by the funding cap and develop possible solutions.
Sezoe said the most favourable outcome from Mphahlale's visit would be that SU is made exempt from the R45 000 accommodation cap.
This is a developing story, check out Die Matie's Instagram @diematie for updates.