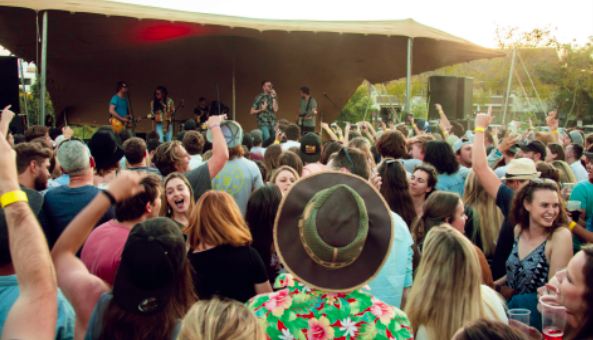 'Down of fokof' by Bierfees
---
ERIN WALLS
*Vertaal deur René Esterhuyse.
Wat is beter as 'n somersdag met goeie bier, wonderlike vriende en
die beste musiek? Absoluut niks. Dit is waarom die Stellenbosch Craft Bierfees vir die 6de jaar in 'n ry terug is. Dié fees, wat twee maal per jaar plaasvind, gaan weer op 12 Oktober 'n draai in die Jan Marais-Natuurreservaat maak, en beloof 'n dag van goeie gehalte musiek, kos, craft gin, sowel as craft bier.

Die Stellenbosch Craft Bierfees bied nie net 'n nuwe ervaring via mense nie, maar skep ook 'n platform vir verskeie artisans om hul produkte uit te stal. Alhoewel die eerste event, wat aanvanklik April vanjaar moes plaasvind, gekanselleer was weens die weer, is dit dié keer hier om te bly. Die fees beloof om feesgangers aan die dans te kry met musiek van die hoogste ge-
halte.
Die bands wat vermaak gaan bied, sluit onder meer die The Rudimentals, Rumswinger en Aidan Martin in. The Rudimentals, 'n band wat uit nege musikante van Kaapstad bestaan, speel musiek wat uit 'n mengsel van genres soos reggae, dancehall, drum bass en dubstep, bestaan. Hulle sê: "Ons is regtig baie opgewonde om by hierdie event op te tree. Ons beloof om 'n onvergeetlike show vir almal te gee."
Daar is werklik iets vir almal by hierdie fees. Vir dié wat nie drink nie of bloot net moet bestuur, sal daar verskeie kombucha-geure, sowel as ander nie-alkoholies drankies beskikbaar wees. Die organiseerders van die fees waarsku feesgangers om nie onder die invloed van alkohol te bestuur nie en eerder van saamrygeleenthede gebruik te maak.
Natuurlik, soos enige Stellenbosch-student sal getuig, is die geld soms net te skaars om sulke wonderlike events met 'n knap begroting te kan bywoon. Gelukkig hoef jy nie oor so 'n rede uit te mis nie, want Die Matie gaan twee kaartjies weggee vir 'n gelukkige leser. Meer inligting oor hierdie opwindende kompetisie sal op ons Facebookblad beskikbaar wees.
'n Ander opsie is om 'n paar vriende bymekaar te kry en saam kaartjies op Quickticket te koop. Afslagword verkry as 'n groep mense kaartjies koop. Wanneer Stellenbosch se reënweer jou gemoed weer swaar laat voel, dink net aan dié fees en die vooruitsig van 'n lekker koue craft bier op 'n warm somersdag.
Vir meer inligting oor wat hierdie fees vir jou kan bied, sowel as die bevestiging van watter ander kunstenaars gaan optree, volg die Facebookblad: Stellenbosch Craft Beer Festival.