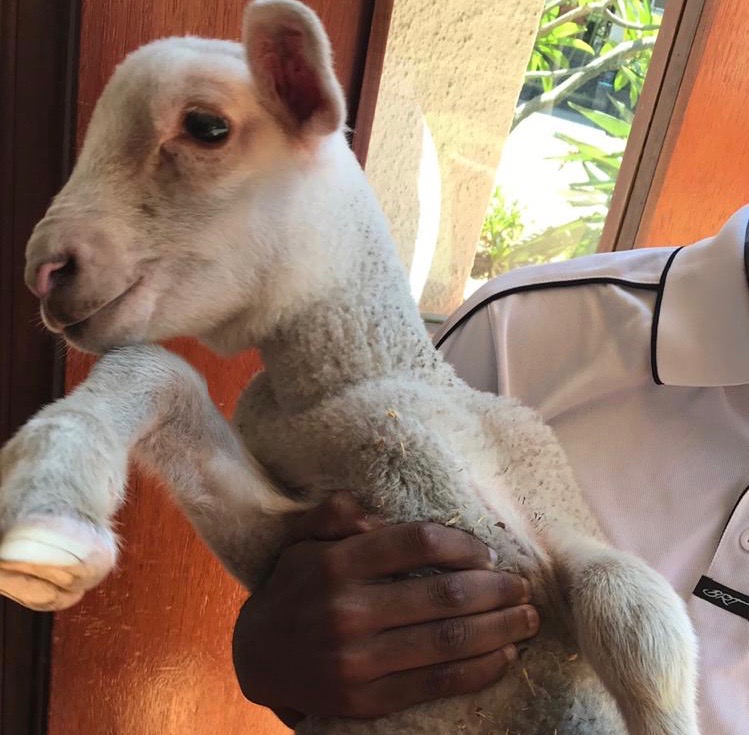 Eendrag remains silent on the lamb
A CHOPPIE FOR WELCOMING The lamb kept in Eendrag for the duration of the welcoming period.
MARIE MJACU
It is not unusual for university residences to have mascots. However, when live animals are involved, concerns are often raised.
On 28 January the Animal Welfare Society of Stellenbosch (AWSS) was called to Eendrag men's residence to investigate a lamb that was living there during welcoming. The lamb, dubbed Choppie, came from a farm near Malmesbury in the Swartland. Choppie was temporarily adopted by Eendrag's HK for welcoming.
Used as a mascot, Choppie was to stay at the residence for the duration of the welcoming period and be present at many of the first years' skakels.
The AWSS was called to investigate a claim that Eendrag was keeping a farm animal in a residential area that may not be suited to the animal's needs. Upon their investigation, the AWSS found that Choppie was being kept in a clean and appropriate room in the residence and that he was being properly looked after. According to the inspector sent out by the AWSS, the conditions were satisfactory and did not appear to be putting the animal, or residents, in any immediate harm.
"Our main concern is the wellbeing of the animal itself and the conditions in which it is being kept. If we are satisfied that no abuse is occurring, then our job is done. It is up to the campus and municipal authorities to take the issue further," said Neil Muller, an inspector from the AWSS.
Campus Security accompanied the AWSS to Eendrag and after the AWSS's evaluation, the HK was allowed to keep the animal for the remainder of their welcoming program.
According to Muller, these situations are sensitive and subjective. Stellenbosch University residences have a history of adopting animals, especially during welcoming.
In 2017, Helshoogte caused a controversy when it became public that a chicken they used as their mascot had been abused by drunken students at an event hosted by the residence.
Animal rights advocate Wilanda Kruger explained that she is particularly against residences having animals as mascots because the future wellbeing of the animal is not necessarily taken into consideration.
"I feel we must ask ourselves, why do we feel the need to have these animals as mascots? Because people tend to view these livestock animals differently to how they view pets and domestic animals and so they are treated differently and not adopted as full-time pets but rather as temporary mascots," she said.
No animal abuse charges have been laid against Eendrag and Choppie has since been returned to the farm from which he came near Malmesbury.
At the time of printing, representatives of Eendrag who were contacted for comment had not responded to Die Matie's inquiries about the incident.
PHOTO: Marie Mcaju