MARIE MJACU
The International Food Evening hosted by Stellenbosch University (SU) International was a festive and colourful evening full of tasty food and vibrant people.
The event, which happens once a semester, is designed to allow international students a chance to showcase food from their countries and to experience the food of South Africa as well. The event is popular amongst international students and South African students alike because of its festive vibe and the promise of tasty food. At R10 a plate, it is really one of the cheapest and best ways to experience food from around the world.
The tables presented by Ghana and Sudan were popular amongst the people who attended the event, and at all times there was a group gathered in front of those tables. Those attending were also challenged to step out of their comfort zones a bit with the Zimbabwean students serving Mopane worms and Kapenta (tiny sh boiled and then served in oil with spices).
The event was also a great chance to learn some interesting names of traditional dishes from around the world. "Tteokbokki", a Korean dish, and "Saganaki", a Greek dish, were popular choices amongst many guests who tried their best to pronounce the names correctly.
Many African countries served their own take on the traditional Jolof Rice which is a staple in many communities on the continent. However, no two preparations of the dish were the same, and all were sampled eagerly by the people attending. Africa was de nitely the most represented country with students from seven different countries on the continent showcasing their food. There were smiles all round, and the happy music coming from the Ugandan table certainly livened up the atmosphere inside the hall.
Outside, on the grass, the festivities were kept up by the melodies and magical sounds of Born of June, a band who performed a mix of covers and originals and kept guests enchanted with their beautiful sound. Many people set up picnic blankets on the grass in front of the stage and took in the beautiful music whilst they sampled a variety of food from around the world.
Altogether, the evening was successful in celebrating the myriad of international students on campus. The music kept everyone in good spirits and set the tone for an enjoyable and laid-back evening that was appreciated by all those who attended.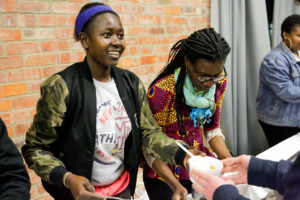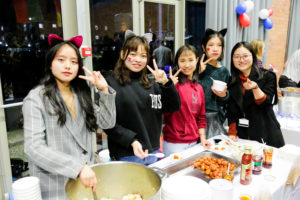 Photos: Armin Prinsloo