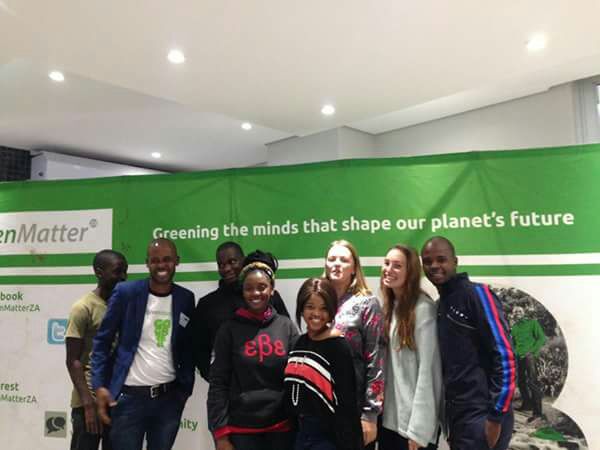 Green Matter: More than just a bursary programme
TALITHA JOUBERT
Green Matter Fellowship encourages camederie, fellowship and peer excellence with people from di erent universities. While encouraging individual excellence, it is also about building contacts with people in the industry, building personal and professional relationships, having a mentor and giving students a hands- on experience in projects around the country.
According to Kaliope Geldenhuys, currently doing her Postgraduate Diploma in Sustainable development at the Sustainable Institute, Green Matter is built on both concepts: "It's not a bursury where they just give money and expect that you need to do the rest. Here is financial support, here is mentoring, here is contacts, here is partnerships and support in building our brand." The programme invites students from various universities and tertiary institutions to apply for this bursury programme. Any student can apply with an undergraduate degree that specialises in biodiversity, other natural sciences or sustainability
Green Matter stands on four main pillars: networking, financial support, personal and professional development and mentoring. They even list internships and job vacancies. The focus of this Fellowship is to get the students ready for the workplace. Green Matter also offers various workshops for students to attend. Recently, a three- day workshop on emotional intelligence was presented. Marina Khoza, currently doing her Honors in Botany at Rhodes University, said: "I think they were trying to get us to learn how to work in groups. Because a big part of what they are expected to do when volunteering and working, is to communicate and engage with different types of people from other elds." She further states the programme: "is for us to grow together and learn from each other and build networks and be mentored so that we can go out into the workplace and be effective."
The whole aim of Green Matter is to create networks so that everyone doing the same bursary can meet and connect to achieve change and sustain- able livelihoods. Both Kapioke and Michelle are also part of the group that is looking into an Educational Waste Management project aimed at schools in Bushbuckrigde. This Fellowship programme is structured so students can build bridges between their different fields, grow together and learn from each other so that in the future when they want to work together they have the contacts and confidence to do just that.
Photo: Supplied