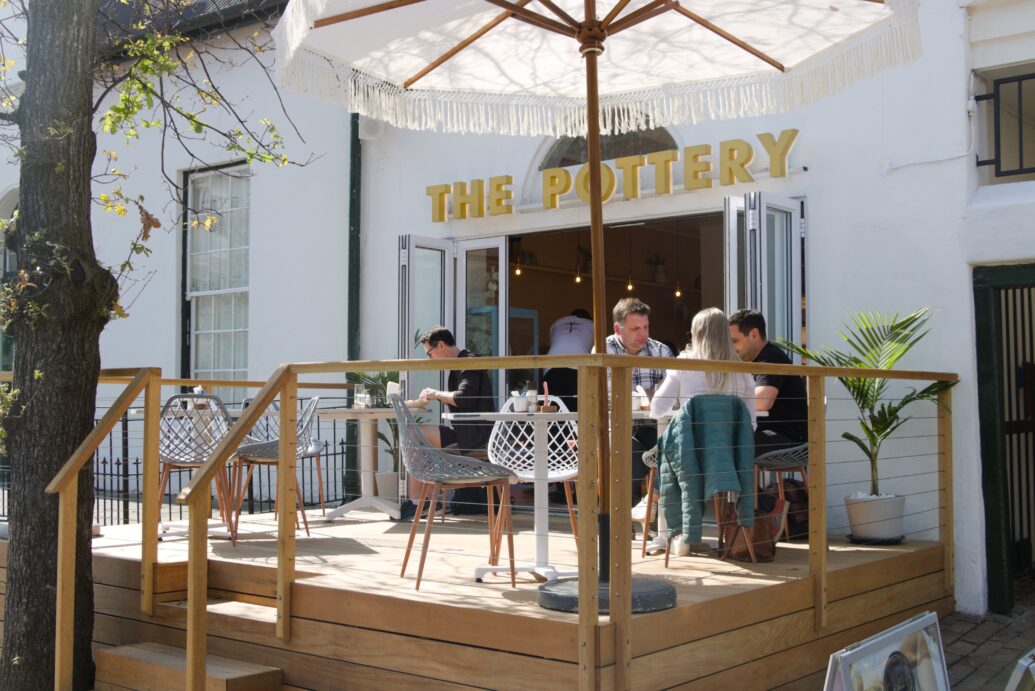 by Hannah Del Cuore
When asked to describe The Pottery in three words, "live life creatively" was what Dillon Marshall chose to go with. It perfectly sums up the vibe that has been cultivated at this new ceramic café on Ryneveld Street in Stellenbosch. Marshall decided to go off the beaten path and not take over his mother's business, which is the highly successful Wonki Ware. He embarked on his own journey to create something special. Marshall, alongside his wife, Jocelyn Marshall, came from humble beginnings. The Pottery, as we know it, started in a factory with a leaky roof. With hard work and perseverance, the couple turned it in something beautiful. All of the ceramics are uniquely made," says Marshall.
It goes through the hands of five different people, making each product special. The Pottery has an authentic atmosphere, inviting all to feel welcome and at home when they walk through the doors. Marshall describes Stellenbosch as a "place he has always wanted to come to," as the town "breeds a group of creative and artistic people." So, the heart behind coming to this lovely little town was that the brand would suit the vibrant community. The Pottery has the potential to be the new hub of students everywhere, with stunning ceramics from Wonki Ware lining the walls, and bright pastel colours spotted everywhere. These can be purchased individually and are not merely there for aesthetics.

Walking in, patrons are met with "Good Vibes Only" on the floor – a concept capturing the feel of the space. With multiple places to sit, such as the outside deck facing Ryneveld Street, the main part of the café, and the cool courtyard outside; it is truly possible to make use of the space as you wish. Whether you want to catch up with friends or let your creative side loose. The Pottery is suited for all your needs.

When asked about what he thinks would appeal to students, Marshall says, "In this day and age, the diversity of how people socialise has changed people are enjoying different avenues of socialising. And I feel the combination between ceramic painting and having a cocktail or [a] glass of wine is very appealing." The menu truly caters for everyone, offering cocktails, coffees, and organic, fresh food. Marshall refers to The Pottery as "hip and happening" which truly summarises exactly the energy that it exudes.

The Pottery also has big plans for events in the future. They intend to bring in live music for everyone to enjoy while they paint their ceramic wares. Not only that, but pottery classes are in the works for people to learn the art from scratch and get the funkiest ceramic keepsake out of it. Marshall hints to keep an eye out for a spring party, hosted by The Pottery in September. Check out their official Instagram @the.pottery, for more updates.