The path towards ending period poverty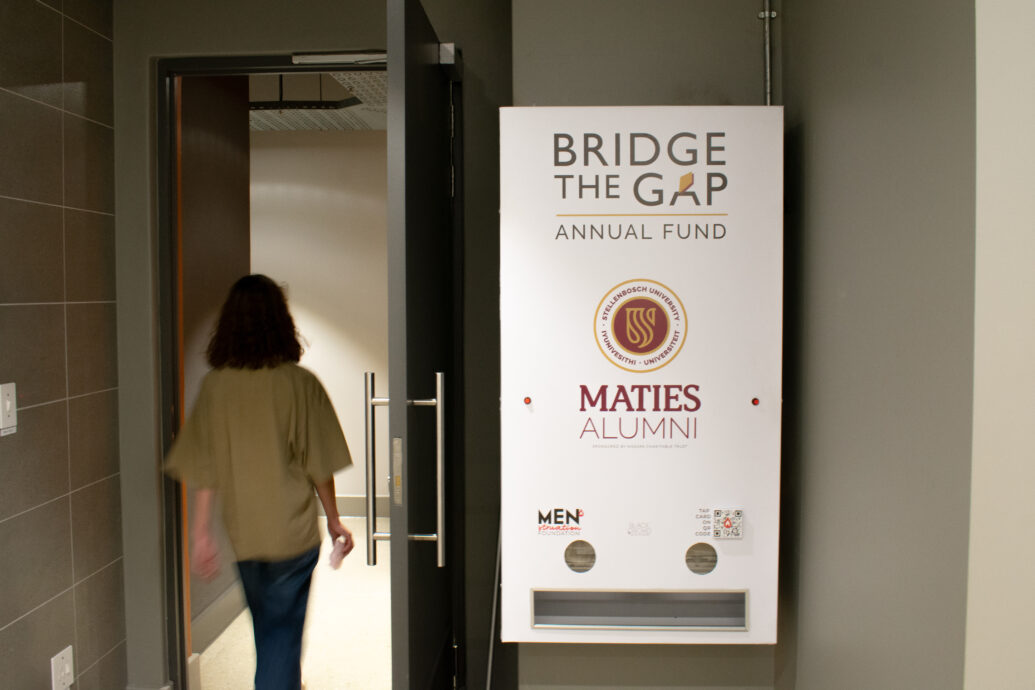 by Tegan Gibaud
There has long been a demand for free sanitary products within schools and universities. Stellenbosch University (SU) is taking the step towards this by providing free menstrual pads. They can be found in the women's bathroom on the ground floor of the Jan Mouton Learning Centre, as well outside of Tinie Louw.
The sanitary products will be dispensed from vending-like machines. This will grant students-in-need access using an independent card system, and these cards will be distributed by student leaders, residence heads, and social workers. This system will also be set up on the Tygerberg campus. Die Matie asked Viwe Benxa, a Bridge The Gap ambassador, what prompted this initiative.
He responded, "We saw, and know that there is a need on campus. Most communities and stakeholders are always having pad drives in order to alleviate some of the access to pads issued on campus, and we wanted to be part of the solution. These machines are creating a solution to the period poverty in our country and on our campus." Benxa also shared that one of the Bridge The Gap initiatives is called End Period Poverty, and that you can read more about this at 'matiesalumni.com'.

South Africa faces a period poverty crisis, which is described as a lack of access to sanitary products, usually due to financial limitations. This can negatively impact a woman's life as access to sanitary products are crucial to manage menstruation. The negative impacts range from missing school or work, to being susceptible to infection. Aurora Marco is the co-founder of The Cora Project, a women-led NGO focused on supporting menstruators in underprivileged communities. She is also the founder of Aurora Wellbeing. Marco shares that period poverty isn't spoken about enough as it is visibly hidden and still treated as a taboo topic.
"Women's health is a human right, and without human rights, society goes nowhere," Marco states.
The Borgen Project, an anti-poverty NGO, estimates that 7 million South African girls cannot afford to buy sanitary products and globally, the World Bank states that at least 500 million women and girls lack the facilities they need during their periods. Period poverty is not just a lack of access to sanitary products, but also the lack of access to menstrual hygiene education, private toilets, handwashing facilities and waste management.

"This is a real adversity of many women on our campuses and in our country. Menstruation is not a choice and we should be trying to help those [who] cannot afford to get access," Benxa states. Marco shares that when governments fail to support underprivileged menstruators, NPOs and NGOs have to step in. This is why organisations such as The Cora Project, pad drives, and access to free sanitary products are so important.