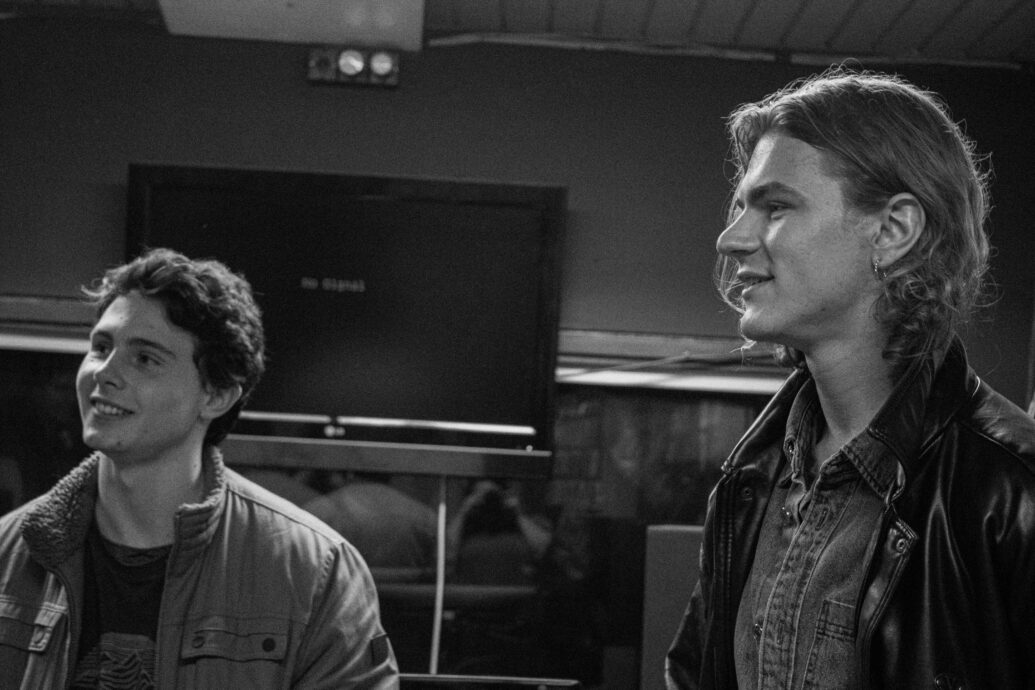 Met 'n weerbarstig, weergalm-deur-die-studio klank vat Splinter hul rol as new kids on the Aandklas block aan met passie en erns. Frontman Milano Reyneke en Dawid Botes, op kitaar, gesels met Die Matie oor somber taxi ritte op 'n reënerige dag, wil vry wees en nuwe musiek wat later die jaar uitkom.
Oor die naam Splinter, sê Reyneke: "Die een kriteria was dat die naam ietsie moet wees wat dieselfde gespel word en iets beteken in Afrikaans en in Engels. Op die ou einde toe kies ons 'Splinter' want die idee agter dit was, soos met die boodskap en lirieke en die styl van die musiek, net so bietjie 'n splinter in die vlees van die samelewing wees. Net so bietjie ietsie anders wat mense bietjie ontstel. Ietsie wat jou laat dink."
Reyneke en Botes, die hart agter Splinter, vertel dat die band eintlik maar 'n open-door policy het, en gereeld met ander plaaslike musikante Kerwin Albertus, Stuart Martin, Ethan Lawson, James Hund en Dillon Cornelius en ander werk.
Hul eerste enkelsnit, "Papiere", dien as teaser vir hul opkomende album, Woes in Wonderland. Die donker-denke en eksistensiële lirieke lees soos 'n gedig teen 'n Koos Kombuis-tipe nostalgiese rock 'n roll klankbaan.
"[Hoe] die liedjie begin het was maar hoe ek gevoel het…[oor] die manier waarop ouer mense met jou praat oor [jou] rigting in die lewe. Dis asof hulle 'n baie rigiede boksie het van hoe jy veronderstel is om te lewe en hoe suskses gedefinieër is en wat jy veronderstel is om te hê om jou gelukkig te maak. Die hele kruks van dit is in die chorus: dis als net papiere. Al daai goed is net sertifikate, en briewe en reëls wat arbitrêr is," sê Reyneke.
Wegbreek uit die status quo, en vry wees, op jou eie terme, is duidelik 'n groot inspirasie en dryfveer vir Splinter. Reyneke vertel dat die lirieke vir sy gunsteling snit op die album, "Vryheid", gaan oor die soeke na vryheid, al vat dit jou na donker plekke toe; "Ek gee nie rerig om hoe donker die plek is waar jy moet gaan om daai vryheid te soek nie, ek kan net nie meer hier bly nie."
"Vryheid" ('Freedom') was written at a time, for me, when I was really struggling with the culture I grew up in. I felt like there were so many things, so many rules about what you should be and how you should live your life; they were forcing this idea of how you should be happy, and if you don't agree with that then you're wrong," says Reyneke.
Botes does most of the production, but the writing process is a collaborative effort with contributions from friends and family. "Taxi", his favourite track on Woes in Wonderland, their upcoming album, began as a chorus borrowed from a poem Reyneke' sister, Cherise Reyneke wrote. They added the verses from an old song Reyneke had written a few years back, and workshopped the song until it felt right: like staring out through a taxi window on a rainy day, with no idea exactly where you're headed.
"Production is always about problem solving and I believe that an important attitude comes from embracing problems. Every good mix was once a bad one that just got the attention it deserved. Furthermore, problem solving could at times require the addition of imperfections to reach a state of being pleasing," says Botes.
He explains, "I would label my approach as striving to always find the middle between pragmatism and aesthetics. I do not accept the traditional view of an "authentic" recording, in fact I always infuse my recordings with elements that enhance the personality of the performer."
Splinter credits fellow bands The Stone Cherries and Cape Riot with supporting them and helping them find their feet in the local live music scene. Woes in Wonderland is dropping on 10 September, and the music video for "Papiere" will be out soon. Check out Splinter on Spotify or wherever you get your music.