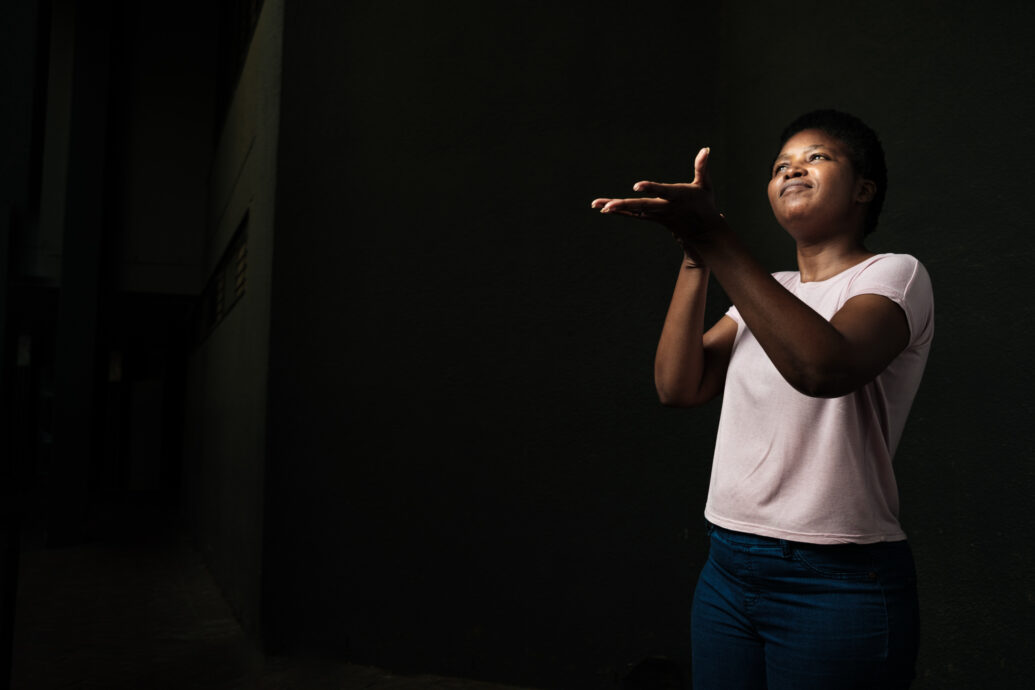 by Anica Hattingh
South Africa has a new official language. With South Africa already well-known for its multi-lingual and multi-racial culture, it should be no surprise that President Cyril Ramaphosa's cabinet and the National Assembly have chosen to adopt another language. So, after a lengthy process, South African Sign Language (SASL) will now be recognized as the 12th official language of South Africa.
It is the hope of country officials and offices — such as the Department of Education, that the adoption of this new language will bridge some of the gaps between the hearing and Deaf/Hard of Hearing communities. Which begs the question: Why haven't more people taken the initiative to learn SASL? In the pursuit of insight into the challenges the people of the Deaf and Hard of Hearing community face, Die Matie corresponded with Susan (Modiegi) Njeyiyana*, Junior Lecturer: South African Sign Language Acquisition at Stellenbosch University (SU), to gain her insights into understanding the importance of SASL as a recognised and official language.
Njeyiyana, who identifies as a part of the Deaf community herself, had to face a lot of challenges growing up in a dominantly hearing world. She explained that her family, except for her two sisters who also identify as Deaf, never used SASL to communicate with her, but rather expected her to learn isiZulu (to learn to lipread her mother) and Setswana (to communicate with her father). Setswana, which is also known as Signed Exact English, is when a sign is used with a spoken word and the grammar of a spoken language does not follow the grammar of SASL. Setswana/Signed Exact English wasn't only used by people in her family, but also when she had first gone to school. 
Njeyiyana explained that when she had first started attending school there was little to no knowledge on how to properly teach a Deaf/Hard of Hearing child. Most teachers used Signed Exact English or Setswana and had limited knowledge on how to effectively teach Deaf children and the pedagogy in Deaf education. Nyeyiyana further explained that these limited learning opportunities, especially so early in her life, have had a continued effect on the way she experiences and uses written and spoken languages. Perhaps the adoption of SASL as an official language will not only aid in bridging the gap between the Deaf and Hearing communities, but also aid in the improvement of the way we teach Deaf children and approach Deaf education. Njeyiyana noted that, "Deaf children needed [and still need] to be taught in a fully-fledged language they understand, SASL. So, the level of education offered was very poor because of having teachers who couldn't use SASL, my language."
However, she did not allow any of these moments in her home life and education to hinder her from making a success of herself. She obtained her Master of Arts in General Linguistics after three years filled with long nights of reading and writing. She explained that she was fortunate enough to have an interpreter to translate the information from academic English into SASL — and again from SASL into English. During the process of writing her thesis, she was not without any challenges and hurdles. However, she said "I had to keep swimming, harder than most, to make sure that I could reach the goal I'd set out to achieve." It was this will to succeed and refusal to give up that kept her pushing forward until she finally obtained her Master's degree.
"The world still sees my deafness as a loss, and that I'm inferior, but I see my deafness as a gain. I have a sensory and cognitive diversity that contributes to the greater good of humanity and I have a unique contribution to make to society. Language gives us as humans the ability to express our thoughts, ideas, and emotions. Yet, for Deaf children and adults, we are deprived of these seemingly simple abilities to express ourselves, something that most people take for granted."
It is the hope of many of the Deaf and Hard of Hearing community that the adoption of this language bill will aid not only in giving Deaf people recognition in the community at large, but to also allow them to be recognised by the government and its education system. "The whole Deaf community of South Africa has been celebrating this important step towards recognising us as part of society. The Deaf community has been pushing for the recognition of our language, [SASL], for many generations. We've been fighting to be recognised by [the] government, by society and by the education system," Njeyiyana reiterated.
Even though there are still many hurdles and challenges that lie ahead, the Deaf community can celebrate being one step closer to their goal. It is the hope of Njeyiyana, and so many of the Deaf community, that Deaf teachers can be trained to become the role models they need to be, and for Deaf students to have the choice of studying in their home language, SASL. It is the hope that the adoption of SASL, as an official language, will make this all possible.
A final note from Njeyiyana, "We welcome allies to the Deaf community, who will work alongside us to grow our community. We want to be treated as equals and be respected. Don't assume to have answers to perceived challenges, rather ask us how we can work together. Nothing about us, without us!"
1. There's a short course starting at the SU Language Centre in the second semester, you can see details at www.languagecentre.sun.ac.za or contact Michelle at mpieters@sun.ac.za
2. You can also choose a credit bearing module in the new year named South African Sign Language Acquisition 178 with the General Linguistics department.
For more details, contact the module coordinator, Dr Kate Huddlestone at katevg@sun.ac.za."

* Disclaimer: "In this article I'm only responding to content related to Deaf communities who use SASL as their primary mode of communication. It remains the choice of individuals with any form of hearing loss to learn SASL or not and this should always be respected. The word 'Deaf' refers to a person using SASL as their primary mode of communication, while 'deaf' refers to the physical loss of hearing which is a medical view. There are also groups that identify as Hard of Hearing and Hearing Impaired, and they don't always identify as Deaf, because they have some hearing loss, but choose not to use SASL to communicate and I do not speak for them in this article."