By Dylan Schmidt
Every year, the Kowie river in Port Alfred offers a challenge full of exciting racing, enthusiastic support and demanding conditions to University rowers from all over South Africa. This year the resilient Maties rowing team sent both a Women's and Men's Eight to compete against the country's best universities along the 5.7km course that winds down the Kowie River. They dodged sandbanks, boats, and bridges to achieve an impressive 5th place overall, bravely beating The University of Witwatersrand (Wits) in both of their respective finals.
The event ran from the 15 – 17 September and hosted various levels of rowing, from beginner rowers to members of the South African rowing team. Supporters from the local Rhodes University joined with the supporting crews to line the riverbanks as their teams came flying down the river. The competition made for tense racing as the crowds screamed their support to the crews on the water. After the races, everyone streamed into the Boat Race festival tent to rejoice in their hard work and accomplishments.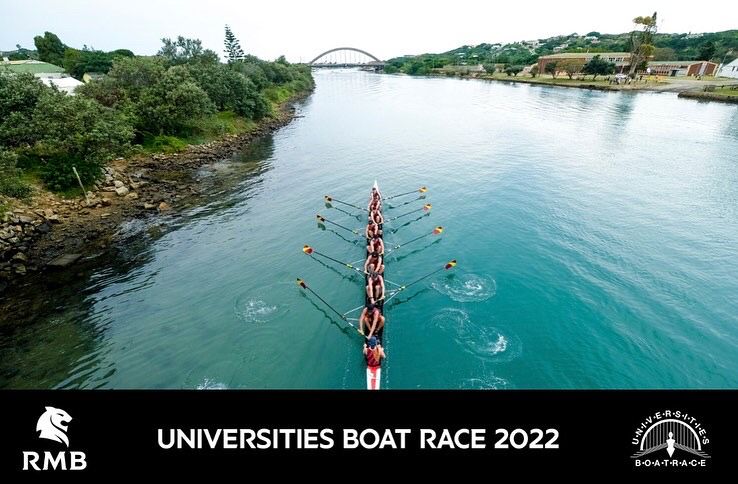 "Boat Race was a great success for Maties this year," said Alistair van der Riet, third year BCom (Economic Sciences) student. "Despite the same overall placement as last year, 5th for both the mens and womens crews, the tour was conducted with a manner of professionalism that matched, and even surpassed some of the top rowing universities in the country," he continued.
Maties saw a significant advancement in performance this year. They drastically improved their times even while competing in a much bigger competition pool than usual. The club has received lots of support, with more people interested in joining after their latest performance. They would like to encourage people to get involved so they can send even more rowers to the various races next season. Their progress and plans can be followed on their social media accounts (@Maties_Rowing and @Boets_In_Boats).
After such a memorable year, and with the passion and desire in the club increasing, there is no doubt that there is more to come from these talented athletes.