By Aurelia Mouton and Alison Hermanus
In what has been described as a "destructive, hurtful and racist incident", a resident of Huis Marais Men's Residence entered the room of another student and urinated on his belongings, according to an official media statement made by Stellenbosch University (SU) on 16 May.
Early on the morning of 15 May, a student, who wished to be referred to only as B.N., awoke to another student, identified by the media as first-year LLB student Theuns du Toit, urinating on his desk, books and laptop. When asked why he was doing so, Du Toit reportedly said, "This is what white boys do," according to B.N.
In an interview with Die Matie on Monday, B.N. said, "I was asleep when, around 04:00, I heard noises in my room. I thought it was my friend, so I called him, but nobody answered. So I got up and turned on the light and saw [Du Toit] peeing on my desk."
B.N. said that his textbooks were soiled and his laptop damaged by Du Toit, who appeared to him to be drunk. He proceeded to take a video of Du Toit urinating in his room, which he sent to the Huis Marais leadership immediately after the incident. He reportedly only received a response at 09:00.
B.N. reported that the residence leadership said that the matter would be addressed with urgency. However, it was not until the South African Students Congress (SASCO) contacted Jaco Joubert, the Huis Marais prim, on 15 May and released a statement later that day, that Huis Marais leadership reported the incident to the residence head, Dr Johan Groenewald, after 15:00.
B.N. explained that he was moved to a single room for safety whilst Du Toit cleaned his room. According to B.N., Du Toit "just swiped the desk with a tissue. . . . [On] the floor, there was still urine. His friend went to him again and said he must clean the floor too. He just took a cloth and . . . wiped it up. He didn't wash the floor. [He] just turned the fan on and opened the windows".
According to a post made on 16 May on their Instagram account (@huismarais), Huis Marais's leadership acknowledged that they were aware of the incident and "[condemned] such behaviour".
Joubert, who declined to comment further on the incident, said that the matter was handed over to the Equality Unit on the morning of 16 May, following an emergency house meeting the previous evening. During the house meeting, Du Toit apologised. "I just want to apologise to [B.N.] and in general for my behaviour, which was wrong. Sorry, guys."
B.N. said that "the apology was not enough" and that he felt Du Toit was apologising "just to clear his image". He further said, "It is up to him if he wants to speak. We can speak if he wants to do a proper apology."
Mkuseli Kaduka, B.N.'s father, said in a Facebook post on 16 May that he is "not surprised by the behaviour but [is] disgusted by the slow reaction of those in charge to take the appropriate action against this boy".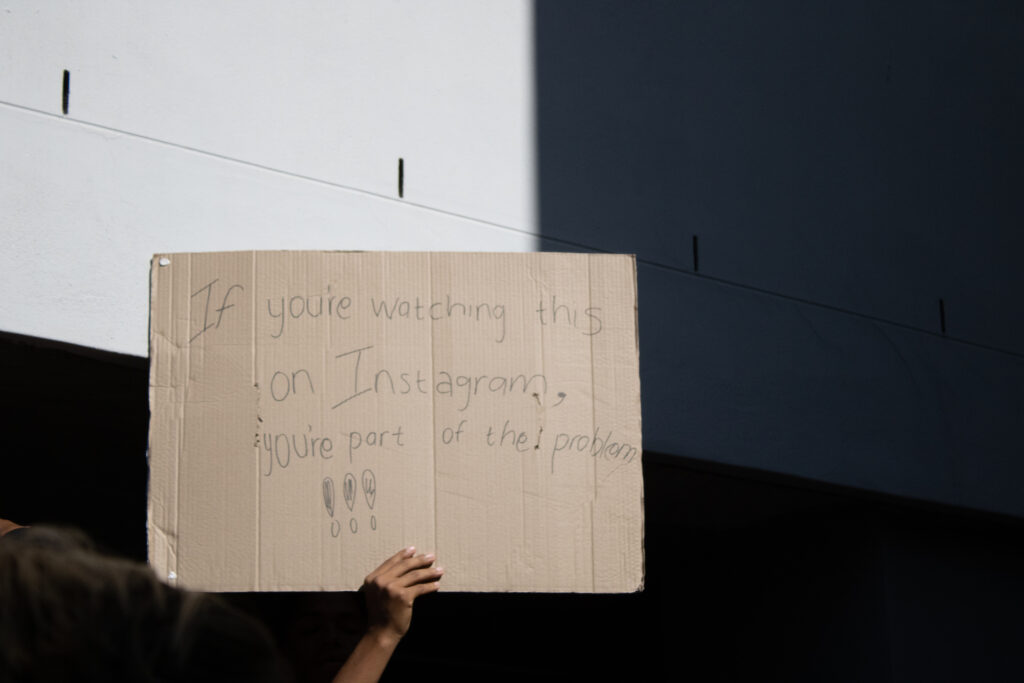 B.N. said that he hoped that SU would take the matter seriously. He mentioned that Dr Choice Makhetha, the senior director of the Division of Student Affairs, had phoned him on the morning of 16 May and apologised for what had happened. Makhetha was also amongst those whom SASCO called to speak at a protest they hosted outside Huis Marais on 16 May.

"We acknowledge that you are angry. I am angry as well because I am among the people who failed [B.N.]," Makhetha said to the protesters. "We all agree the culture needs to change. We have to go deeper and not just look superficially at what has just happened."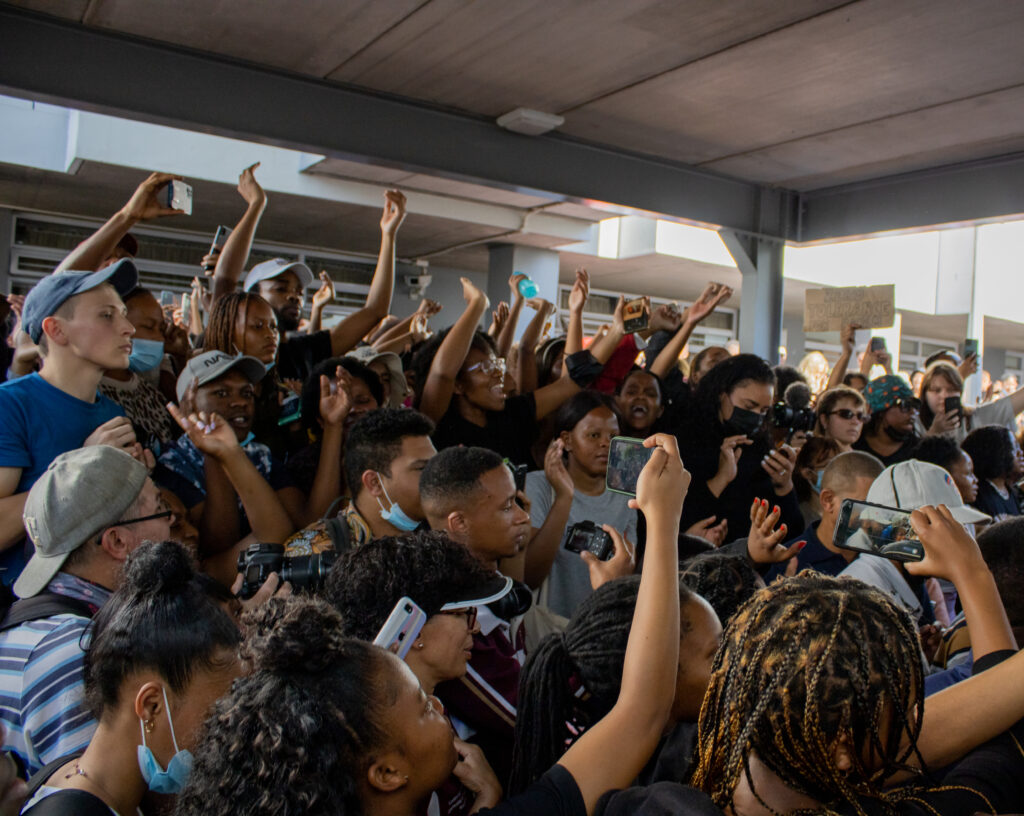 During the protest, Queen Majikijela, SASCO Stellenbosch chairperson, along with hundreds of other outraged students, demanded that the Huis Marais leadership and Groenewald come outside to address the crowd, but they did not do so. Groenewald was the subject of controversy earlier this year for using the k-word during a house meeting, as reported by Die Matie on 16 February.
The protest then moved to the Admin B building, where students met with Prof Deresh Ramjugernath, deputy vice-chancellor of teaching and learning, who said that investigation into the incident would take about five days. The students demanded that Du Toit be expelled by Friday, to which Ramjugernath responded by saying that it was not for him to determine if and when a student should be expelled. SU rector and vice-chancellor Prof Wim de Villiers was not present at the demonstration.
In an official statement released by SU on 16 May, media manager Martin Viljoen said, "The university strongly condemns the destructive, hurtful and racist incident," and announced that Du Toit had been suspended from the university and removed from Huis Marais.
"A further swift but detailed investigation will determine the final outcomes. Expulsion and/or criminal charges are not excluded from the possible available options, based on the investigation's finding," said Viljoen in the statement.
The Student Representative Council (SRC) expressed their solidarity with the protesting students and said they "urge students to support stands against systemic racism and hope that the call to action will be answered by all", as in a statement made on 16 May. In another statement made on 17 May, the SRC called for the expulsion of Du Toit as well as the disbandment of Huis Marais.
"We now call on the white staff and students at Stellenbosch University to take ownership of what happened at Huis Marais and not let the burden fall on the shoulders of the students and staff of colour. We note with disappointment the apathy with which our white peers have treated this blatant show of racism," the statement concluded.
De Villiers released a statement on 17 May explaining that "despite the university's strongest condemnation of the incident coupled with the significant and understandable public outcry, as required by law, proper procedures must be followed" to ensure a defensible outcome.
"The Huis Marais matter is a top priority for SU management. We value the well-being of all our students and staff. Further engagement will take place once a final outcome is reached," said De Villiers in his statement.
Furthermore, the United Nations Association of South Africa (UNASA) Stellenbosch Chapter, SASCO, as well as the SU Palestinian Solidarity Forum (PSF) released statements condemning the behaviour of Du Toit, and will be hosting an engagement on 20 May in a rally against racism.
"[Expulsion] would be appropriate, but I think we all deserve an education. It would be a fair punishment, but then his transcript will be ruined. We all deserve a second chance and two bads don't make a right," said B.N.
Despite this, a petition to advocate for the expulsion of Du Toit, called "Expel Theuns Du Toit from Stellenbosch University", was initiated on 16 May on change.org.
Du Toit did not avail himself for comment when contacted by Die Matie and has made no further public statements.