BY AURELIA MOUTON
The United Nations Association of South Africa (UNASA) hosted a peaceful protest and vigil in a show of solidarity with Ukraine on 1 March 2022. The event saw the collaboration of UNASA's Stellenbosch University (SU) and University of Cape Town (UCT) chapters to protest the human rights violations committed by the Russian Federation in its invasion of Ukraine.
"The turnout for the event was even better than we hoped. ­Between 300–400 people ­attended, so we're thankful th­at the ­Ukrainian Association of South Africa (UAZA) sponsored so many candles for the event," said Nina Hugo, chairperson of UNASA'S SU chapter.
Protesters marched from the Jan Marais Nature Reserve down Victoria Street, many with placards condemning Russian president, Vladimir Putin as well as the South African government for its inaction in denouncing Putin and the Russian government on the world stage.
Speakers from UAZA, UNASA-SU and UNASA-UCT pleaded with South Africans to support Ukraine and to put pressure on South African president Cyril Ramaphosa to condemn the actions of the Russian government. The Palestinian Solidarity Forum (PSF) also showed their support at the march and the vigil that followed on the library steps by the Rooi Plein.

"We, as students and as human beings, have to stand up for what is right, since our government obviously is not doing so. As a ­country that is intimately familiar with subjugation and oppression, we especially have a responsibility to stand in solidarity with Ukraine," said Hugo in an official statement to Die Matie.
"It is not conflict. It is not ­aggression. It is war!" said ­Kristina Oliinyk, one of the speakers at the event and a Ukrainian citizen.
"We are asking the world to cover our skies. Our military is not enough. We just want our skies covered. Our land is ours, but they send rockets," Oliinyk continued, explaining the severity of the situation in Kyiv.
"This protest is important for everyone because Putin—Russian president [and] terrorist—is attacking not only Ukraine. This is [a] war against democracy [and] against the whole civilised world. He is fighting against human rights and [the] independence of other countries. If we are today, then other European countries [are] tomorrow. When he takes other European countries, he will come for Africa too. This man is very dangerous," said Oliinyk.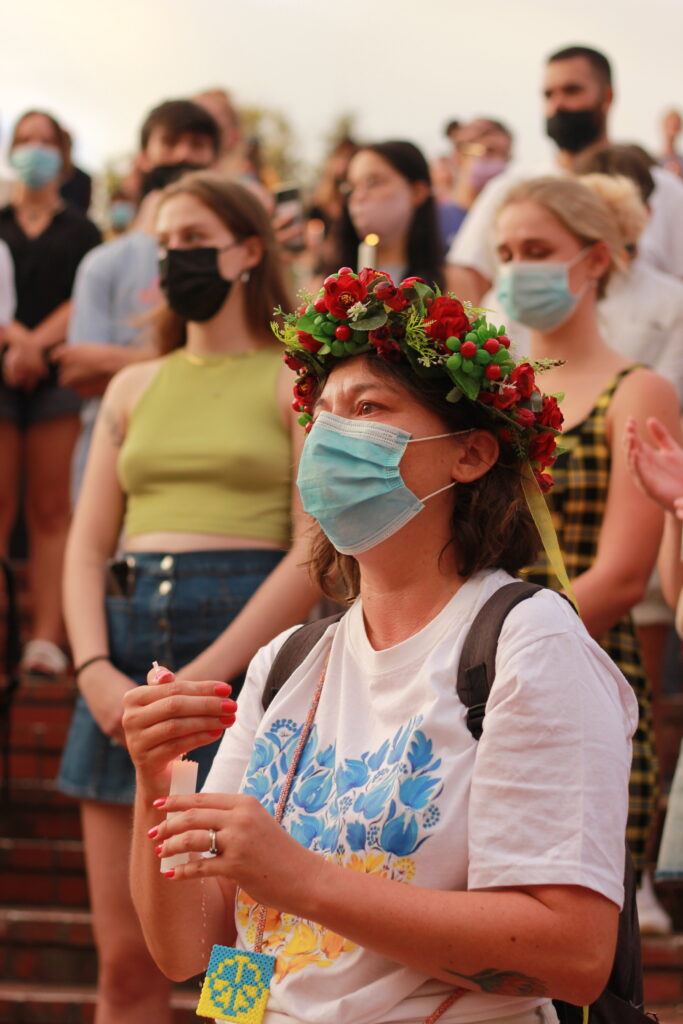 Michael du Plessis, South ­African and Ukranian citizen and also third-year BEng (Mechanical) student at SU, explained that his grandmother is still in Kyiv.
"She says that the days go by quickly, but the nights are troubling. During the day there [are] noises [and] gun violence. But at night the bombs come, and she has to take cover in the bathroom. [The] children take shelter at the school.
"In no society should a country be usurped. This is our reality at the moment. I tried to run away from that in the beginning. It's just easier, but we have to take it in [and] follow the news to understand what is happening. That's the only way to know how to support, how to help in any way you can," Du Plessis said.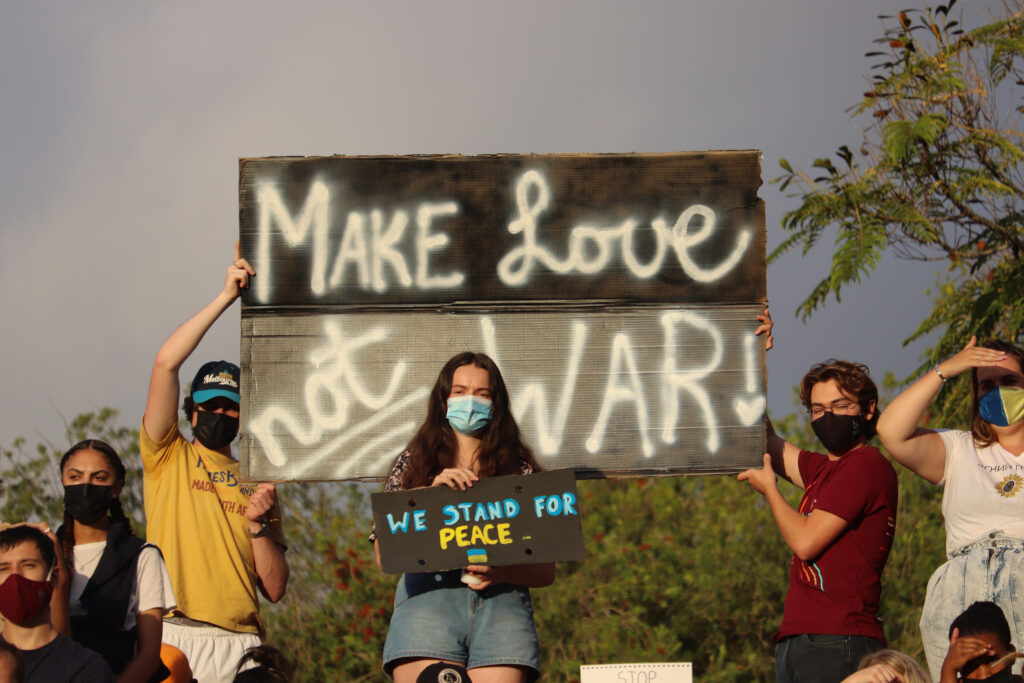 "There's not much that one single country can do against the Russian Federation at this very moment, but if people stand ­together in support, that really makes a difference. [At] the ­beginning of this [on] the first day there were many jokes and memes sent on student groups. I found it disappointing to see, but now that there's more ­consideration of the topic, I'm happy to see the student support," Du Plessis continued.
Putin announced the launch of the invasion of Ukraine on Russian television on 24 February. Soon thereafter, the first reports of missile air strikes and bomb explosions came from the ­Ukranian cities of Kharkiv, Kramatorsk, Mariupol and the country's capital, Kyiv.
Putin deployed the Russian military under the orders of a "special military operation", as stated in his televised speech. This followed after months of increased Russian military presence on their side of the Ukrainian border. Over 500 casualties, both civilian and military, have been reported, with some disputed by the Russian government.
The Russo-Ukrainian conflict spans decades following the collapse of the Soviet Union. As a former Soviet state, Ukraine has long been coveted by Putin for Russian domination. In 2014, Russia invaded Ukraine by laying siege to Crimea in order to prevent Ukraine from joining the North Atlantic Treaty Organization (NATO), the intergovernmental military alliance of multiple Western forces. This is because Ukraine's plans to join NATO would both amplify Western influence and undermine Russian dominance in the East.
Many Ukrainians fled their cities, seeking refuge in the neighbouring countries of Poland, Hungary and Romania, and many are still awaiting asylum. Putin has since ordered Russian nuclear deterrence forces to be on high alert.