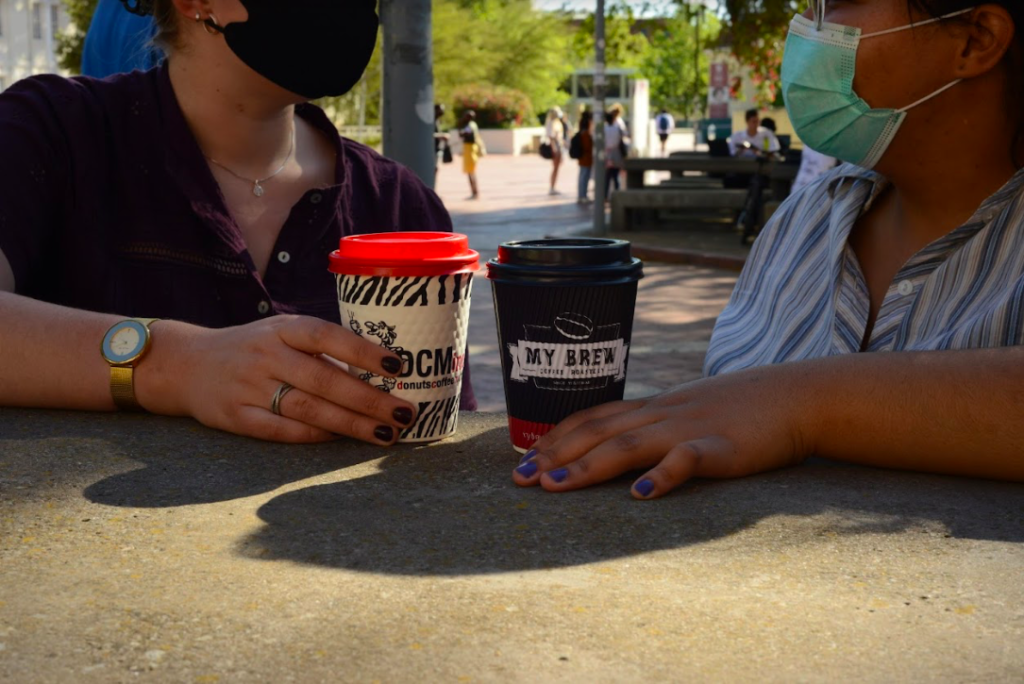 My Brew vs DCM: Coffee Culture on Campus
BY MARDENE VAN SCHALKWYK
Money may make the world go round, but caffeine is probably what keeps Stellenbosch University (SU) up and running. The constant hustle and bustle of the Neelsie coffee spots is the truest testimony to this theory. In honour of International Coffee Day, which was celebrated on 1 October, Die Matie took a deeper look into the coffee culture on campus.
For years, one big question has been central to the world of coffee in Stellenbosch: is My Brew or DCM better? Rebecca Bruens, a second-year BA (Politics, Philosophy and Economics) student, had a simple answer. "I prefer DCM because I feel like My Brew is a little overrated. It's the obvious choice for coffee, while DCM is a good place to get an easy, regular, cheap filter coffee."
Bongile Mveli, who has been working at My Brew in the Neelsie for the past three years, disagrees. When asked what he thinks about the famous debate, he said, "It's obvious; we have no competition."
Philakahle Sithole, a second-year BA (Visual Communication Design) student, is a diehard My Brew fan. "It's definitely My Brew that wins. It just tastes like quality, and they make better chai as well."
While it appears that the My Brew camp is ready to go to war for their cause, others are less concerned with the debate. One such peacekeeper is Promise Kurumani, a DCM employee of 6 years. "I don't mind the argument. It's all just business. Other people prefer My Brew; it just depends on how you like your coffee."
For some, their preference is not about the actual coffee at all. Tara Hall, a second-year BA (Fine Arts) student, said, "I prefer DCM. It's nice, they have the cheapest milk alternative and I'm lactose intolerant." Hall said that she may just be less polarised because she is not an elitist when it comes to caffeine. "I like Ricoffy. You can't be a coffee snob and like Ricoffy." Hall says that she would like to leave DCM with one final message: "Please keep buying oat milk."
Sometimes it is not the coffee or milk that is the deciding factor, but the experience as a whole. Lisa Horwitz, a second-year BAcc student, said that the barista is the best part of their morning coffee run. "My favourite thing about getting coffee at Deja Brew, the Van Der Sterr building's branch of My Brew, is definitely Lulu. She's the most incredible barista I've ever met, and if it [weren't] for the smell of coffee that engulfs the ground floor of the building, I don't think I would get coffee every day."
Die Matie's Instagram followers voted between My Brew and DCM in a poll that was posted on 30 September. The results showed a win for My Brew by a wide margin—65% compared to a mere 35% vote for DCM. Nevertheless, many students remain completely unbiased. Sinakho Ncala, a second-year BA (International Studies) student, said, "I have zero opinion on that elitist coffee war; I get my coffee from Roman's because it's closer. Also, what would be the difference?"
The second-biggest controversy surrounding coffee must be on the concept of decaffeinated drinks. Ncala commented, "What is decaf? Why is decaf? Who is decaf? I genuinely do not understand why we do that to coffee and then still call it coffee. Healthier undeniably, but where's the fun? Where's the thrill?"
Sithole agreed, saying, "If you like decaf, rather don't drink coffee, my man."
As it turns out, it seems like it does not matter whether SU students prefer My Brew or DCM—as long as they do not order decaf.