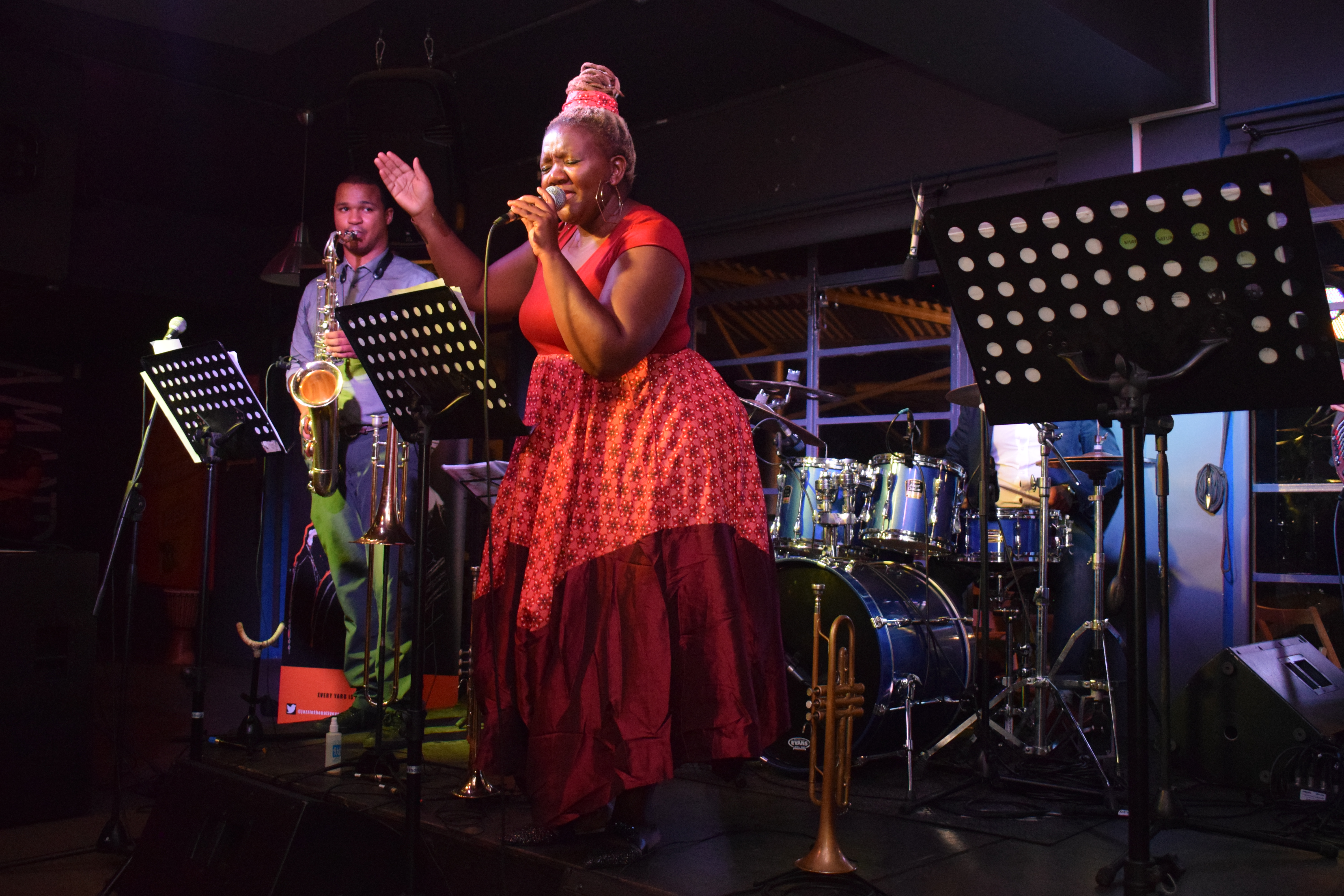 The Little Giants bring jazz en vreugde na Kayamandi
JAZZ HANDS Little Giants met Babalwa Mentjies by Jazz in Kayamandi tydens Woordfees.
WILLOW-RUBY VAN DER BERG
---
VERLEDE jaar het Woordfees met Jazz in the Quad begin, in samewerking met Jazz in the Native Yards (JINY) waar van die beste plaaslike jazz-kunstenaars ten toon gestel word.
Vanjaar het hulle nóg 'n nuwe en opwindende element vir al die feeskatte aangebied, genaamd Jazz in Kayamandi.
Jazz in Kayamandi was werklik 'n aand van opwinding met die beroemde sangeres Babalwa Mentjies wat opgetree het in samewerking met the Little Giants-orkes wat deur die legendariese George Werner gelei is.
"Dit was great om in Kayamandi te speel, want dit is lekker om te sien hoe ons deur musiek met mense kan connect van all walks of life," sê Bryce Allies, een van die kitaarspelers in The Little Giants.
"In Suid-Afrika het jazz ontstaan uit die townships en dit moet teruggebring word. Meer kunstenaars van Kayamandi moet ook deel hiervan vorm," sê Werner.
The Little Giants seën ons al vir die afgelope 20 jaar met die voorste jazzmusiek.
In 1999 het Ezra Ngcukana en George Werner die orkes tot stand gebring nadat die organiseerders van die jaarlikse Jazzathon-fees op soek was na 'n belowende jeuggroep vanuit die informele nedersettings om by die fees in 2000 op te tree.
Deur die jare het die projek al meer as 250 jong musikante die geleentheid gegee om te ontwikkel en baie lede van The Little Giants is al gekies om deel van die National Jazz Youth Band of die Schools Jazz Band in Grahamstad te wees.
Vandag bestaan die groep uit 22 jong musikante tussen die ouderdom van 13 en 23 wat van die Kaapse Vlakte en omliggende areas kom.
Wernes beskryf die projek as: "Die aansteeklike klank van 'n Suid-Afrikaanse "big band". Marabi, Mbaqanga, Jazz, Fusion en rockritmes is saamgesmelt om 'n kleurvolle klank te skep.
"Ons doel is om die plaaslike gehoor meer bewus van ons ryk inheemse jazzmusiek te maak en om dit verder te bevorder. Die wêreld is bewus van ons ryk kultuur, maar ongelukkig word dit nie plaaslik erken nie."
The Little Giants het al by Kaapstad se bekendste feeste opgetree. Dit sluit in die Cape Town International Jazz Festival, die Artscape Youth Festival en die Standard Bank National Youth Jazz festival.
Hierdie projek gee vir jong musikante hoop om bo hul omstandighede uit te styg.
"Die mees opwindende ding vir my van jazz is dat mens nie altyd weet wat volgende kom nie. Die vreugde daarvan word juis gevind in die onbekende en die onverwagse twists en turns kan beide lekker en vreesaanjaend wees, afhanged van hoe mens daarna kyk," sê Duncan Johnson, die alt-saksofoonspeler.
The Little Giants maak op 14 en 15 Junie 'n regstreekse opname by Kunstekaap om hulle twintigste bestaansjaar te vier.
FOTO: Verskaf