For a young boy who was mainly interested in motorbikes, bicycles, being outside in the veld and getting into just the right amount of trouble, David Ellis has led a more than exhilarating life up to now, all while finishing his PhD in Mechanical Engineering at Stellenbosch University. Arleen Stone spoke with him about his life as both an engineering student and an off-road motorbike champion.
Growing up in Springbok in the Northern Cape gave David the opportunity to appreciate nature and allowed him to kick-start his off-road motorbike career at the tender age of five.
"I started on a Honda QR50 at the age of five and my first official Motorsport South Africa (MSA) affiliated race was at the end of 2009, when I was in grade 11," explains David.
"Before that I raced at disorganised, chaotic, but fun rallies in the southern parts of Namibia."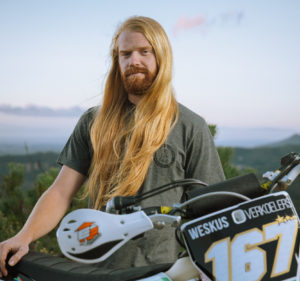 Starting small, David managed to leave dust in the eyes of his competitors and took his first overall Western Cape victory in 2012 out of more than 100 competitors.
"To be honest, I don't have too many memories before I started riding. The thought of ever stopping is frightening," laughs David.
David is most proud of his third position in his class at the first National off-road race he ever finished and the three Western Cape Province championships he pocketed.
David was also the Western Cape Province and Oranjemund Desert 300 champion for three years straight, from 2015 to 2017, while completing his Master's and PhD degrees in Mechanical Engineering.
He also stood first on the podium at the Amageza West-Coast Baja in 2017, winning by almost an hour. This is a seven-hour race, spread out over two days with temperatures reaching a high of almost 50°C.
Of all the MSA races he partook in, he ended up in the top three positions in nearly all of them.
Although he prefers to kick up clouds of dust, he does not only dabble in off-road riding. David and his brother, Michael Ellis, a successful photographer and videographer, also compete in one
circuit (tar) race a year, namely the annual eight-hour motorcycle endurance race at Killarney International Racetrack.
"We have managed a 4th and 6th position as the only two-man team at that event. The majority of teams consist of four riders. We don't do any practice during the year and pitch up out of the blue to race. I am super proud of how we approach the race and weather the storm during each of our 45 minute sessions," explains David.
David and Michael have also made two successful short videos together portraying their fields of expertise. The one titled Home Ground shows David in his home town area whipping through the rough terrain with ease. The newest video, called Tankwa, was filmed in the Tankwa Karoo near the border of the Northern Cape and Western Cape.
Their latest project, which is yet to be released, was again shot in Springbok for Mitas Tires, a company based in the Czech Republic.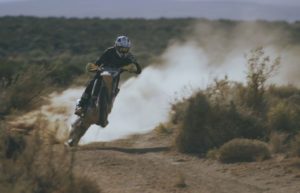 "We filmed for five days, with three different motorbikes, and three riders and produced a killer video."
David's ambitions do not end at provincial, national and action-video actor status, but go on to a lifelong dream to finish the Dakar in a respectable position.
Although he was practically born with a motorbike helmet, he manages to divide his time between the two great loves of his life: motorbike riding and mechanical engineering.
"I've wanted to study it for as long as I can remember. The idea of figuring out the fundamentals of something and then using that information to improve or adapt stuff was very appealing. During my school years I enjoyed the practical and hands-on side of engineering as well and spent most of my free-time restoring motorbikes and cars."
"To be honest, I don't have too many memories before I started riding. The thought of ever stopping is frightening."
While most students find it difficult to balance multiple passions, David has managed to trump the odds. Although studying remains his priority, he managed to compete provincially to great success.
He finished his Master's degree in Mechanical Engineering in 2016, but found that he longed for more.
"As soon as I started studying, especially post grad, I realised I enjoyed the theoretical and academic side of mechanical engineering as much as the practical element thereof," says David.
When asked to give some advice to young riders, David explains that studying should be their main focus while at varsity, but maintaining a balance between academic responsibilities and sporting activities is key.
"You must make the most of the opportunities you get and the time you have available. Don't waste an opportunity to ride or practise by going for a session with unmotivated or slow people. "Hit the track hard with guys who can keep up and push you."
In the future, David wishes to finish his PhD by the end of 2019, compete in numerous regional championships, a few free-standing events and hopefully a national race or two.
"After my PhD, I'll have to think what the next big challenge will be," he laughs.
David is currently sponsored by Van Dyk Precast, Weskus Verkoelers, Enduro Engineering South Africa, Leatt Protectives, Snapkamera, Dead Lucky, Weskus Filters and Bykleyn Custom MX Graphics.