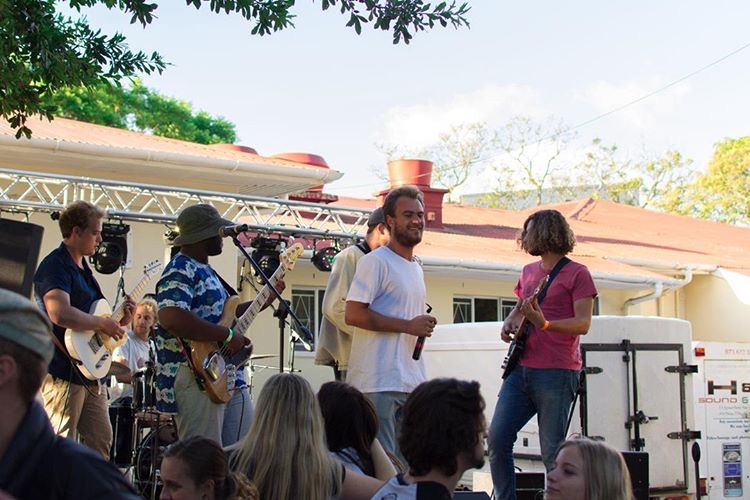 Albums, Music Videos, Repfees – It's all happening for Stellenbosch locals Uncle Spike
Wianda Gilliland
This local seven-member funk, punk, rock, reggae band has big plans for 2018 – their first music video, first album and many big performances.
Uncle Spike, which started out in Wilgenhof with Paul and Francois just casually jamming together in their first year in 2015, now consists of 7 diverse members which together produce a very unique sound.
Marcel, who plays guitar, explains that a lot of people asked what genre of music they play, and that they struggled to define it. Their current genre description on their Facebook page is "Anglo-Boer Sensationalism", which triggered a laugh amongst the band members when mentioned.
"That is a bit of a joke," Paul, who raps and plays bass guitar, explained. "We play funk, punk, rock, reggae and everything in between."
Lood plays the drums, Francois is lead vocalist, Pieter-Ben is also on the guitar, while Chris and Mike spice things up with the cello and saxophone, respectively.
"We also sing in Afrikaans and English," Francois adds. He and Paul writes most of the lyrics, and all their songs have a story behind it or some special meaning to the band.
"We're all very different, each of us brings our own inspiration and influence to the band," said Paul.
They all, however, admire artists like Bob Marley and the Wailers, Jimmi Hendrix and Red Hot Chilli Peppers.
The band is releasing their first studio album at the end of March, along with their first music video which will also be released soon.
They have a lot of gigs and performances lined up, and they are especially excited to return to the Bohemia stage.
"We played Bohemia for the first time October 2017, and people were lined up outside trying to get in to see us perform," Mike said, "that was a real stand out moment for us. Playing there was one of our main goals."
The band hopes to one day play at bigger festivals and also wishes to tour internationally.
"As a band our biggest goal is to make it big without selling out, we want to stay true to ourselves," Lood explained.
See Uncle Spike live at:
"Spliff Central With Uncle Spike" – 3 Balke (Old Springboks) on 28 February
"Woordfees" – Bloekomhoek on 2 March
"Psychoduidelik" – Aandklas on 7 March
"Uncle Spike at Bohemia" – Bohemia on 15 March.