The various residences on campus host a variety of events throughout the year. Here are some of the events which are open to all Stellenbosch students so that you can plan ahead and get amped for 2018. Luke Smith, Jeanine Malan, Arleen Stone and Katherine van der Berg rounded up a list of this year's events.
Simonsberg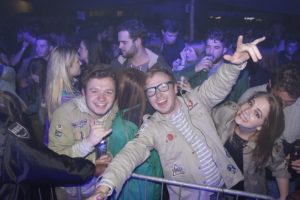 Simonsberg Met
16 February
This 56-year-old event is the largest student-organized event in the country. Nearly three thousand people attend Stellenbosch's own day at the races, dressed in semi-formal wear. Spectators get the opportunity to bet on newcomers and their horses. Afterwards, a live band entertains the audience. Tickets are available online.
Simonstock
July
Simonsberg hosts a small week-long festival with acoustic performances and a band night. Artists performing at Simonstock range from students to well-known South African musicians and groups. Students can enjoy quality acoustic performances while they savour some good wine. Another event is Vortex, a popular night for the party animals. Various DJs entertain the crowd which dances the night away.
Metanoia
Fill Up The Grass
Mid-August
"Metanoia will be packed with gees," says Lourens van Niekerk, Metanoia's social HK. There will be a huge party on the lawn in front of the residence. Every student in Stellenbosch is encouraged to come and help #fillupthegrass to make the event a night to remember.
Metanoia Legacy Festival
September
This leadership festival will offer "leadership and innovation for all," explains Van Niekerk. Students will have the opportunity to learn more about what it means to leave a legacy, and to engage with other students around them. There will also be performances by South African artists.
Helderberg
Jack Is Back's Party of the Month
14 Febraury (to be confirmed)
The first event of the Republic of Helderberg is their pub-opening. Although the event's name does not hint at its purpose, it is aimed at collecting women's sanitary products in support of the Pad Drive initiative on campus. Helderberg promises to live up to their reputation of "a good time" by throwing a party at their pub with beer pong tables and their own dance floor. A cash donation of your choice or (preferably) sanitary pads will be required as the entrance fee to the event.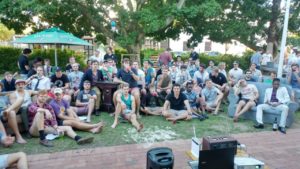 Repfees
24 February
Perhaps one of most eagerly anticipated events of the year is Repfees which promises to include a wide range of electrifying acts. Youngsta CPT, The Kiffness, Jerry and the Bandits, Uncle Spike and Medit are just a few of the line-ups that you can expect this February. Tickets will be sold on the Rooiplein a week before their event, so keep your eyes open for men from the Republic.
Dagbreek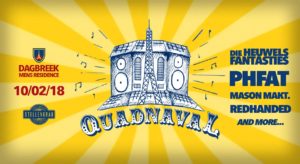 Quadnaval
10 February
The first must-attend event of the year will be held at Dagbreek.
Expect a lot of activities, ranging from beer pong to dodgeball. In the evening, a "spectacle of music and dance" will unfold, according to their Facebook event page.
Dagbreek invited some of South Africa's leading artists such as Die Heuwels Fantasties, PHFat and Red Handed. The event will be sponsored by Stellenbrau, so Quadnaval will be the place to be for all beer lovers.
Tickets are R100, available online.
Eendrag
Battle of the Bands
This competition was started in 2017 by Eendrag to promote musical groups in Stellenbosch. Winners receive a lot of exposure and prizes to give their careers a well needed boost. Check the Facebook page for more information.
21st Century Leadership
This is another Eendrag initiative which invites well-know people as speakers to talk about how they became excellent leaders in their various fields. Last year's event saw speakers such as South African billionaire Jannie Mouton, the award-winning journalist Hanlie Retief, recipient of the NSTF Annual Award prof Nox Makunga, and owner of Stellies Authentic Clothing, Chris Delport.
Valentine's Day Cinema
This new edition to the Eendrag social calender, will see a renowned outdoor cinema screening company setting up on Eendrag's large lawn so that couples can enjoy a romantic movie night under the stars.
Damestouch
This touch rugby tournament in which female residences compete against each other was launched in 1981 and has grown to be one of the most popular events of the year. It is usually accompanied by headlining DJ performances and a lot of crazy, sporty fun.
Wilgenhof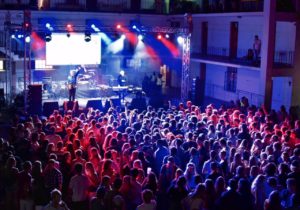 Kwottie Electro
This year, Wilgenhof's annual Carry Six Packer will take a new shape and form. Teaming up with Woordfees, Wilgenhof has created Kwottie Electro.
Kwottie Electro will serve as hybrid between the legendary annual Carry Six Packer parties with the cultural finesse of Woordfees.
Although 2018 will be the debut of the Res party, art festival hybrid, the reputation of both these two annual Stellenbosch functions suggest that we can expect a good time.
Kwottie Electro is scheduled to take place on 10 March 2018 and will still be held in Wilgenhof.
The lineup is yet to be announced. but if prior lineups of these events are anything to go by, Kwottie Electro is sure to rock your socks off.
Helshoogte
Hoenderdag

Hoenderdag is one of Helshoogte's flagship events that takes place during their annual Hoenderweek (a week dedicated to their residence and house symbol, the rooster).
This year's festivities not only includes creative stalls, pumping tunes and a lot of Matie students, but also some important adjustments.
Due to the 2018-2020 building project at Helshoogte, the event will take place in the parking area between Helshoogte and Eendrag.
The abundance of shade beneath the lush trees will give partygoers the stamina they need for an all-nighter.
They have also decided to host the event in support of the Animal Welfare Society of Stellenbosch and Maties Paw. The event will take place on 17 March alongside the Helshoogters, six local DJ's and the rest of the student body for a six-hour long jol.
More information about the event will be circulated on campus during the course of the term.