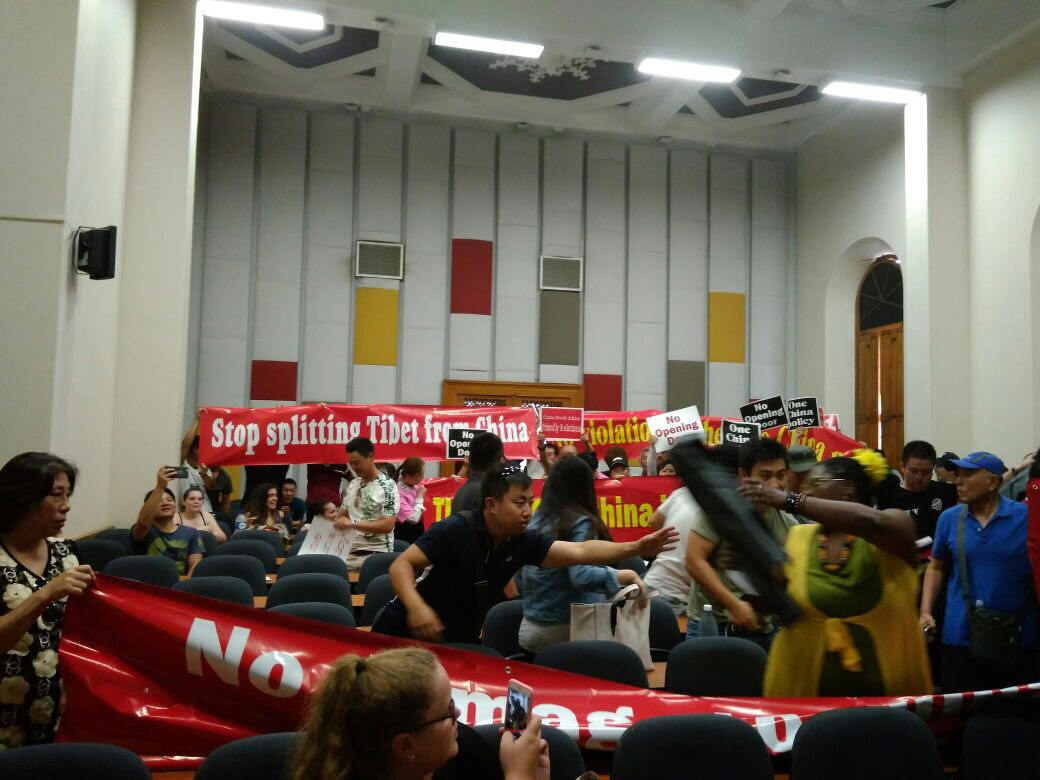 Paid protesters prevent Tibetan leader's lecture
Ingrid Heÿdenrÿch
A lecture that was supposed to be held by Dr Lobsang Sangay, the President of the Central Tibetan Administration (the Tibetan government in exile), was cancelled due to push back from, amongst others, the African National Congress (ANC).
On 8 February, a small group of protesters gathered around the Ou Hoofgebou where the lecture was supposed to be held, carrying banners that said "No opening door for the Tibetan separatist" and "No violation of the One China policy."
One of the protesters, who chose to stay anonymous, said that he was paid R200 to come to Stellenbosch from Milnerton to take part.
Timothy Magube, another one of the protesters, said that he was at the protest because he "supports the closing" and because "they need to be given a job."
The lecture Sangay was supposed to present was titled: "International politics underpinning human rights and international law pertaining to exiles: Tibet's integration with the UN and EU Parliament".
Phillip Dexter, former Member of Parliament (MP) of the ANC, said that it is important to build solid relationships with China.
"We understand that there are concerns about human rights, but we are saying there must be concerns about everybody's rights," he said. He said that South Africa must not be used as a platform to fight for the separatism of Tibet, otherwise South Africa will get stuck in the middle.
Martin Viljoen, SU spokesperson, said it is not known if the group represented a specific pressure group or not. According to him the lecture was made private due to safety concerns.
"The lecture was moved to another location where personnel and students could listen to Dr Sangay."
Dexter said that he was part of the process of ensuring that the relationship between China and South Africa became formalised.
"At no point did Nelson Mandela recognise Tibet. That is an issue for the UN to resolve," he said.
Viljoen said the university realises that speakers such as Sangay can be controversial for some groups, but that it does not influence the university's decision about guest lecturers.
"The Law Faculty was approached to host the lecture. Dr Sangay's opinions do not represent SU or the faculty's stance on Tibet or any other subject."
Photo: Maximillian Werkhausen