Campus Closet: beat the heat in Stellies
Surviving the heat whilst looking stylish can be a challenge, but don't let it defeat you. Though we expected to see a lot more plakkies, some guys just can't let go of their favourite kicks. All's well since these students prove that 35° heat still can't keep a good outfit down. Janique Oliver and Willow Ruby spotted some students who perfected the "sweat but still look cool" look.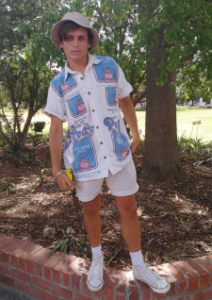 Get Thrifty
Let's talk about how flower power time travelled and got lost in translation. In the best way possible, of course. Old is the new, new.
So throw on that controversial flour shirt in protest against the small group of people who happen to be gluten-free.
When stirring up the ingredients to make the perfect outfit don't forget the bucket-hat to tie everything together. Be sure to pay Stellenbosch's hospice store a visit for statement pieces of the same caliber.
A killer pose won't hurt either.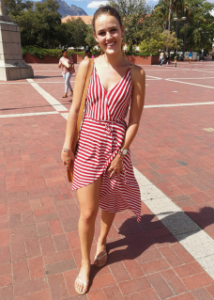 "Plein" Stripes
How does one transform Tuesdays and Thursdays into Trendays ?
A bold colour to make a statement? Check. Comfy shoes to prevent any spontaneous slipping or tripping? Check. A stylish pattern to stand out? Check. A convenient dress that you can dress up or down? Check.
And ensure your Marylin Monroe moment in the Cape Town wind without any mid-campus flash with the classic high-low cut.
Just like a mullet, business in the front and party in the back.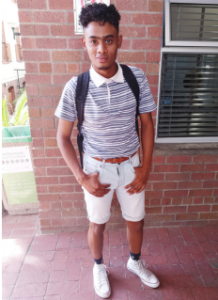 Back to school cool
With his monochrome style match-up this guy is able to tick all our boxes.
It all starts off with a lovely striped golf shirt which he buttoned up all the way to make him seem ready to head over to a brunch at Blaauwklippen or Simonsig.
By opting for shorts and Converse, he is keeping it cool and casual.
A simple brown belt adds to this classic and timeless look, but also assures that he is taken seriously by fellow students and lecturers alike.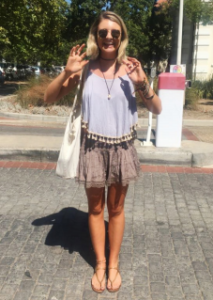 Boho chic
This lovely lady decided it was time to steal some heat from the sun by shining from head to toe in a summer styled bohemian look.
From the sunnies to the timeless choker why not show some love to nature with a dash of earthy tones? Comfort is key.
Doing the Rooiplein runway at least 5 times a day means you have to pick your transport wisely, and that she did.
Who can go wrong with a good pair of flip flops? A smile also doesn't hurt anybody.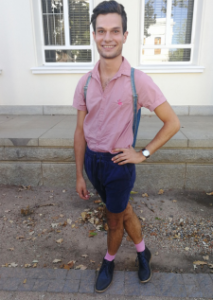 Matchy but not tacky
All respect to the man who takes the time to match his shirt to his socks.
You can't go wrong with "hiptro. It's the new fusion between hipster and retro. (Trust us, it's really a thing).
This is a classic look with a millenial pop of pink.
Men's fashion doesn't have to be stifled by brand name T-shorts and khaki-pants. Take some risks.
So props to this fellow who will confidently strut these streets with his carefully planned fashion choices. A touch of pink also never hurt anybody.