By Hannah Theron
The second semester has started, and for some students this will be their last semester at Stellenbosch University (SU). Many Maties, especially those who started university in 2020, may have missed out on what university life has to offer due to the COVID-19 pandemic. In light of these circumstances, Die Matie has compiled a bucket list of activities for students looking for new things to experience before the end of their time at SU.
Swim in Coetzenburg Dam
Going for a swim in the dam on a hot day is an integral part of being an SU student. It is also a popular place to go for picnics and to watch the sunset.
"In summer, the dam is always busy. There's always socials and music, and it's a really nice vibe . . . and the water is so refreshing," said Lea Renard, a third-year BA (International Studies) student.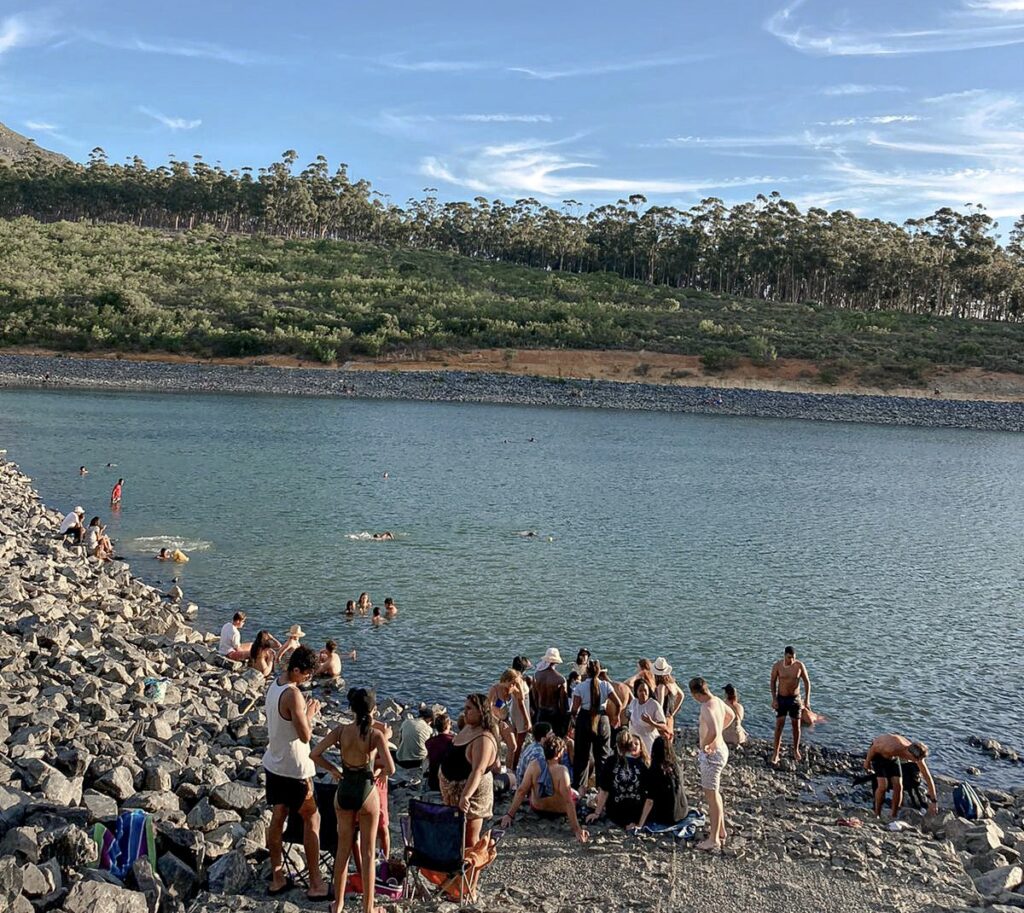 Visit the SU Botanical Garden
For those looking for a relaxing atmosphere, the SU Botanical Garden is the perfect place to go. They offer free entry to students who show their student card, and offer a truly beautiful place to spend the afternoon.
"It's got a lovely restaurant. . . . You can picnic there, [and] it's very quiet, so you can study there," said Tatjana Rietoff, a third-year BA (International Studies) student.
Neelsie Cinema
Due to the Neelsie Cinema having been closed for renovations, many students may not have had the opportunity to watch a movie there yet. Going to the movies is always a good way to spend time with friends, so it is an experience that students should be sure to do soon.
Experience Golden Week
Golden Week is a staple part of student life in Stellenbosch. The goal is to go out to a bar or club for seven consecutive days (and, in theory, still attend all one's classes).
"I just think people should [participate in Golden Week] to really experience the culture of Stellenbosh's student nightlife," said Kuhle Cekiso, a third-year BA (Drama and Theatre Studies) student.
Go to a wine farm
Stellenbosch has an abundance of wine farms to choose from, and many are fairly inexpensive for students on a budget. For those who do not drink, most wine farms have great food and a beautiful view, so they are still worth a visit.
"Wine tasting is a must. I'm sure everyone knows that. Wine tasting around Stellenbosch is generally just one of the highlights you have to do," said Caitlin ­Sumadraji, a BA Hons ­(International Studies) student.
"I don't think I've ever met a student who hasn't gone wine tasting," added Rietoff.
Attend a digs formal
"I think everybody should [have a digs formal] . . . because it is memorable, and it's normally a very fun and silly night," said Caterina Lourens, a BAHons (Social Anthropology) student.
A digs formal is essentially a ­fancy house party organised by a group of friends and hosted at someone's house or apartment. It is a fun and intimate way for students to spend time together. Typically, students set their friends up on blind dates and play games throughout the night.
Time flies whilst one is studying at university, and with academic work becoming overwhelming, students can easily forget to have fun. But before they know it, they will be graduating too, making it the perfect time to make the most of their university experience.