By Ansela Sloman
As mornings get darker and the air chillier, it may be time for many Stellenbosch students to put away their shorts and plakkies and dig to the back of their closets for some winter necessities. For those looking to invest in some new winter basics (and unique statement pieces), the Stellenbosch thrifting scene is the answer!
Many students may have heard of thrifting, or have those friends who always wear the coolest outfits and proudly announce, "Thanks, it's thrifted!" whenever they get complimented. However, many students do not know where to start their own thrifting journey. Here is Die Matie's guide to the hottest thrifting spots in Stellenbosch for winter.
Ons Winkel
This small, homely store can be found on 121 Andringa Street and is packed to the brim with everything from high heels ready for dancing, to pants and jerseys to keep people warm this winter! According to staff member Judy Mitchell, all their stock is donated by people who live in the community.
"You save a lot of money . . . and you never know what you can find in a second-hand store! Whether it's a jersey or something you want to put in your room, you'll always find something cute!" Mitchell said.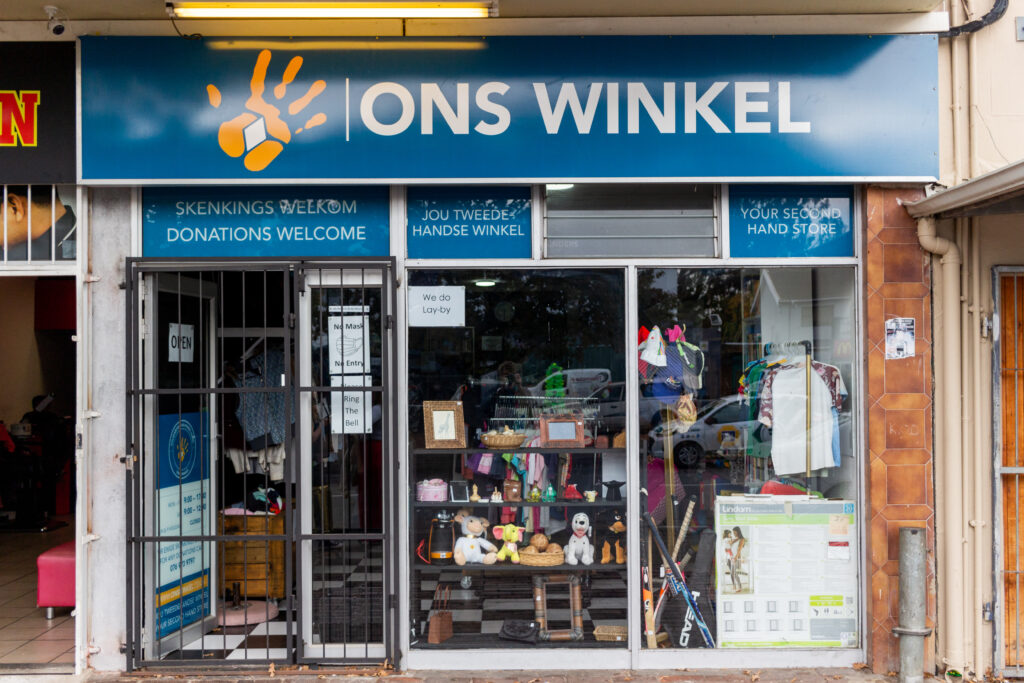 Mitchell explained that items are priced depending on quality, but for those on a budget, the bargain box is their best friend. "[The prices] depend on how it looks . . . . If it's nice, we give a decent price. If it's not as nice, we give it a discount."
This shop is an essential stop for those looking for some winter ­basics at very affordable prices.
The Hospice Shop
The Hospice Shop located on Borcherd Road is a bigger space with lots of fun pieces ready to be found.
"All our clothes are donations from the community," explained Ann Leiths, a staff member at the Hospice Shop.
"For the 10 years I've been here, the students [have] . . . love[d] to come and shop here because it's good for the planet . . . and they find it much cheaper than retail shops."
The shop is usually bustling with students looking for their next ­bargain, such as corduroy trousers for R80 or even designer clothes donated by generous community ­members.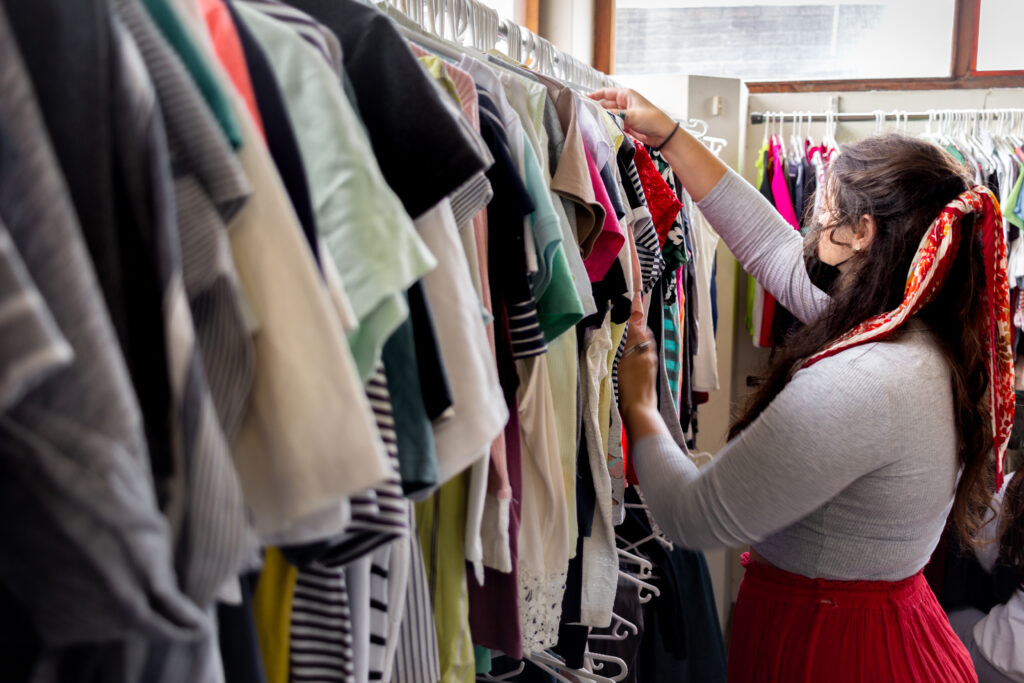 "You will be amazed by the things you can find here! We had [brand new] shoes donated to us yesterday from overseas. People are donating quality stuff here," Leiths commented.
Additionally, a poster at the entrance to the shop informs customers that all proceeds from sales go to the Stellenbosch Hospice, which provides care to those suffering from life-threatening or l­­ife-limiting conditions. So if the good prices and wide variety are not enough to draw you in, then the prospect of supporting a good cause may do the trick. The Hospice Shop is definitely a good stop for students and a must-visit for winter shopping!
Malaki Second Chances
On 36 Ryneveld Street, you can find Malaki Second Chances tucked between two coffee shops. With a beautiful interior and friendly staff, Malaki Second Chances is an absolute gem in the Stellenbosch second-hand scene and provides a curated selection of second-hand (as well as a few new handmade) pieces.
The store sports a wide ­variety of second-hand clothing, from high-quality designer and imported pieces and evening dresses to the more casual items making up the R50 rail and R10 box.
Urna van Heyningen, a staff member at the shop, explained that they get their products from students and other community ­members and if their pieces sell, they get 30% back.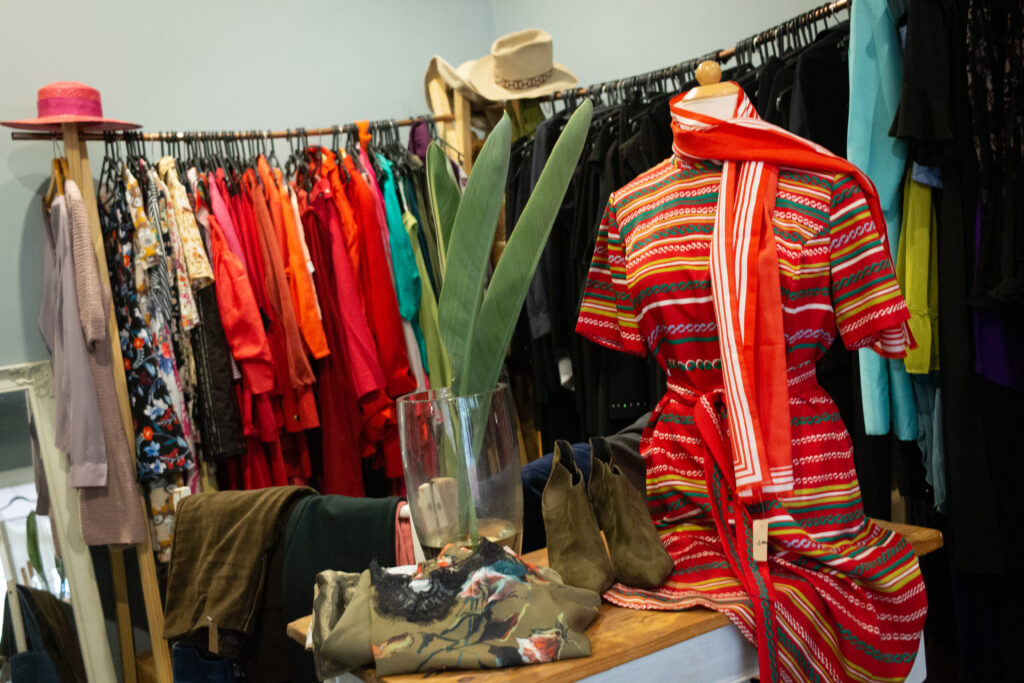 "People throw out beautiful stuff, perfectly good clothes that maybe just don't fit, [so we] give those clothes second chances."
Coats, jerseys and even suede pants are some winter clothes up for grabs at Malaki, making it a great option for students wanting to invest in good quality second-hand clothing this winter.
Van Heyningen emphasised the creativity that shopping second-hand sparks, saying that many customers like to "flip" their finds into something completely new "because [buying second-hand is] so cheap. [Customers] buy a dress and make a top from it! You can play around [and] even tie-dye it!"
Malaki Second Chances is definitely worth popping into between classes to snag some unique winter must-haves.
Dorp Street Sunday ­Market
The Stellenbosch thrift guide would not be complete without the Dorp Street Sunday Market, which takes place every Sunday in the heart of Stellenbosch and has over 50 unique vendors, including many selling thrifted or second-hand clothing.
Meagan Classen, a second-year BSc (Human Life Science) student, said that the market is her favourite place to thrift in Stellenbosch. "It's honestly so easy and accessible to thrift in Stellies, since there is a market each Sunday in Dorp Street that mostly consists of thrift pop ups. Some of my favourite thrift stores are at the market most Sundays."
Leani Breedt, the market vendor manager, encourages students to come and check out the many vendors before spending their money on fast fashion.
"The Dorp Street Sunday Market has more than 10 different thrift and second-hand vendors to choose from, and—especially with winter [coming up]—that gives students hundreds of choices to choose from for their winter wardrobe. Instead of going to the shops and buying extremely expensive blazers, sweaters and coats, they can just come to the market and get the same quality for much more affordable [prices]."
According to Breedt, there are ethical benefits of thrifting. Not only is thrifting better for the environment, but thrifters are also supporting a small, local business. "When you're supporting [vendors at the Dorp Street Sunday ­Market] you're supporting a family. . . You're not supporting some huge company and someone buying their third Ferrari.
"It is also super affordable—it doesn't cost you an arm and a leg to come out and support the thrifting traders."
A visit to the vibrant Dorp Street Sunday Market should be on the bucket list of every Stellenbosch student, especially those looking to support local businesses and update their wardrobe for the cold months coming up.