By Lesedi Mnisi
The bottom half of a soft bun, a little bit of sauce, some lettuce, a delicious patty, a few slices of cheese, a slice of tomato, some onion, a whole lot more sauce and the top half of a sesame seed bun—that is what 28 May is all about: ­hamburgers. 
It is not always easy to find a good burger or even a good place to eat one, which is perhaps what makes celebrating Hamburger Day so difficult. It is for this reason that ­­Die ­Matie went in search of the best places to get a burger that will meet the needs of all burger lovers, regardless of whether they are meat lovers, vegetarian or ­vegan.
Stud. The Burger Shop
Located on Plein Street, Stud. is a unique burger shop in the sense that it only offers outdoor seating with a clear view of the kitchen. The design of the shop gives off the feeling of ordering and eating from a food truck.
Instead of a lengthy menu, the shop only offers three beef burgers, one vegan burger and one vegetarian. The staff are friendly and helpful, and the food is prepared quite quickly. Stud. is perfect for someone looking for a burger that is prepared timeously, tastes delicious and is within the price range of R70–R95.
The Stud. Burger is made with a double stacked boran (pure bred and grass fed beef) patty, pickles, onion, cheese, mustard, tomato and mayo sauces. All these ingredients are carefully nestled between two halves of a scrumptious brioche bun.
Flame & Ash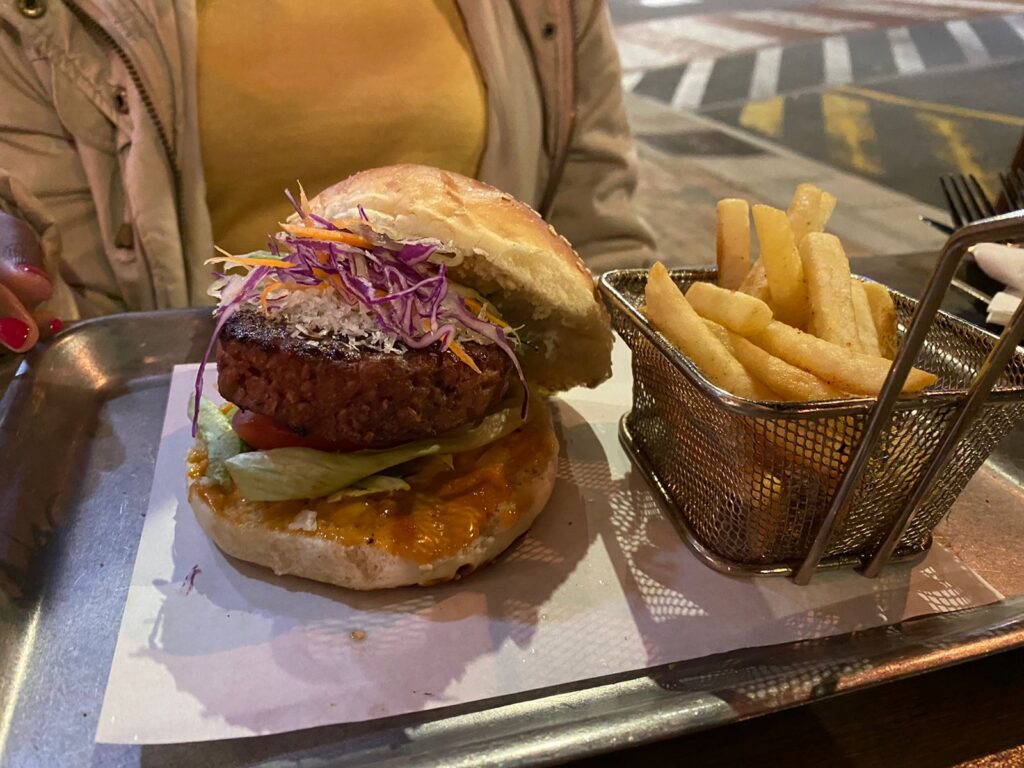 Flame & Ash is a restaurant that can be found a few stores down from Stud.
Unlike Stud., this restaurant not only serves burgers but woodfired pizzas, nachos, ribs and salads. This makes it the perfect place to go to with friends or family that (for some strange reason) do not want to eat burgers. This restaurant offers indoor and outdoor seating and has a space inside for content creators and memory hoarders to take photos.
Flame & Ash serves a few more burgers than Stud. and also serves chicken patties. They offer eight beef burgers, two chicken burgers, one vegetarian, and one vegan burger. Their burgers are within the price range of R58–R129 and are all served with chips and a free ice-cream.
Additionally, the most exciting part about Flame & Ash burgers is that on Tuesdays, all their burgers are 40% off.
Their delicious vegetarian burger consists of a vegetable patty with tzatziki, red onion, cucumber and a side of sweet potato fries. This burger looks good, tastes good and is good.
Hudsons The Burger Joint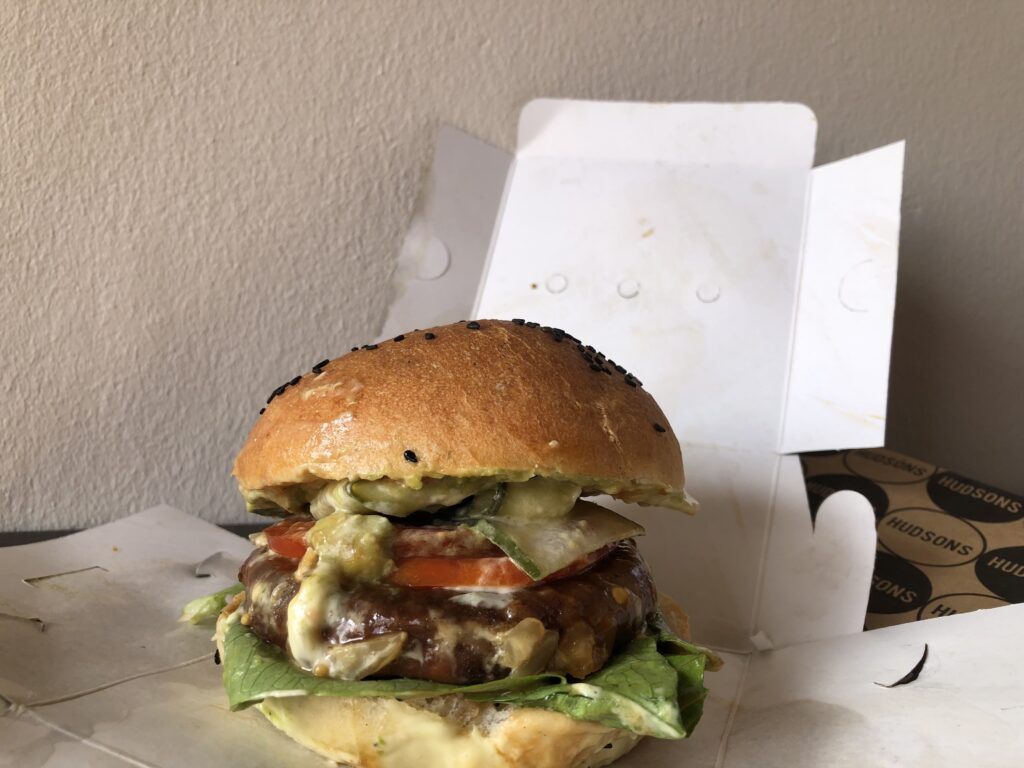 Hudsons is, according to their Instagram bio (@hudsonsstellenbosch), "an American style burger joint with South African flare" that can be found at 77 Dorp Street.
Hudsons also serves food other than burgers and offers both indoor and outdoor seating. It is advised to keep an eye on their social media accounts to remain informed on when they are having live music or other events.
This burger joint has a menu that offers 10 beef burgers, three chicken burgers, one pork burger and a whopping five vegan burgers! All of their burgers are dripping with sauce and have various fillings, making them a true burger lover's dream. Burgers from Hudsons cost ­anything from R70 to R135. Hudsons also offers at-home kits that can be bought and used to make delicious burgers from the comfort of one's home.
The Vegan Cheese burger from Hudsons is made with a pea protein patty, battered onion rings, vegan cheddar cheese, homemade pickles and roasted garlic aioli. This burger is dripping with mouthwatering sauces such as their German mustard and is guaranteed to cause an explosion of flavours in your mouth.
Stud., Flame & Ash and ­Hudsons are not the only places to eat good burgers. There are other places such as McDonald's, Steers and KFC, which are suitable for people who want a faster and more affordable option. Either way, there is a burger for every kind of burger lover who wishes to celebrate Hamburger Day this year.