By Aurelia Mouton
Since before the hippy 1960s and the '80s power rock era, tattoos and piercings have been used in many cultural and religious practices in Africa, China, Egypt, Samoa and even Ancient Greece and Rome. 
One of the oldest pieces of evidence of tattoos was found in 1991 on a mummified body from the Otzal Alps. Ötzi the Iceman, a mummy roughly 5000 years old, boasts a whopping 61 tattoos all across his body, which are believed to be honorary inkings from winning battles.
Today, people simply have to walk to their nearest tattoo studio to get inked—and Stellenbosch has no shortage of trendy tattoo shops, each offering its own unique art from well-known artists.
Megan Smith, co-owner with ­Beatrix Badenhorst of Folk Tattoo & Piercing (@folk.tattoo on Instagram), an upmarket studio in the heart of Stellenbosch, said, "When designing the studio interior, we wanted to create a space that was non-threatening and open, a place where people can feel comfortable and safe."
Badenhorst added that it is important to have a comfortable and safe space in their line of work, especially as client base consists predominantly of female students. "[G]etting a ­tattoo or piercing is a scary thing sometimes, and our clients are vulnerable and rely on us to make them feel safe," said Badenhorst.
"We have all types of clients come through our doors, and what is great about the space is that it isn't limited to anyone, no matter your background, race, sexual orientation, age or taste in tattoos. We just have such a positive reaction to our space, and it is amazing to see everyone's differences fall away and love of tattoos come through," she added.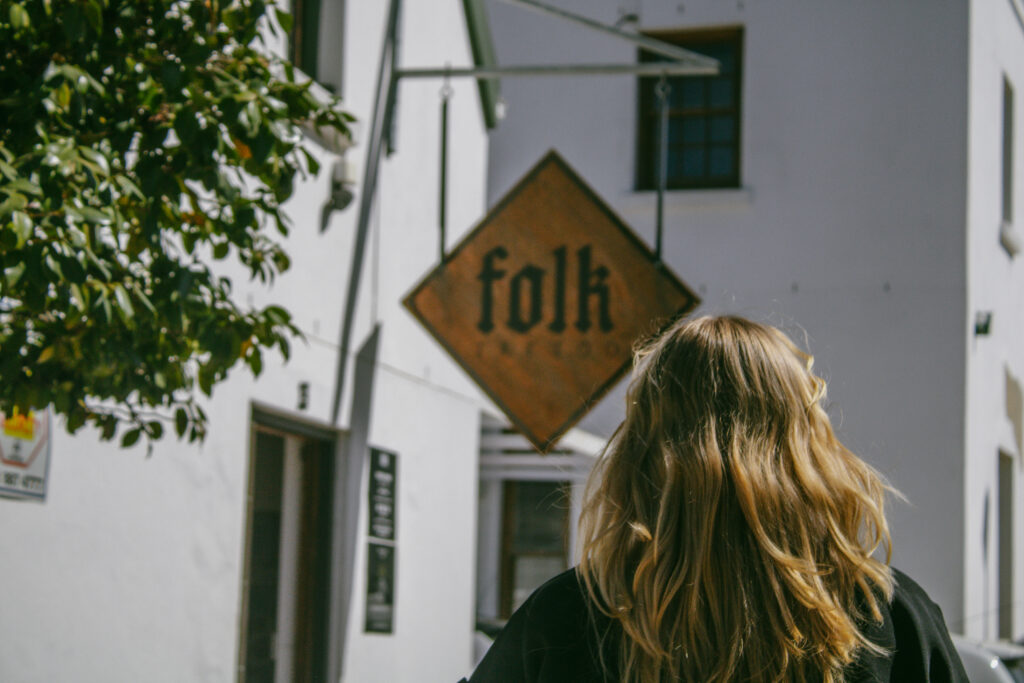 "[I] liked the idea of being different. Growing up in a very small town in KZN, it was very taboo. But really, I just love tattoos and had made the decision from a young age that I wanted to have loads of them.", said Smith.

Smith continued to say, "I was working in a studio with artists for a long time before I started tattooing. I never realised I wanted to tattoo until I was surrounded by it all day. Now I can't imagine doing anything else. For a lot of people it holds a memory, a feeling or a belief, but also a lot of tattoos are done purely aesthetically: to decorate your body or make a statement, or even cover something up. It takes courage to get a tattoo and to make that commitment."
Armand Lombard, @pokushoecus on Instagram, spoke to Die Matie about their Instagram business ­Hoecus Pocus, as a hand-poke tattoo artist working out of their bachelor's unit. Stick-and-poke tattoos are not done with a tattoo gun, but with a non-electric method of dipping the needle into ink and poking the tattoo into the skin dot by dot.
"Stick-and-poke style has always been fascinating to me—a little DIY, rough around the edges, and offbeat in the best way possible. Art should be accessible and affordable, and that's the main reason I started doing stick-and-poke tattoos," said Lombard.
Lombard explained further and said, "[T]here's something more personal to it. It's a very ancient procedure practised by various cultures for centuries now—I really think it's quite magical and beautiful in that way. . . . [A] lot of blood, sweat and tears go into handpoking someone, with some sessions lasting four hours, even if it was just a ­ 7 cm x 7 cm tattoo." 
"Getting and giving tattoos has been a really effective way of expressing [myself] and truly living my identity. Coming from a small and conservative town, I didn't really have the proper space to truly be who I wanted. As a queer [person] myself, I must say in many ways my tattoos and piercings have allowed me to be more confident in myself and my ever-evolving identity," said Lombard.
Also lover of hand-poked tattoos, Cara van der Merwe is in the process of completing their apprenticeship at Ferryman Collections, a local art gallery and tattoo studio specialising in hand-poke style tattoos. They draw every day, tattooing fake skin, and their own, to get used to the feeling of tattooing on human skin. Van der Merwe cites the mindfulness that goes into the stick-and-poke style as one of the main reasons they enjoy the style. 
 "It brings tattooing back to creating community and getting personal, but there is also so much to learn from other [artists] if you are serious about being in the body mod[ification] business, and I wanted that," said van der Merwe.
"It [stick-and-poke tattooing] is a separate culture on its own and I have seen so many talented people working from their homes and I love that about this art form," explained van der Merwe, who opted to work with other professional tattoo artists in a studio where tattoos are done using a tattoo gun, as is custom with most places. 
"The only struggle is pricing for students. [As artists,] you go through an unpaid apprenticeship and you put a lot of hours into learning the trade, so you [the client] aren't just paying for one day's work  . . .  you spend a decent amount of time with your artist curating a concept, having them put work into it, taking the time to look at your body and how the tattoo will suit it," said Van der Merwe.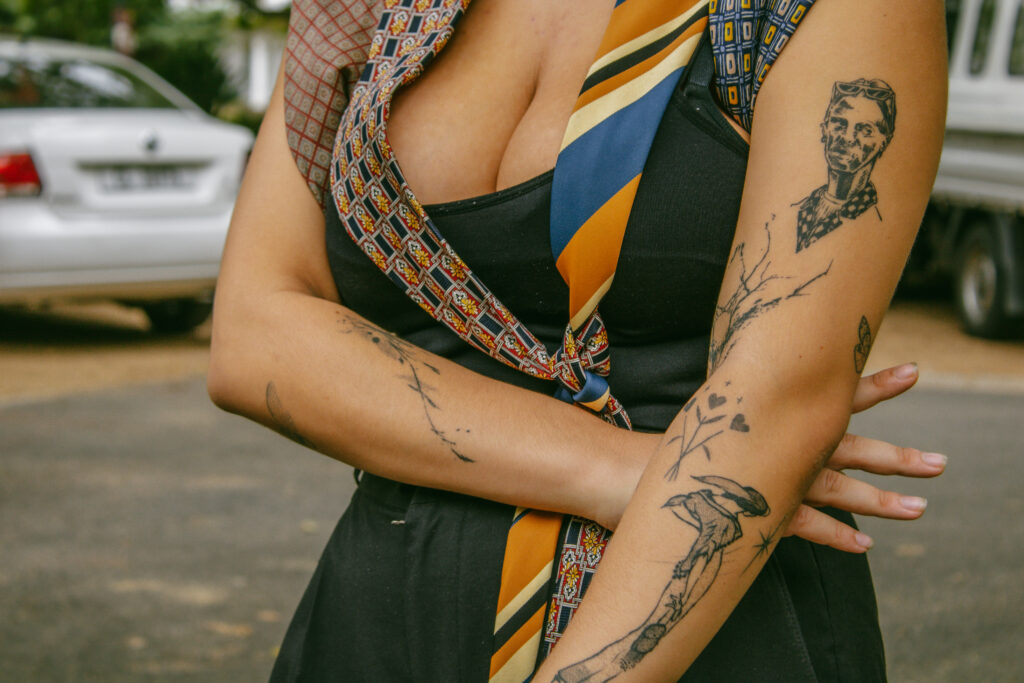 Van der Merwe continued, "It's great working with students. They come from small towns sometimes, really ready to express themselves for the first time."
Self-proclaimed Stellies LLB dropout, van der Merwe (known to most local tattoo enthusiasts as @caravantrash on Instagram), said about her first tattoo,"I got a basic-as-hell crescent moon, as I have always been fascinated by the moon and its powers. I just wanted to get something as quick as possible. Looking back, at the time, I think I also wanted to physically alter my appearance to stand out from all the stiff-looking law students."
Van der Merwe urges students to trust their artist and to tip them, a courtesy that is commonplace in tattoo and piercing culture. The owners of Folk Tattoo & Piercing also encourage their customers to trust their artist's advice.