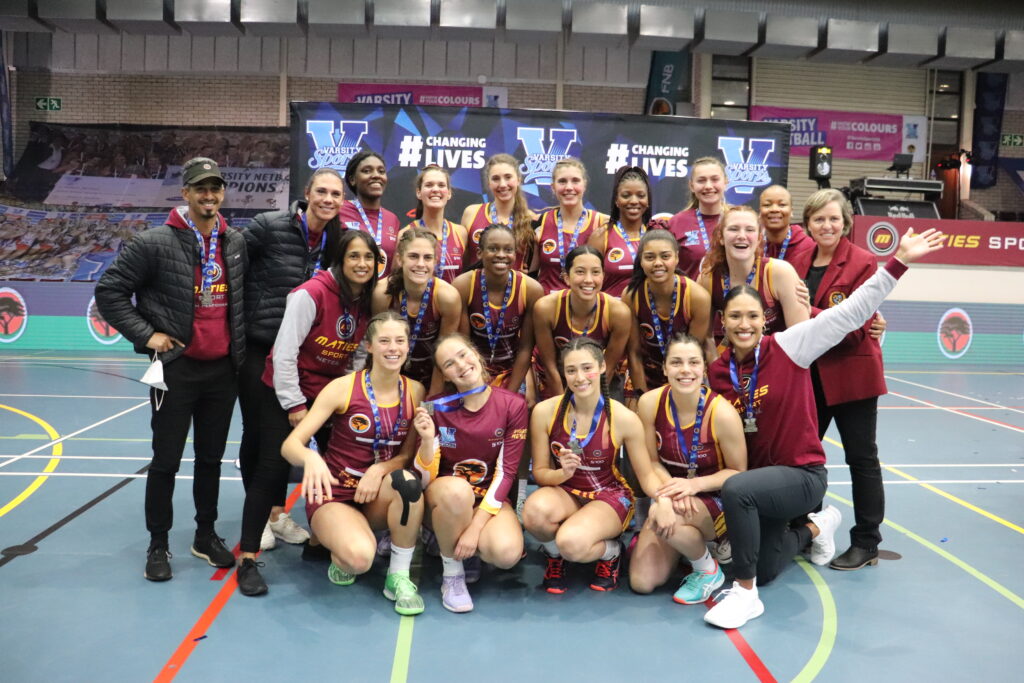 The Maroon Machine Secures Silver at Varsity Netball
BY KUHLE MANGANA
The 2021 Varsity Netball final saw the end of the Maroon Machine's winning streak in their game against the University of the Free State (Kovsies), with a final score of 39 – 55. This came after what looked like a promising season for Maties, having won all eight matches and securing a comfortable spot in the final on 30 August.
Stellenbosch University (SU) was set to host the Varsity Netball tournament this year, with universities from all over the country taking part. The action-packed tournament took place at the Coetzenburg Indoor Centre from 21-30 August. All matches were televised on SuperSport; although no spectators were allowed due to COVID-19, this did not stop the teams from giving them an exhibition of world-class netball.
A Maties player who was exciting to watch and who stood out during the tournament was youngster Syntiche Kabuya, a first-year BSc (Food Science) student. In her debut season, the 18-year-old won the title of FNB Player of the Match three times, whilst also being nominated as FNB Player of the Tournament. She was nominated alongside teammate Nicholé Taljaard and University of Johannesburg (UJ) player, Monica Gomases. Taljaard walked away with the award at the end of the tournament for her incredible contribution on court.
Speaking on her experience as a debutante at Varsity Netball, Kabuya said, "It's unlike anything I have ever experienced before."
Kabuya expressed that this experience has been fun, though also very tiring. She says that playing at this level is difficult but that it does not take away the amazing experience of netball.
When asked about the close relationship and sisterhood among her team, she said, "Everyone in my team is likeable, so it's not difficult to become friends."
She continues to say that everyone has each other's back, despite what each person is going through. "My team motivates me to carry on playing, and my coaches motivate me [too]. [Another] big motivation is that it is fun," says Kabuya.
The enjoyment Kabuya mentioned is something spectators can see whether the Maroon Machine is on court playing or off-court congratulating team members after a great game.
Despite the challenges the team faced due to COVID-19, coaches Zanele Mdodana and Adéle Niemand put together a fierce team. Although walking away with silver may not have been what they wanted, the Maroon Machine definitely dominated in the Varsity Netball tournament this year.