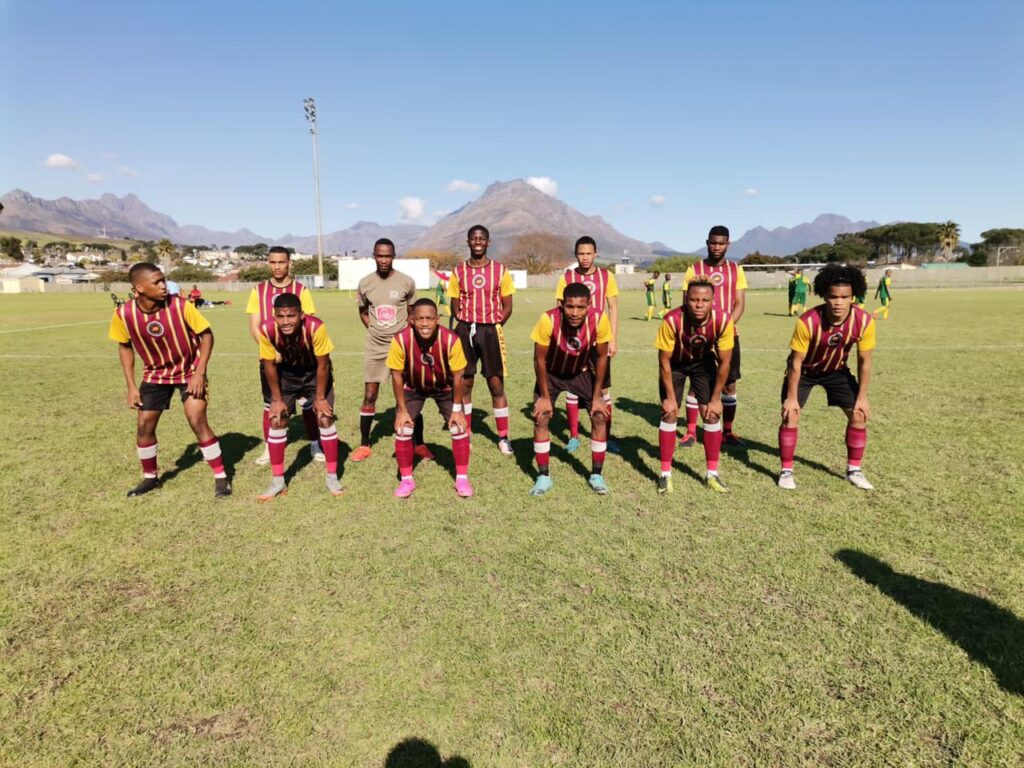 Maties FC Soar into ABC Motsepe League
BY MFUNDO MASHIYA
Maties Football Club (FC) played their way into ​​the ABC Motsepe League, which is in the second division of South African football, after winning the provincial playoffs that took place on 4 and 5 September. The team made their way to the playoffs after winning the Cape Winelands Regional League in scintillating style.
Maties FC kicked off their playoffs with a 2 – 2 draw against Matroosfontein FC on Saturday 4 September. Matroosfontein took the lead in the first half and went into the break with a one-goal lead. They capitalised early in the second half to make it 2 – 0. A resilient and well-drilled Maties FC side fought their way back after scoring two late goals to rescue the game before it was too late.
The second game of the day started off well for Maties FC as they took on Black Cats FC. The men in maroon took the lead in the first half and were one goal up at the halfway point of the game. Maties FC scored early in the second half to make it two goals in their favour. The team began showing signs of fatigue after their long season as they conceded two goals in the second half. Reminiscent of the first game, it ended with a score of 2 – 2. Saturday ended with two draws for Maties FC, which meant they were still in it to win it on the following Sunday.
Sunday morning ushered in a confident Maties team. The only goal of the game against Ithemba Sporting FC was scored by Maties FC in the first half, ultimately leading them to claim victory. Maties FC allows non-university students who are members of the community to participate. The single goal, courtesy of Mervin Boji, a Stellenbosch resident, was enough to make Maties FC the champions and send them through to the ABC Motsepe League.
Strength and conditioning coach Zukhanye Magwa said, "The most difficult part of the weekend was managing a congested game schedule [that] did not allow for recovery between games in one day."
Magwa further said that he was happy to see his team with smiles on their faces after achieving the goal they had set for themselves.
Maties midfielder and fourth-year LLB student Jean-André Stroud had this to say after the game on Sunday morning: "The biggest thing was a sigh of relief because we'd come so close to winning [the Cape Winelands Regional League] in the past but just couldn't make it past the last hurdle. This time around, our hard work paid off and now we can finally end off a great season with big celebrations instead of heartbreak and disappointment."
Their promotion to the ABC Motsepe League means that Maties will now compete provincially. The step up is a rather big one, as Maties now play in a semi-professional league, after having previously played in an amateur league. Maties FC have little over a month to prepare for the start of the new season in the unfamiliar ABC Motsepe League, which is projected to start towards the end of October.
Second-year BA (International Studies) student and Maties FC starlet Luphulo Zini said, "The team is looking forward to the new season, and we are excited about stepping up the level at which Maties plays."
Maties FC forward and first-year BEd (Intermediate Phase Teaching) student Ronaldinho Johnson is optimistic about the future and believes in winning. He said, "If I'm being honest, I really just feel it will be an accomplishment to actually survive because it's our first season up there; but if we can find a good run of form together, I would love—absolutely love—to make the playoff match."
With an ambitious technical team and a strong side at their disposal, this is a young Maties team with a bright future. Football fans can expect an exciting season.