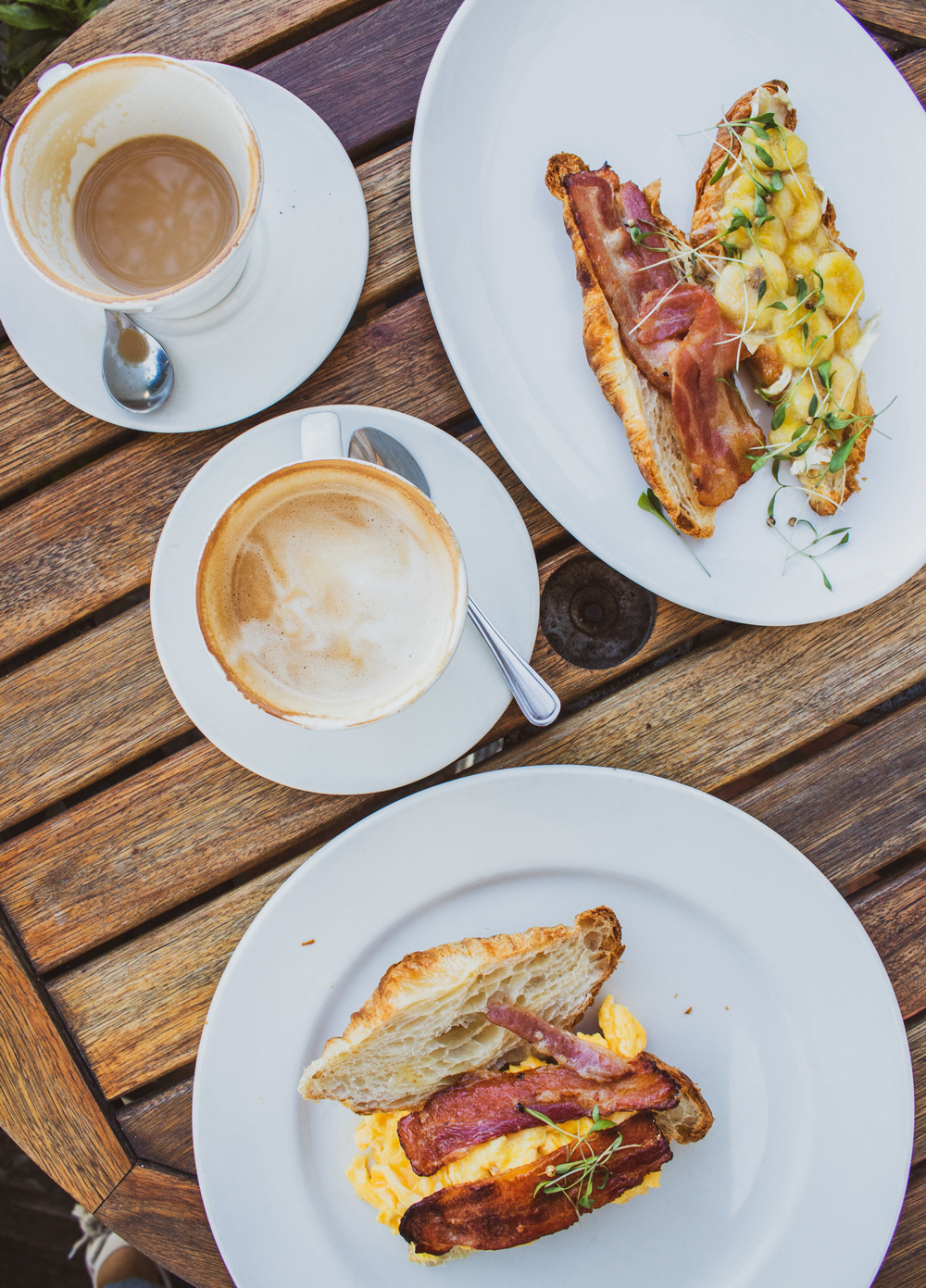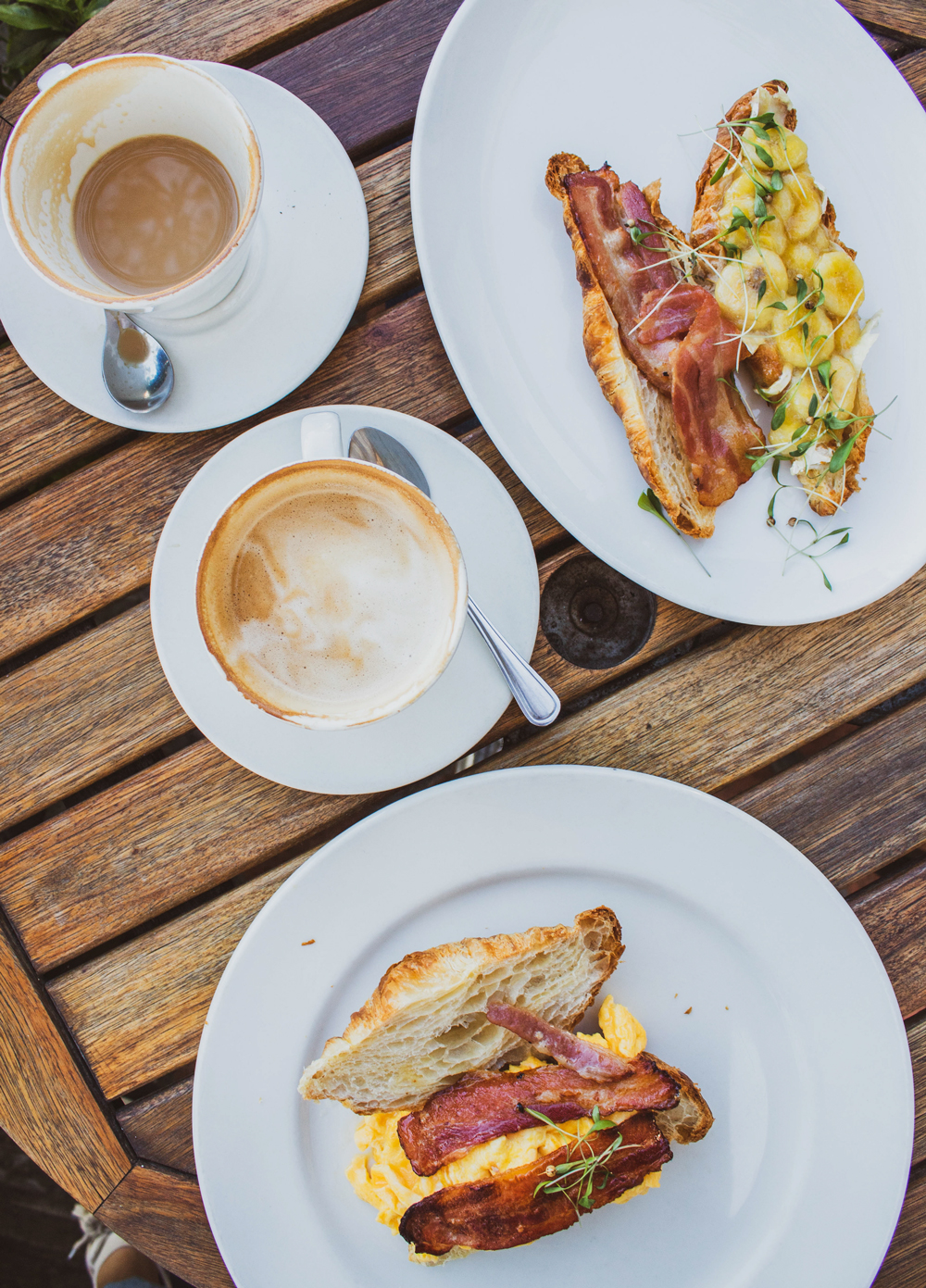 Breakfast Beneath the Oak Trees
BY KARLA DE BOD
Stellenbosch's breakfast scene caters to everyone, whether you are a picky eater, have a sweet tooth, or simply a breakfast-for-dinner type of person. However, the endless breakfast possibilities make the decision of where to start your day quite difficult. Luckily, Die Matie strolled through the oak tree lined streets of Church and Dorp Street in order to find the best breakfast spots in Stellenbosch.
Java Bistro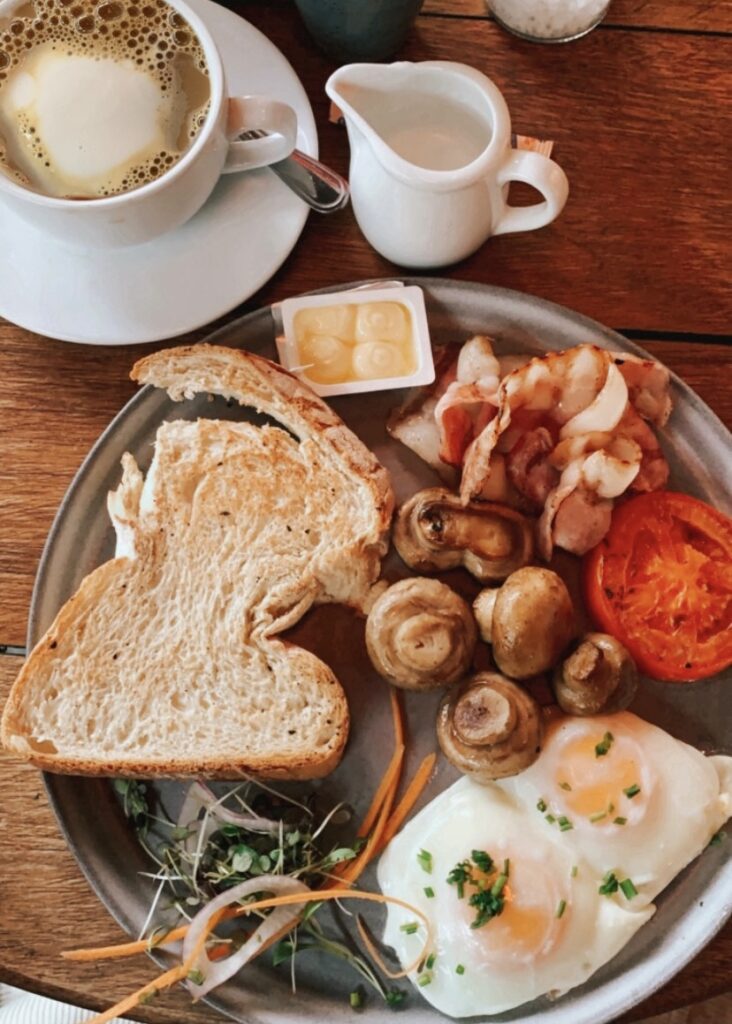 Java Bistro's English breakfast, served with a hearty slice of toast and complementary filter coffee. Photo: Karla de Bod
Situated in the heart of Church Street, Java Bistro is known for their weekly lunch and dinner specials, whether it is gourmet burgers, pastas or wood fired pizza. However, Java's breakfast menu should not go unnoticed.
While the bistro was built by people with a passion for food and wine, the same passion is served with their eggs and filter coffee. All of Java's ingredients are freshly sourced from the local market and they swear that nothing goes into their food except for the finest ingredients.
The breakfast menu presents customers with a variety of options: from healthier choices such as smoothie bowls and banting breakfasts, to traditional bacon-and-egg breakfasts and French toast. Their portions are generous and their slices of toast hearty – just like Ouma used to make.
Java Bistro gives off the French bistro feel, as customers come to enjoy an early breakfast beneath the oak trees as locals and tourists stroll past, all while enjoying a complimentary cup of filter coffee or rooibos tea with every breakfast order.
Hygge Hygge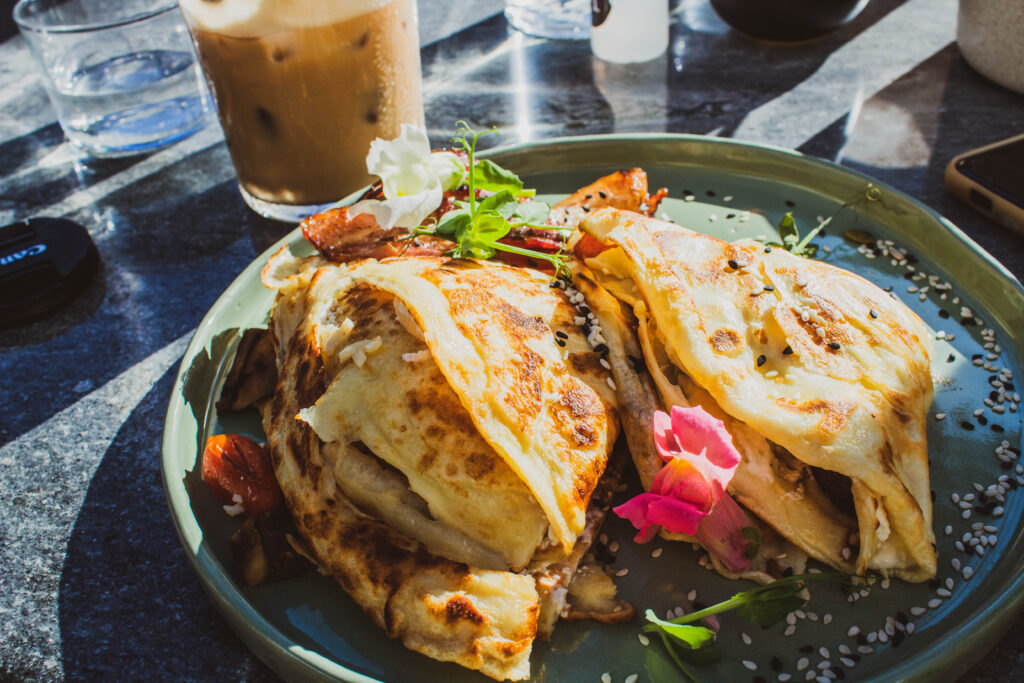 Hygge Hygge's newly added savoury pancakes decorated with flowers and a need for more. Photo: Karla de Bod
Whether you're looking for a cosy study corner or an aesthetic Instagram story, this trendy new breakfast spot has got you covered! You will find Hygge Hygge in Church street as the newest addition to Stellenbosch's breakfast scene.
The meaning behind the café's unique name is not something to be defined, but rather something to be felt; the term Hygge has been described, on the Hygge Hygge website, as everything from "the art of creating intimacy", "cosiness of the soul", and "the pursuit of everyday pleasures".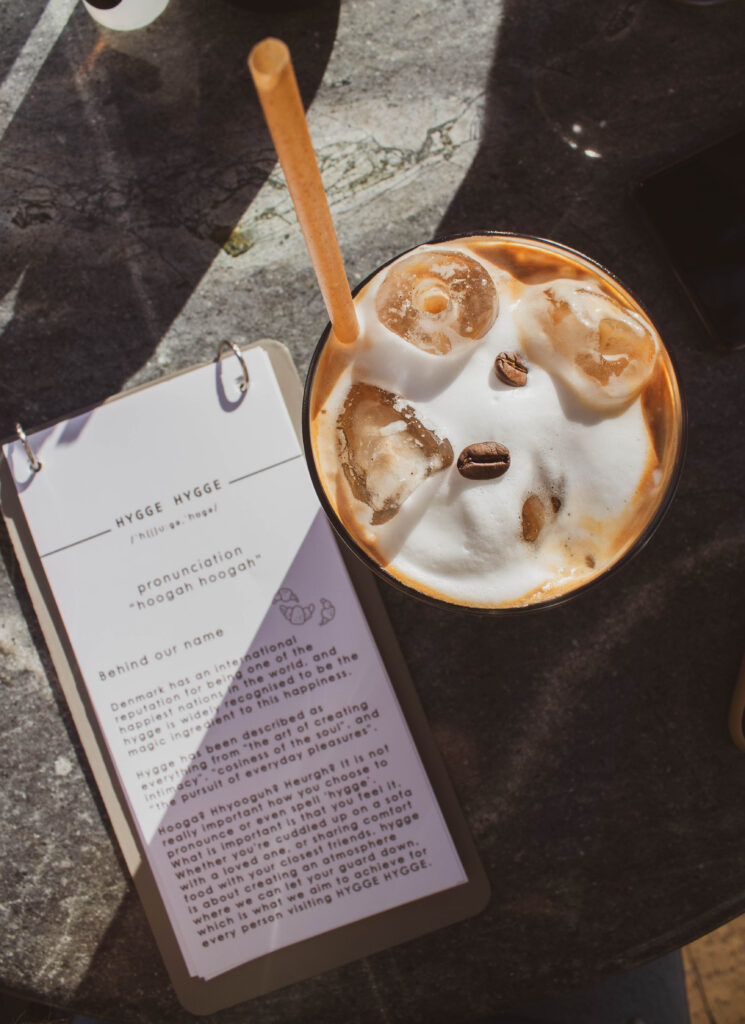 Hygge Hygge's famous cold cappuccino – refreshing and aesthetic! Photo: Karla de Bod
Die Matie was lucky enough to be one of the first testers of their newly added savoury pancakes, which were filled with cheese, mushrooms and roasted tomatoes. Along with the added pieces of bacon, Die Matie could not help but finish the entire plate of aesthetic goodness.
Even though Hygge Hygge has just begun to find the spring in their step, they have already succeeded in creating an atmosphere where visitors can let their guard down and enjoy the comfort of fluffy pancakes, a bowl of cocoa oats, or just a cup of coffee served in a charming orange mug.
Ya-Ya Café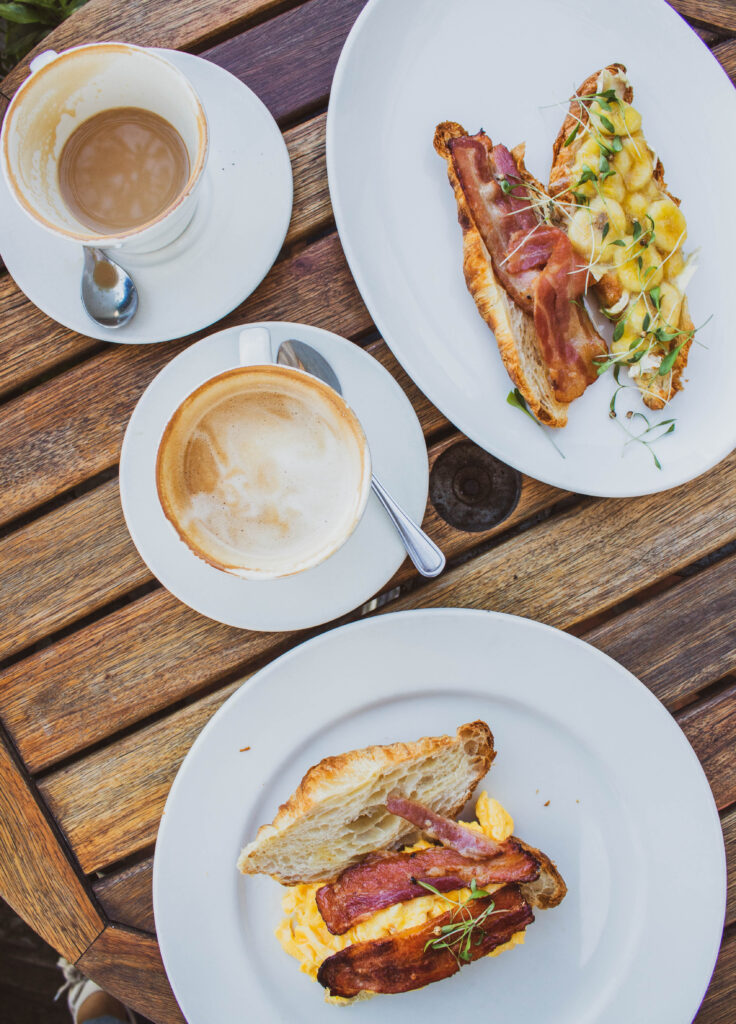 Two of Ya-Ya Café's decadent butter croissants – one filled with bacon and creamy scrambled free range eggs, and another served with warmed camembert, bacon and fried banana. Both alongside two tall cappuccinos. Photo: Karla de Bod
With a breakfast menu that is two pages long, it is no surprise that Ya-Ya Café remains one of Stellenbosch's top picks for grabbing breakfast. Just at the end of Dorp Street, this café's breakfasts are served throughout the day and customers are able to choose between the wide range of hot breakfasts, decadent croissants, breakfast bowls and superfood bowls.
Die Matie enjoyed a butter croissant with bacon and melt-in-your-mouth scrambled free range eggs, along with a tall cappuccino that came with optional hazelnut, ginger biscuit, vanilla or orange flavours.
The café strives to create fresh and authentic meals in a friendly environment where people can relax and feel at home. The comfort that clients experience in the cosy interior quickly transforms into the type of comfort only felt at home, as each bite is complemented with a need for more.
Ya-Ya Café is an opportunity to break away from the business of town as the quiet corner allows customers to arrive hungry and leave happy after enjoying a festival of flavours.