BY CARLA VISAGIE
The death and rape of Uyinene Mrwetyana, a University of Cape Town (UCT) student, was one of many events that sparked outrage and large-scale protest over gender-based violence across South Africa this past week. Stellenbosch University (SU) played host to two student protests.
On Friday 6 September at 10:00, hundreds of students dressed in black filled the Rooiplein stairs, to react to, amongst other things, "SU's lack of reaction to 2-6 September's events by the management structure of SU," according to a memorandum compiled by protesting students. This comes after SU announced on Tuesday that they will not suspend academic activity. UCT and the University of Pretoria (UP) suspended academic activity from 4-6 September and the University of the Free State (UFS) on 6 September.
"As there are test series at SU this week, the SU Rectorate and deans cannot impose on everyone to postpone assessments and other scheduled academic activities. For that reason, there will not be a general shutdown, and we request organisers to respect individuals' rights and SU's academic
commitments," Prof Arnold Schoonwinkel, Vice-Rector (Learning and Teaching), said in an email sent to all students.

Schoonwinkel mentioned in the email that "a silent observance" for "all members of the SU management and staff" was planned for 12:45 on Friday, but this instead turned into an opportunity for students to voice their concerns with gender-based violence and Rape Culture.
The crowd moved from the Rooiplein down Victoria street to protest in front of ADMIN B, chanting "why aren't you here, f**k your rape culture".
Students held posters with slogans such as: "NO MEANS NO", "I SAID NO, HE HEARD, CONVINCE ME", "ENOUGH IS ENOUGH #AMINEXT", "STOP PROTECTING THE PERPETRATOR" and "LET THIS MOVEMENT BE MORE THAN A HASHTAG".
Prof Wim de Villiers, Rector & Vice-Chancellor of SU was not present at the protest. According to a press release (PR) he issued to all students, "he is currently travelling on university business".
"Let me be clear about this: Gender-based violence is a form of civil war. We are a society at war with ourselves and we are killing off and injuring our own. [The solution] probably foremost lies in the hearts and minds of us as ordinary citizens," De Villiers wrote.
Prof Eugene Cloete, Vice-Rector of Research, Innovation and Postgraduate Studies and acting Vice-Chancellor, then took the floor. Cloete initially started his speech by reading the press release that De Villiers sent out earlier that morning. "I am speaking on behalf of the rectorate and the management as a whole and we are gathered here in unity and solidarity against gender based violence. Enough is indeed enough," Cloete said.

Halfway through the speech, Cloete was met with unsatisfied students saying that they "have read the email" and "they didn't come here for him to recite an email". Cloete responded by saying that "they [SU Management] are committed to solving this problem and they need students' insight and each other to solve the problem".

"This is why I am creating this platform right now, so we can constructively build on a better university for everyone," said Cloete. Cloete then gave members of the rectorate an opportunity to introduce themselves and their
portfolio.
The floor was opened by Dr Choice Makheta, Senior Director at Student Affairs. "Over the next five days, there will be a book where you can share messages and express yourself and that will be what we take forward for ourselves. Remember, we are resolving issues together, and how we handle this afternoon will determine the spirit of whether we really want to go
forward," Makheta said.
Dr Stan du Plessis, SU Chief Operating Officer, also spoke and said that he pledges to make the campus safer.
"Our ultimate idea is that you are able to study in a safe environment and you are not currently experiencing it to that degree and that is what we are trying to fix," said du Plessis.
A six-page memorandum compiled by protesters demands, amongst other things, more transparency and improved communication between SU management, the Equality Unit and students, more counsellors for students, information regarding sexual offence investigations, issues regarding male residences, an increase of Campus Security visibility and a toll-free number for Campus Security, compulsory gender awareness classes for newcomers at SU, the establishing of "safe spaces" at female residences, better lighting on campus, live-streamed rectorate meetings and awareness campaigns for gender-based violence against transsexual individuals.

The final memorandum was shared on a newly created Facebook group, Anti-GBV Movement SU, and will be presented to SU management on Monday at 13:00. Cloete signed a framework of the document and pledged that "they understand that the document they have signed is only a framework and will respond to the final document on Monday at 17:00 if they receive the document on Monday at 12:00".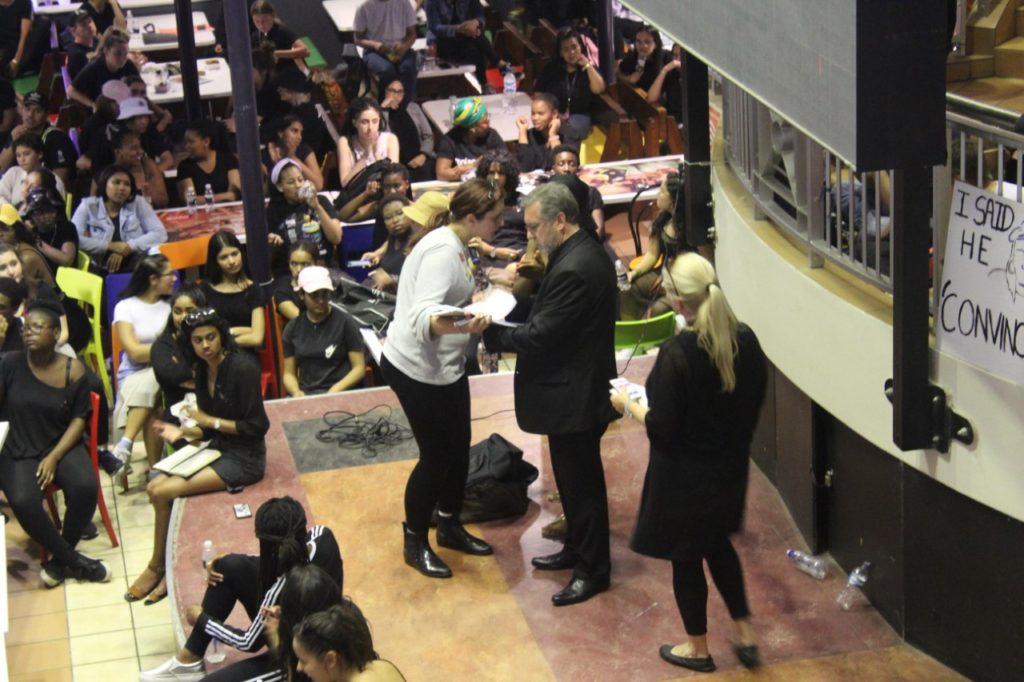 Another protest was held on Thursday evening by the South African Students' Congress (SASCO) Stellenbosch in order to "reclaim the night" for women who were sexually assaulted. "We came in the name of Uyinene, gender-based violence and in the name of breaking the silence at SU," one of the coordinators of the event said.

Protestors went to Campus Security where Pieter Kloppers addressed the crowd, following which they then went to various men's residences saying they "perpetuate rape culture". Gareth Cornelissen, Deputy Director: Centre for Student Communities, promised to address the crowd the following day at 13:00, but didn't show up at the Centre for Student Communities.
"We are not going to be violent, we are going to be peaceful in our protests, but SU needs to know that we are protesting. We have no option but to protest," an organiser of the protest on Thursday evening said.