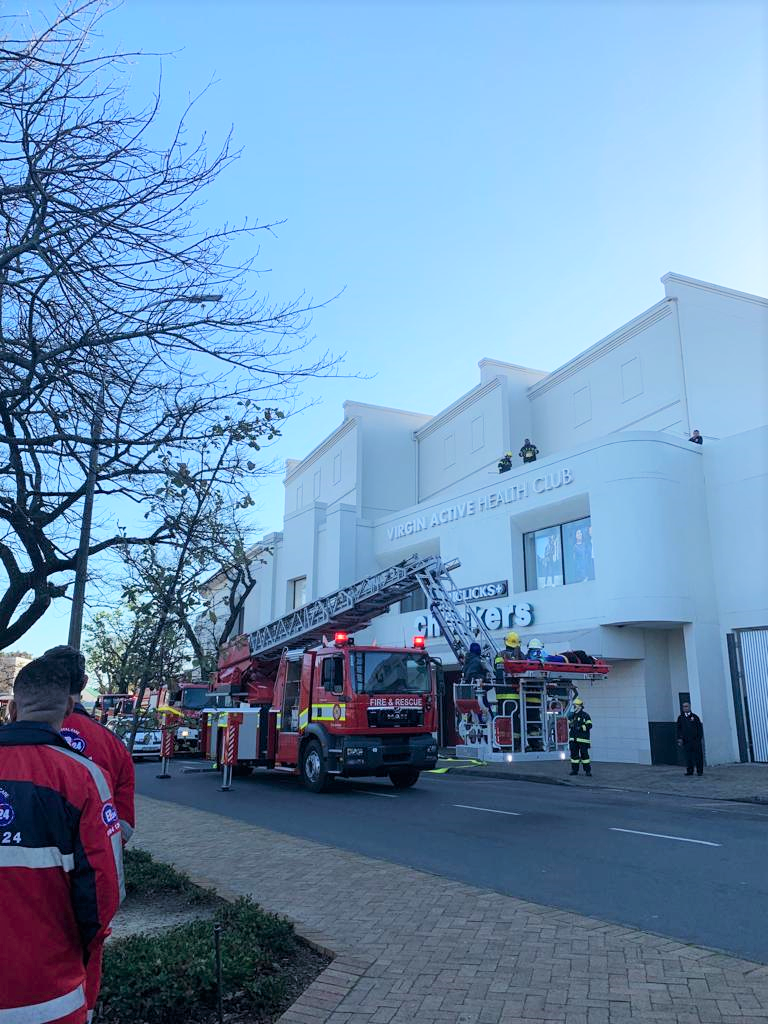 ---
MART-MARIE SERFONTEIN
Die klank van sirenes het nog nie eens behoorlik in Stellenbosch-studente se ore ophou weergalm weens die brand by Huis ten Bosch Maandagaand nie, voor die dorp Dinsdagoggend omstreeks 08:30 weer geloei het.
Hierdie keer was dit na die Eikestad-winkelsentrum waarheen brandweerwaens, polisievoertuie en ambulanse gehaas het. Die hele sentrum, asook alle wooneenhede in en rondom die sentrum, wat tussen Bird en Andringastraat geleë is, is gister ontruim.
Aanvanklik het ooggetuies op die toneel gesê dat daar 'n bom in Sportscene ontplof het. Beeld- materiaal wat kort daarna op WhatsApp versprei is, het gewys dat vlamme en swaar rook by die dak van die sentrum uitborrel in die nabyheid van waar dié winkel geleë is.
Beamptes op die toneel het egter bevestig dat al die gebeure slegs deel van 'n oefening was om Stellenbosch se verskeie nooddienste se gereedheidsgrondslag te toets. Daar word voorkomend opgetree in die geval van 'n regte brand,ontploffing of 'n verdagte pakkie wat agtergelaat word, aldus Wayne Smith, Stellenbosch se Brandweerhoof.
Hy het gesê dat plekke van "massa-inwoning" gereeld twee of drie keer 'n jaar sulke ontruimingsoefeninge moet ondergaan. Dit word nie net gedoen om die nooddienste se reaksie te toets nie, maar ook om die reaksie van die inwoners en werknemers van die gebou te toets en te verseker dat mense veilig ontruim word.
Russel Meiring, ER24 se woordvoerder, het bevestig dat dit 'n ontruimingsoefening in die geval van 'n brand was. Hy het bygevoeg dat alle strate naby die sentrum tydelik gesluit was, soos dit ook sou gebeur in die geval van 'n regte noodgeval. Op 'nvraag oor die vuur wat ooggetuies op die dak gesien het, het hy bevestig dat die vuur deel van die oefening was en dat 'n element van realisme altyd deel van sulke noodoefeninge vorm.
Smith het gesê die oefening was nie in reaksie op die brand by Huis ten Bosch nie, maar dat dit 'n geskeduleerde oefening was en wys dat die nooddienste as 'n geheel probeer om voorkomend op te tree.
Die betrokke partye was die Stellenbosch Brandweer- en Reddingsdienste, munisipale verkeersbeamptes, provinsiale en private ambulanse, die Suid-Afrikaanse Polisiediens (SAPD) en die Kaapse Wynland Distriksmunisipaliteit.