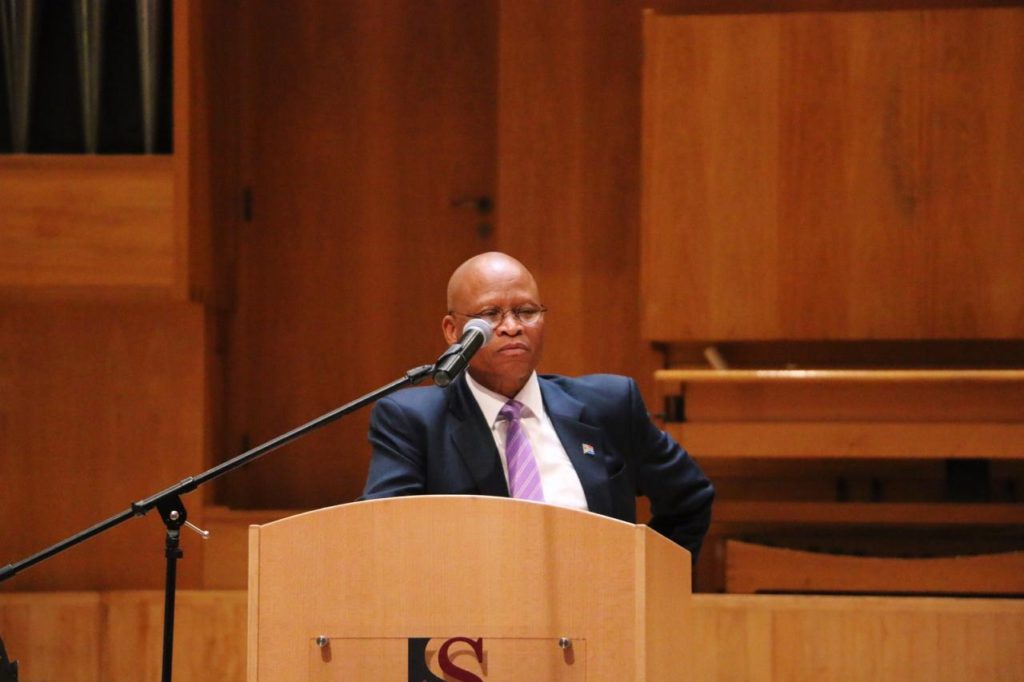 Chief Justice: Religion and politics?
TOM LEE & AMBER PAYNTER
Chief Justice, Mogoeng Mogoeng, was invited by Shofar Student's Society to speak at an event held on 23 August in the Conservatorium. Sias Le Roux, a pastor at Shofar Stellenbosch, first met Mogoeng Mogoeng at the 'It's Time' event in Bloemfontein in 2017, a mass gathering that was attended by citizens and various political leaders to pray for South Africa.
Shofar church leaders were again reconnected with Chief Justice during a prayer gathering in parliament where different churches came together at the end of 2018. Roux said that the event was organised by the Shofar Student Society, which is a registered student society at Stellenbosch University (SU).
"The society was established in 1991, which makes us one of the oldest societies on campus. We want to encourage students who have a Christian perspective to be involved in social justice and leadership. We encourage leaders of tomorrow to stand up and to have a dream," Le Roux said.
Mogoeng was invited to address students about having hope for South Africa. During his adress, Chief Justice encouraged his audience to strive to be ambassadors of love, justice and forgiveness. He told students that they are members of the bigger South African family and that there is no place for discrimination or hatred in our society. "Once you begin to add hatred into our way of life, you are going to toxify society. We need to build a society that is based on love," Mogoeng said.
In addressing the youth that plan to leave the country out of fear, the Chief Justice urged them to remain and become part of the solution."[If you leave the country], you are betraying yourself unnecessarily and you are legitimising the notion that you are not a real South African citizen. Why do we allow ourselves to be terrified by what's happening around us? Have we forgotten the resilience of the South African people?" said Mogoeng. Rather than focusing on the mistakes and wrong-doings of people, Mogoeng maintains that the citizens of this country should focus on the good that can be gathered from them.
In promoting an attitude of striving to move forward, Mogoeng said what a "privilege and call to service" it is to be a leader. "South Africa, now more than ever before, requires men and women of integrity."
Whilst the event was mostly attended by Shofar Church members, the event did have a few people not affiliated to Shofar in attendance. The event according to these individuals, was not what they were expecting to experience. Nicholé Taljaard, fourth-year law student, believed that the advert promoting the event was misleading and convoluted. "The advertisement was super misleading and irritated a lot of my peers and me. We were expecting to listen to Chief Justice Mogoeng Mogoeng in his capacity as a member of the Judiciary, not to be influenced by the church and the church proceedings that occurred," Taljaard says.
Taljaard and her peers felt as if the interests of the Shofar Church were carried out instead of taking into consideration other religions and cultural backgrounds that were present, as well as those who had the understanding that they were going to listen to the Chief Justice in his capacity as a member of the Judiciary of South Africa.
Paul Twekye, an Economic Sciences honours student said, "The frustration was felt before the event even began. We were given pamphlets that promoted Shofar, instead of the actual Chief Justice and the frustration only got worse when worship song began."
The Constitution requires that the members of the judiciary remain impartial and states, according to section 165(6), that the Chief Justice, the head of the judiciary, exercises responsibility over the establishment and monitoring of norms and standards for exercising of the judicial functions of all courts. The law necessitates that the Chief Justice regulates the relationship between his role as the Chief Justice and his role as a Pastor. Professor Bradley Slade, a professor in Constitutional Law at SU, gave some insight into the matter.
"I don't think there is anything automatically untoward about Shofar inviting Chief Justice Mogoeng Mogoeng to speak and there is nothing problematic with him saying things not in conflict with the Constitution, but there is a danger, however, if he does say something in conflict with the Constitution. He has made it clear in the past that his role as a pastor does not affect his ability to Judge and to be impartial."
"It becomes dangerous within society when the Chief Justice is perceived as pro-Christian. This may allow for people to perceive that such religious affiliations may have an impact on judgements regarding the constitutional principles," Slade said.