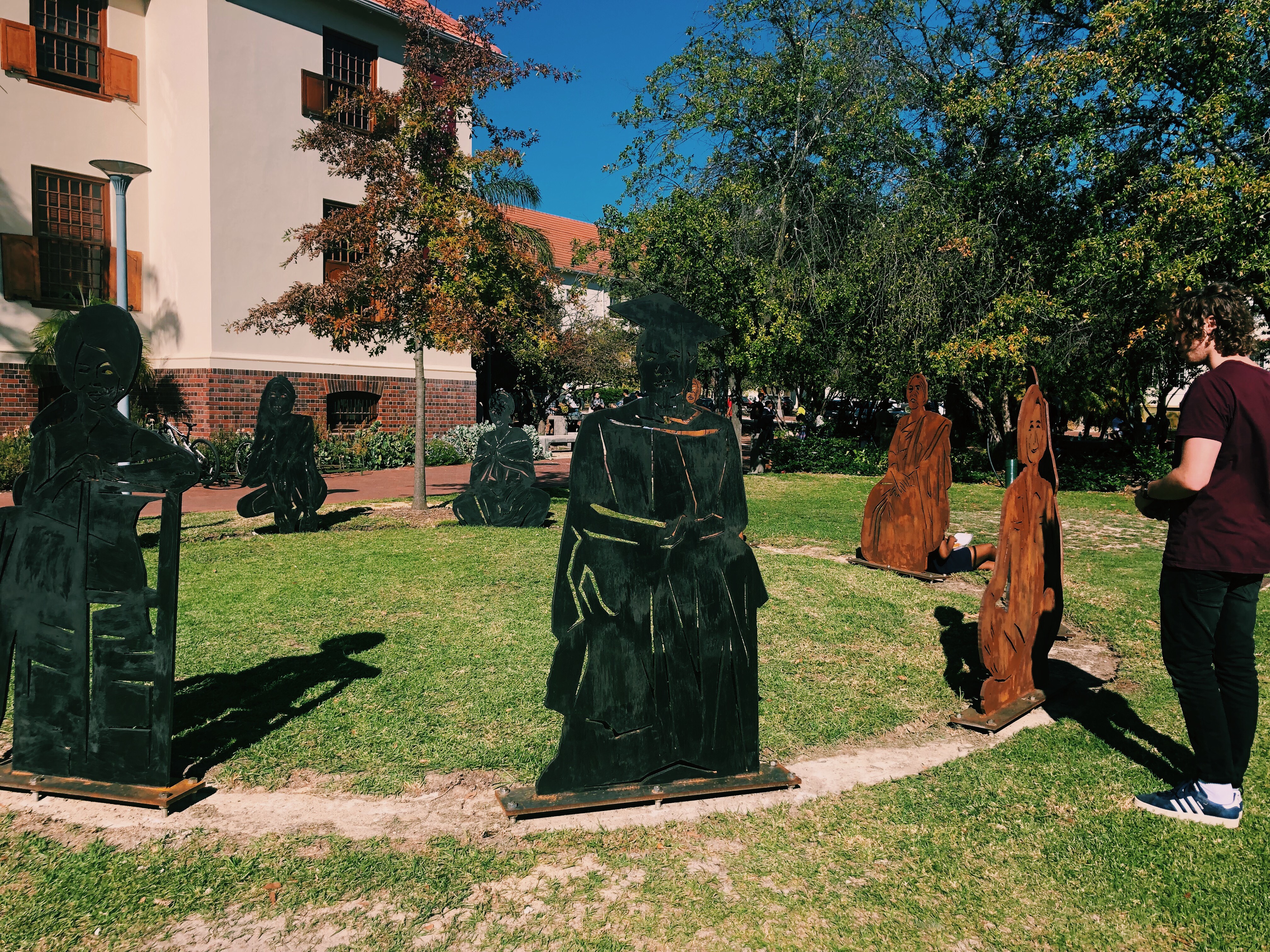 New artwork not just for the aesthetic
---
ERIN WALLS
Sitting in a circle among the students on the grass of the Rooiplein is a new visual redress artwork. "The Circle", as it is called, consists of influential women, past and present, who have had a significant impact on South Africa. Among the women chosen are: wheelchair tennis star, Kgothatso Montjane,and Dope Saint Jude, a contemporary queer rapper.
Stephané Conradie, a lecturer at Stellenbosch University (SU), and Rene Jooste, a project manager at SU, were two of the main executors for the artwork. Conradie, who is the creative director of the project, had the idea for the installation last year.
"I came up with the idea conceptually for an initial proposal for a different visual redress project," she said, "it was then chosen and approved."
"We decided that the artwork needed a personality, so we decided on influential women," Jooste added.
Students can interact with the sculptures, whether it is sitting within the circle itself or around it. "The artwork's aim is to collaborate with the students, to be in a conversation with them," Conradie said.
"There are no rules when it comes to interacting with the installation," Conradie said.
"The gaps between each sculpture is measured to fit wheelchairs in between, and the process of installing them is underway," Jooste added. "We wanted to be able to include everyone."
"The installation is meant to be in a seated position so it feels as though students can have a conversation with the artwork, as though they would with their friends on campus," Conradie said.
The project's medium, which is steel, was inspired by the Nelson Mandela artwork outside of the Stellenbosch town hall. Jooste, the project manager, said the artwork cost a total of R250 000.
"It was a collaborative effort between the visual arts department, transformation office, directors management team and facilities management," said Conradie.
"Originally, it was planned to be finished by January, but some of the women who were chosen have passed away, so it was quite a process to get in contact with family to receive permission," said Jooste. "It has to go through many chains of approval, so it delays the process."
Final touches are being made, with a rust effect being done on the sculptures and grass being played over the steel frame, as well as a plaque being installed. The aim is to finish the artwork within the next two weeks.