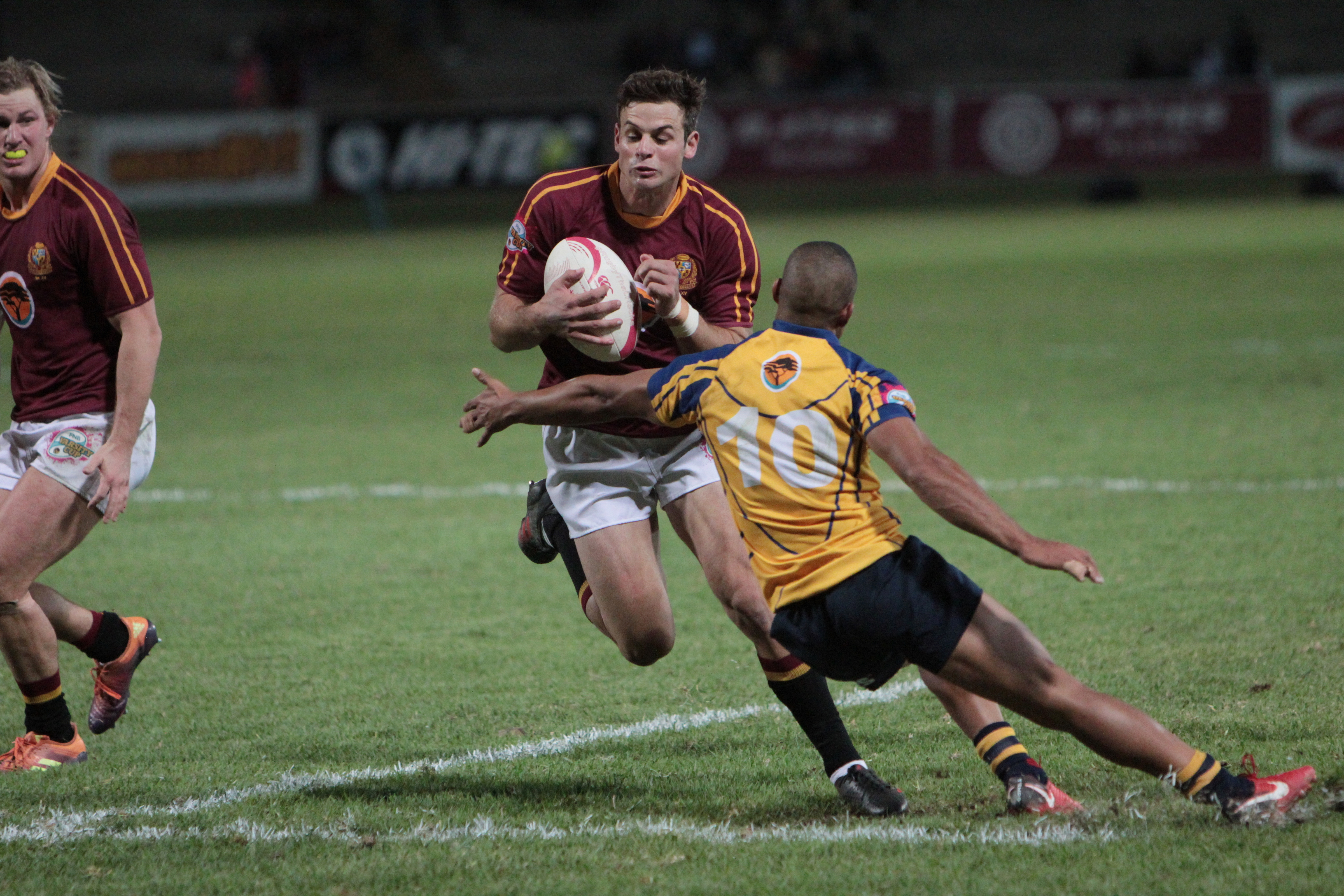 The maroon machine marches on
---
JOSHUA MYBURGH
Maties proved again last night why they deserve to be at the top of the log after a thumping 84-26 win over newcomers to the Varsity Cup tournament, UWC. It did not take long for Maties to get onto the scoreboard, as hooker Dan Jooste crashed over the whitewash in the second minute of the game.
A try by debutant winger, Mike Mavovana, followed by another try by Jooste saw Maties take the lead 19-0, before UWC answered with a try of their own by hooker Jacques van Zyl. Maties struck back quickly though as Flyhalf Jordan Chait scored his first of the night and added the conversion from the touchline. Chait followed this up by scoring his second on the stroke of halftime, as Maties led 33-5 at Danie Craven.
Maties continued where they left off early in the second half, as Chait managed to dot down for his third of the night, following a well-weight chip over the top from centre Chris Smit. Chait left the field shortly after, but Maties showed no signs of slowing down as Mavovana finished off an exceptional seven point try, converted by reserve flyhalf, Adriaan van der Bank. There were also tries for industrial lock Ben-Jason Dixon, reserve hooker Schalk Erasmus and scrumhalf Remu Malan, which saw Maties go into the second strategy break with a more than comfortable 70-5 lead.
UWC winger Andre Manuel managed to score an exciting try, bringing the score to 70-12 and gave the UWC fans some hope. Shortly afterwards Manuel dotted down again, finishing off a superb seven point try for the visiting UWC side, earning himself the Steers Kinging Award of the match and bringing the score to 70-19. Remu Malan, who had shifted to wing managed to get a brace soon after and Van Der Bank continued with his sublime kicking effort, slotting the conversion from the touchline yet again to extend Maties lead to 77-19.
UWC replacement prop Alex Mbete powered his way over the try line in the seventy-second minute, but Maties reserve prop Ricky Ngwabara was not to be outdone and also managed to muscle his way over the try line five minutes later to see the final score at the Danie Craven end 84-26 in the favour of Maties.
Jordan Chait was awarded the PLAYER WHO ROCKS after his hat-trick of tries and all-round excellent game and stated he was, "Ready for next week" when Maties host the Shimlas in what promises to be a nail-biting semi-final in Stellenbosch.