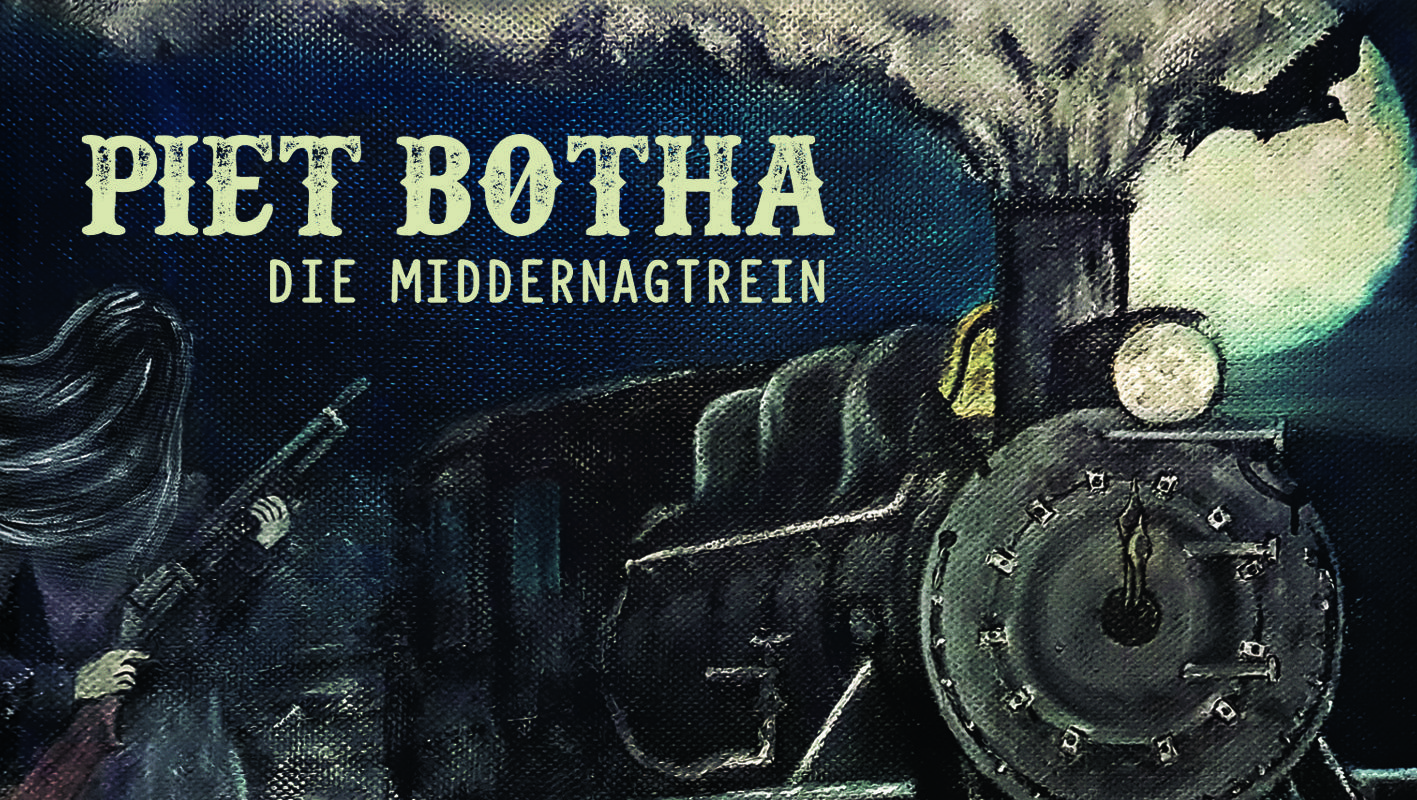 Piet Botha: Die Middernagtrein – 'n resensie
Lian van Wyk
Daar doen 'n sêding die rondte dat Afrikaanse musiek in twee kategorieë verdeel kan word: dit wat voor Anton Goosen daar was en dit wat na hom gekom het. Piet Botha se nuutste album, Die Middernagtrein, kom dalk jare na die gloriedae van die Afrikaanse rockvader, maar met ervare vingers reik Piet en sy band, Jack Hammer, terug na die voue van die verlede. In die proses lê hy die soetste vrugte van 'n genre waaraan hy help bou het, voor
alternatiewe rockliefhebbers – oud en jonk – neer.
Piet Botha en sy band is al vir jare deel van die Suid-Afrikaanse rockmengsel – soveel so dat hy een van die eerste musikante geword het om in die SA Rock Hall Of Fame opgeneem te word. Hy is van 1981 tot 1983 betrokke by Wildebeest, die eerste Suid Afrikaanse band om rockmusiek met Afrikaanse lirieke te versier en in 1997 stel hy die album Suitcase Vol Winter vry – 'n album wat vandag nog as prominente voorbeeld van die Afrikaanse alternatiewe
rock-genre uitblink. Vandag is daar Jan Blohm, Karen Zoid, Francois van Coke en Spoegwolf, maar in die ondertone van hierdie rockreuse se musiek, fyn verweef tussen elkeen se unieke bydraes tot die genre, loop die oorspronklike drade van Piet en sy tydgenote se handewerk.
Met Die Middernagtrein neem Piet Botha luisteraars reg na die kern van hierdie handewerk. Die 62–jarige rocklegende lol nie veel met die resep wat van sy 2003 album, Die Mamba, iets ikonies gemaak het nie. Hy skaaf eerder en verfyn om ten einde 'n goed afgeronde album voort te bring – sewe jaar na sy vorige een in Afrikaans.
Botha gebruik Die Middernagtrein om al sy talente ten toon te stel; tot verstommende effek. Met "Catharina" open die album met die egte elektriese akkoorde waarvoor Jack Hammer so bekend is en hierdie tendens skyn in die meeste van die liedjies op die album deur. Daar word egter ruim plek gelaat vir Piet se bekende akoestiese klanke en betowerende blues melodieë.
Van lirieke is daar min. Die album is hoofsaaklik op die stewige fondamente van 'n paar uitmuntende instrumentele gedeeltes gebou. Die kere wat Piet se rasperstem egter sy regmatige plek tussen melodieë inneem, voel dit soos die stiltes in die oog van die storm. Sy woorde is kort, maar hul boodskap is beslis kragtig.
Oor die middernagtrein in die titel van sy album sê Piet: "Daar is goed in die lewe waarvoor mens nie kan weghardloop nie. Dit is maar die noodlot. Dít is wat die middernagtrein is. Dit is spookagtig, verbode, soos wanneer mens huis toe ry ná 'n gig in die middel van die nag. Die Middernagtrein is maar 'n metafoor vir life on the road."
Piet Botha het die tyd op die pad goed benut. Die Middernagtrein is na die twintigste keer steeds die luister werd.
Foto: Verskaf