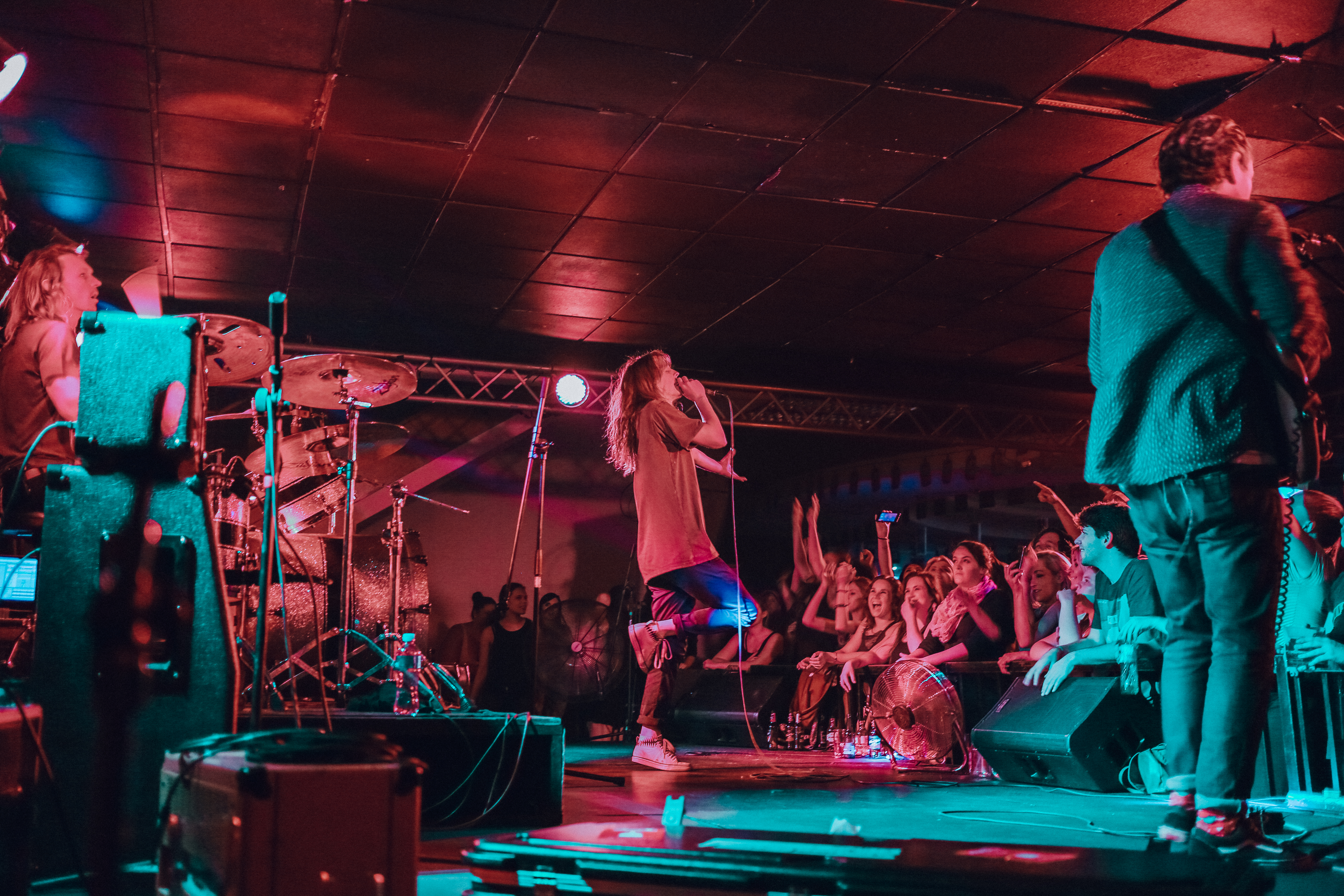 Desmond and the Tutus enjoy what they do
Willow-Ruby van der Berg and Marie Mjacu sat down with South African music scene veterens Desmond and the Tutus to discuss the music industry, good old sweaty clubs and pre-gig rituals.
Known for their laid-back style and funky dance moves, Desmond and the Tutus are always a crowd favourite and never fails to deliver an exuberant show. We chatted to the lead singer, Shane Durrant, about the band's music, their lives and coming back to Stellenbosch for another exciting show.
Having been together for more than ten years, the award-winning band has grown in popularity, became well-known in Japan (amongst other countries) and is now a household name among many South Africans. Shane and Craig Durrant came together with Douglas Bower and Nicholas Dinnie to form Desmond and the Tutus in 2005. The band has gained popularity and a considerable fan base over the years with hit songs such as "Pretoria Girls", "Zim Zala Bim" and "Lazy Bones". They have performed all over South Africa at festivals, clubs and many other events
where they've brought their dynamic energy every time.
Like many bands, Desmond and the Tutus started out as a way to pass time and have some fun. Shane, Craig and Doug always spoke about starting a band together. They started messing around and wrote a few songs when Doug came back from college. Later on they also invited Nic to join the bass and Desmond and the Tutus were born.
When asked about what motivates them, they replied, "It's going to sound clichéd, but it's just that we enjoy what we do. We're best friends, and we love playing shows and there's no reason to
stop so we just kept going!".
Being veterans in the music Industry, Desmond and the Tutus have had first-hand experience of how the technological movement lead to a few changes. "The iTunes store had a huge impact in terms of sales, the streaming services not so much but that's definitely where things are headed so we better figure out how to make it work for us."
On the topic of highlights in their extensive music career, they made specific mention to the time they spent overseas. "Touring Japan three times has been the most surprisingly awesome thing to come out of our band. Winning a SAMA for best rock album in 2016 was also special." After reviewing their own success and chosing some of their favourite moments, the band realised the real
reason they are playing music. If I'm honest, the most rewarding thing is just to play shows to people who love the songs. It's impossible to know exactly what our songs mean to people, but it's so great when people tell us stuff like their first dance was to "Teenagers" or "Kiss you on the cheek" or they named their first car "Peter" or their kids sing "I love Pretoria girls" on the way to nursery
school."
After 13-years Desmond and the Tutus are still having a ball at what they do. Shane's advice to aspiring musicians is to "just enjoy the journey, with all its ups and downs".
Desmond and the Tutus are currently filling their time performing at various venues and working on new music. Not only should we be getting excited for the show on Saturday but they are also working hard on new songs for a new album coming soon.
Desmond and the Tutus are very familiar with performing in the Stellenbosch area and explained their excitement to perform at Aandklas. "It feels great. It's one of those great little gigs where people just lose it!" Shane also could not decide between Aandklas in Stellenbosch and Aandklas in Pretoria as he says: "they have the same crazy energy".
"We love a good old sweaty club gig, there's something so intense about being in everyone's face like that. Lately though we're also really enjoying the day time festivals, it gives us a chance to connect with audiences who don't go to bars and clubs."
13 years is a commendably innings for an indie band. When questioned about pre-gig rituals they have picked up over the years, Shane explained that forgetting lyrics is still a fear of his. "Even after all these years I still have a split second before the first song where I feel like I have forgotten all the lyrics. But by the time the music comes in, somehow the muscle memory kicks in and I can miraculously remember what to sing."
Desmond and the Tutu's live performances and live persona have evolved over the past 13 years. When questioned about their favourite songs to perform live, the band responded: "It changes but lately it's got to be 'What am I gonna do with you'. I love hearing people yell the chorus."
So there you have it, start listening to all their hits on a loop, learn the words off by heart, practise those dance moves and get ready for an unforgettable evening this Saturday. Desmond and the Tutus are returning to Aandklas this weekend on 19 May to give students a last chance to forget about the exam stress.
Photo: Supplied