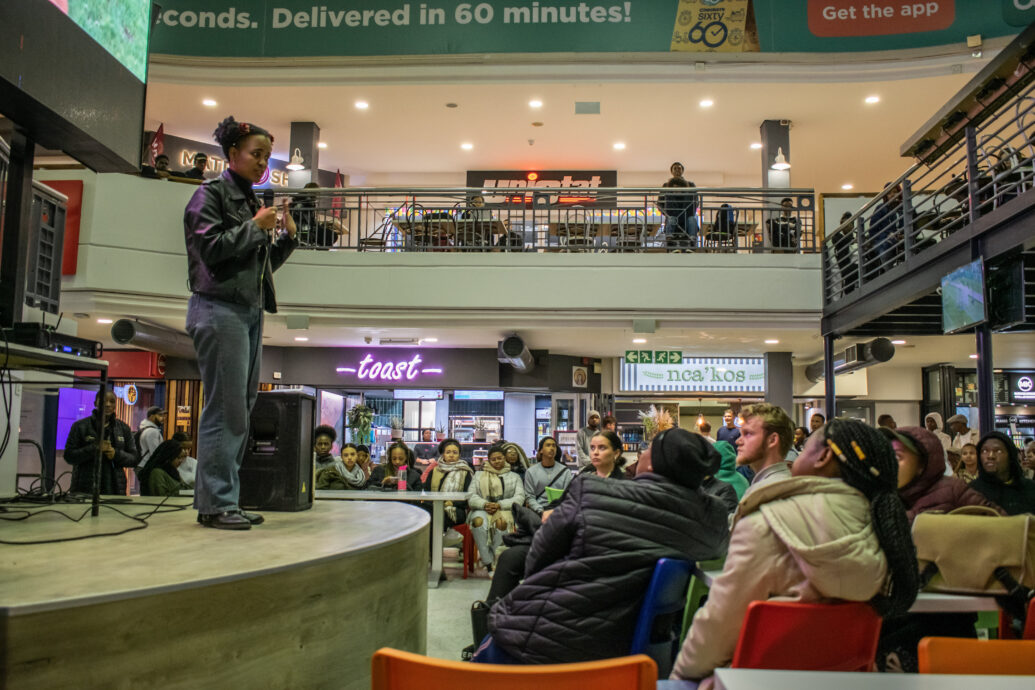 In the beginning of 2023 Stellenbosch University (SU) students and other stakeholders faced a large challenge due to the National Student Financial Aid Scheme's (NSFAS) funding cap and delay in providing funding for students. This funding cap and delay, amongst other issues, left many students across South Africa homeless, without food and other necessities. As a result of this, SU management and Student Representative Council (SRC) had to find ways to accommodate these students.
One of the ways in which SU has attempted to do this is by applying for exemption from the accommodation funding cap. However, the institution has not received an answer from NSFAS regarding their exemption status despite applying in February of this year. Further, in response to complaints about the accommodation cap, NSFAS released a statement stating that they would be taking student accommodation providers to the Competition Court on allegations of price gouging and collusion.
NSFAS-funded students, tertiary education institutions and their stakeholders now face a new challenge posed by the scheme that is meant to support them. This challenge comes in the form of the new direct payment (of allowances) system, that NSFAS has implemented as of June/July 2023, at universities across the country. According to the NSFAS website, the #NSFASBankAccount was introduced for students in Technical Vocational Education and Training (TVET) Colleges in 2022.
Initially, NSFAS would pay the amount for tuition, living allowances, travel allowances etc. to the various institutions and these institutions would pay these allowances to the students. Now, NSFAS is implementing a system where it pays these allowances (tuition excluded) directly to students.
According to the government's website, NSFAS is implementing this direct payment system in order to "ensure its accountability on student allowances and to establish a better coordinated system of transfer of funds to students." It seems this movement was prompted by a series of delayed and/or incorrect payments that were made as well as "incidents of fraudulent transactions to which NSFAS would not assume accountability."  To achieve this direct payment system, NSFAS has partnered with different service providers, namely Coinvest, Zaga, Norraco and Tenet Technology. Many university management bodies, students, SRCs and political organisations have rejected this new direct payment system implemented by NSFAS.
At a mass meeting held by the SU SRC on 26 July in the Neelsie, Masilo Silokazi, SRCchairperson, said that SU management and the SRC have been voicing their rejection of the direct payment system and funding cap since they were announced in December of 2022. "We do not support the [direct] payments, we do not support the caps and we have expressed this in different ways, either through letters, either through statements, we've tried to contact as many people as possible to express the rejection of this. We've also sat with other SRCs and attended meetings and marches with other SRCs to emphasise the rejection of the caps as well as the direct payments and unfortunately have come out empty handed both times," she said.
In engagements with the South African Students Congress (SASCO) and South African Union of Students (SAUS) it was brought to NSFAS' attention (again) that the direct payment system was being rejected because it has excessive charges, the service providers are inaccessible, there is a lack of clarity regarding the accessing of funds and there are allegations that funds are not reaching the beneficiaries. In response to these complaints NSFAS has stated that it will investigate the complaints, instruct service providers to increase their physical presence at institutions and enhance explanations of "how students can access their funds."
Further concerns have been raised regarding NSFAS and its direct payment system after the Organisation Undoing Tax Abuse (OUTA) released its findings from an investigation they launched into the scheme in 2022. One of these findings was that NSFAS had awarded tenders, for the direct payment system, to service providers that do not have the required banking licences or VAT registrations.
According to OUTA, these service providers offer students banking accounts at rates that are excessively higher than those of four of South Africa's biggest commercial banks. The service providers were awarded these tenders instead of other, more established companies, including South Africa's four biggest commercial banks and MTN.
OUTA has calculated that the deal between NSFAS and its service providers could be worth about R1.5 billion for a period of five years, which will be paid by the students from their allowances.
Due to these findings and lack of transparency and clarity from NSFAS, William Sezoe, Vice-Chairperson of the SU SRC, lodged a complaint with the Public Protector's office and called on the office to launch an investigation into NSFAS and their seemingly corrupt dealings.
Another issue that has arisen is that some NSFAS students are unable to complete the onboarding onto the Coinvest System (which is the service provider for SU NSFAS students). The reason these students are unable to onboard is because, according to Sezoe, Coinvest does not have the registration data of these students.
According to Sezoe, during an engagement between leadership members from NSFAS, SU, Coinvest and the SU SRC, on 27 June, Coinvest said that less than 50 of the 2700 NSFAS-funded SU students had onboarded to the system. "Now that did not make sense because at Stellenbosch you don't have 2700 NSFAS students. You have, each year, about 5000 funded NSFAS students," he added.
In response to the discrepancy, Coinvest and NSFAS both said that they only had the data of 2700 NSFAS-funded SU students. "The way the system works is that the university has your registration data. [The university] must send it to NSFAS and NSFAS must send it to Coinvest," said Sezoe. If one of the institutions does not send the registration data to the next, then a student cannot complete the onboarding process and thus will not receive any allowances. The question at hand is: where is the registration data of the rest of the NSFAS-funded SU students?
In addition to a funding cap and a new direct payment system, NSFAS has also embarked on a process of defunding students. This was due to findings by the Auditor General and Special Investigation Unit (SIU) that wrongful and illegal allocations of funds have been made to students who fall outside of the prescription of its policies. Therefore, if a student is found to have been funded based on false information, they will Immediately be defunded. NSFAS, however, has not provided any more information regarding what the process of defunding looks like. Thus, many students have found themselves being suddenly defunded, even though they fit NSFAS' funding criteria.
During the mass meeting held on 26 July, Phiwokuhle Qabaka, the Secretary General of the SRC, explained that it is difficult for the SRC to answer the questions that students had because when they "try and ask for clarity" they are not given any. Therefore, after consolidating with SRCs from other universities, it was decided that "on the second of August we [the SRCs] [will] all march to Parliament. Going to NSFAS is not [going to] do anything for us, we tried that, it doesn't work."
NSFAS claims that "the majority of [their] funded students are happy with [their] services."
This claim contradicts what students have shared on social media and in various news articles. Furthermore, NSFAS claims that its Board and Management remains committed to a "Student-Centred model" that is focused on "the creation of an environment for the students to engage in academic activities without the inconvenience of Lack[ing]."
However, with some NSFAS students unable to afford accommodation (university residence included) or food, others wrongfully defunded, and others still awaiting their funding appeal results, it seems as though NSFAS will not be achieving the creation of such an environment any time soon.