By Holly Mellin
Stellenbosch ­University (SU)'s Science Faculty has a long history of being a front-runner in global ­research and development, with its polymer science research department ranked first in ­Africa. This is according to Dr Ndumiso Sibanda who, along with Dr Christina Meiring, recently added to SU's plethora of ­scientific innovations.
Sibanda recently received his PhD for his research on, and development of, a polymer chemistry method that breaks down lignin, a byproduct of the paper-making process.
"The main purpose [of] the innovation is to valorise lignin by breaking it down into ­value-added compounds via a process called 'lignin depolymerisation'," said Sibanda.
The method also prevents recombination reactions, which are when depolymerisation is reversed through condensation and other mechanisms, explained Sibanda.
As the process is still under pilot testing before it can be implemented, Sibanda's work is not done just yet. "It is important for us to conduct upscaling experiments and conduct reproducibility tests for the bigger batch sizes to ensure that there is a replication from low scale to bigger batch sizes," said Sibanda.
Furthermore, with the transition from the laboratory into the industrial space for practical application, new challenges such as transitioning from conventional methods to more sustainable ones arise, but Sibanda's morale remains high. "The drive for sustainability as a polymer scientist has stimulated in me an approach of creative innovation and tailored scientific solutions to critical sustainability challenges facing the polymer, pharmaceutical and plastics industry," he said.
Regarding what drove him to pursue his PhD in this field, ­Sibanda said his zeal for chemistry started at an early age. "My passion for chemistry was ignited at high school. People say money makes the world go round, but to me, chemistry makes the world go round. I fell in love with chemistry because it is the bedrock of science."
Meiring also recently received her PhD on 5 April for her research on the genetic diversity of the ­endangered African wild dogs. She explained that her research was conducted using whole genome sequencing and that the research considered how the lack of genetic diversity of wild dogs is causing the species to become more ­endangered and susceptible to diseases, such as Bovine Tuberculosis (bTB).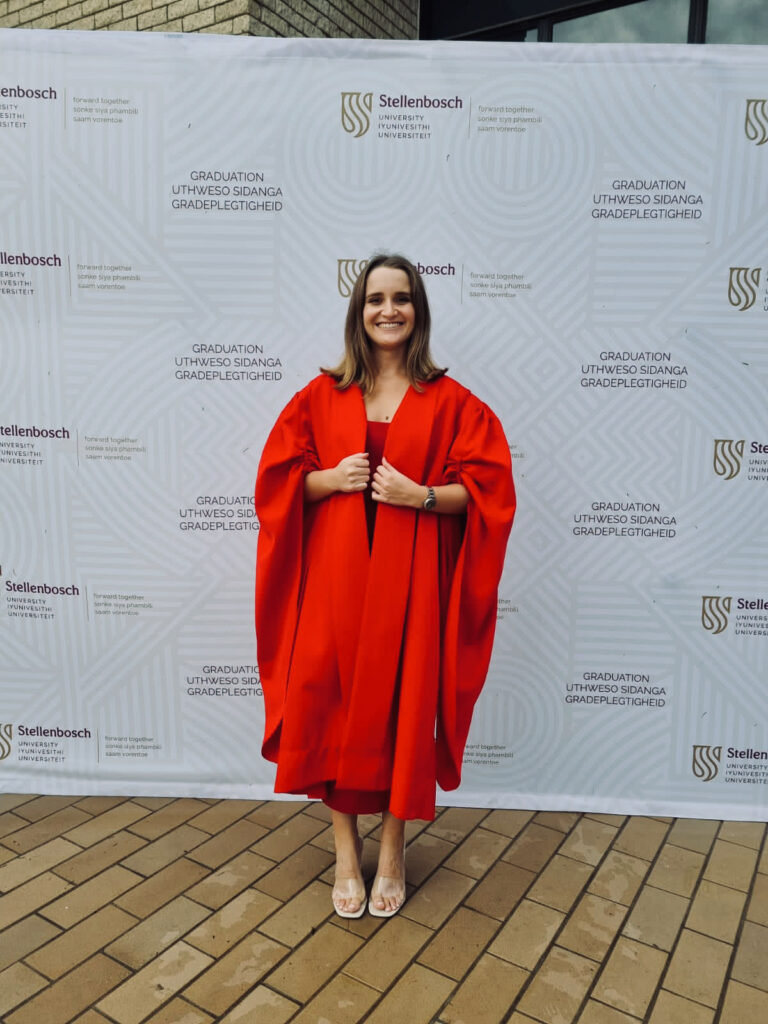 "A machine determines the order of nucleotides (adenine, cytosine, guanine, and thymine) in DNA. Knowing the order or the 'sequence' of the nucleotides across the entire genome (all the nucleotides across all the genes) of an individual (or a wild dog in this case) enables us to look at differences in genes and determine many things related to their health and the potential of them to survive in the future," said Meiring.
Meiring's research will form a baseline for conservationists who are trying to preserve the critically endangered species. "We are ­hoping that this study will provide the foundation to develop genomic profiles [that] can be used for strategic population management. This genome database is incredibly valuable and will allow for the genetic comparison between different wild dog populations."
Conservationists will be able to use Meiring's work to relocate wild dog packs to different game reserves, mimicking natural dispersion. This will increase the genetic diversity of the wild dog offspring, thereby preventing the loss of the species.
Meiring's research also identified that African wild dogs contract bTB from their prey. "The ability to ­diagnose and understand bTB across different species may provide the opportunity to develop more effective strategies to control or prevent the spread of bTB. It is an important goal for the Animal TB Research Group to continue working on improving bTB detection methods in wildlife," Meiring explained.
"By training postgraduate students in our research programs, we build high-level human capacity in the country that can support industry, especially in the light of the fourth industrial revolution, and grow the local economy," said Prof Frikkie Scholtz, vice-dean of research of the Faculty of Science. Furthermore, SU's research leads to products that can be produced locally and even forms start-up companies like BioCODE, which create more job opportunities and add to the economy,
added Scholtz.
BioCODE Technologies is a "spinout company" of SU and "is developing a sensor that can detect novel circulating inflammatory molecules in the blood", according to the company's website.
As SU's Faculty of Science continues to grow and become even more involved in global scientific advances, Sibanda addresses aspiring scientists by saying, "The world needs you to bring innovation and advancement; therefore, [you should] study . . . . The road to success is not always easy, and at times not straightforward, but with that comes the ability to think in other terms to overcome whatever obstacles come your way."