BY SKYLA THORNTON
An idyllic way to spend time exploring Stellenbosch and take a break from studying is to experience the culture and beauty of the town. There are few better ways to do this than by taking a stroll through an art gallery or two. Many students may not know this, but the art galleries in Stellenbosch are free to visit to view the art and experience the exhibition spaces. 
Rupert Museum
Stellentia Rd, Stellenbosch Central
Situated just outside the buzz of Stellenbosch University (SU), the Rupert Museum is a captivating space filled with South African art from the 19th–21st century. From installations to paintings, there is something to interest anyone with an appreciation for masterpieces.
Curator Eliz-Marie Schoonbee says, "Students are also invited to make use of the library space for either study or small group projects. Free wifi is available, and the space lends itself to thinking creatively [whilst] being surrounded by artworks [as well as] architectural and natural beauty."
She adds, "It's the ideal environment to take a stroll down Dorp Street on your way to the museum, removing yourself a bit from the campus life and taking a moment to enjoy the cultural heritage and talent South Africa has."
Currently, the exhibitions on show include Any Given Sunday: Artful chance encounters, The Johannesburg Station Panels: Pierneef's journey, Storeroom Series: Back by popular demand, and In-Motion: Art of the Space Age.
Dyman Gallery
20 Plein St, Stellenbosch Central
Focused on the contemporary and modern art of emerging and established South African artists, the Dyman Gallery is an open-plan gallery that features a range of works, including installations.
Coming soon is a group exhibition, Unleavened, which is set to open on 6 March.
Art on Church Gallery
38 Church St, Stellenbosch Central
The art of South Africa is vast and diverse, much like its population. Art on Church Gallery, which is situated within walking distance from campus, is open and welcoming to any visitor who wishes to appreciate the works within.
At Art on Church Gallery, visitors can expect to be inspired by "an informative collection of bronze sculptures and paintings, all by local artists . . . each with its own unique story," according to Salome White, a representative from the gallery.
The gallery aims to "inspire and encourage students to see the beauty in artwork as expressed by the different artists and to show them that art is for everyone".
White excitedly shares, "We are moving to the premises just next door at the beginning of April, which will feature a beautiful courtyard setting with life-size sculptures and then smaller sculptures and paintings in the beautiful old building itself.  Worth coming to see!"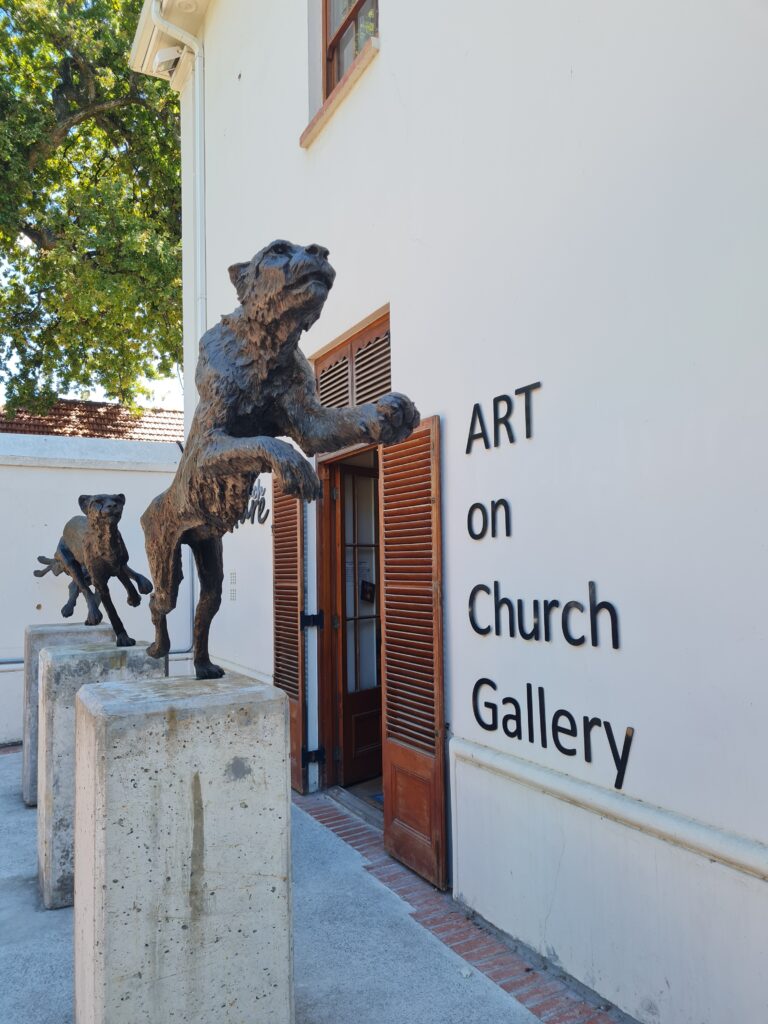 SMAC Gallery
1st Floor, De Wet Centre, 2 Church Street
Another space for contemporary artists is SMAC Gallery, which features work from local and international artists. Currently, there is a Hyporealism exhibition on show by the artist Callan Grecia, running until 22 March.
Gavin Collins Gallery
36 Church St, Stellenbosch Central
South African artist Gavin Collins has a permanent, constantly updated exhibition in a cozy space on Church Street.
His characteristically large pieces of skyscapes, cityscapes, animals and people with neutral colouration are both captivating and elegant. Anna Heesom-Green, a representative from the gallery, says that the Gavin Collins Gallery aims to be a space that "opens a whole new world" for students who have never experienced being in an art gallery before.
Uniquely, the gallery prioritises the Collins family name, and all of the works—including photographs, jewellery, and knives—are created by Collins himself, his daughter and son-in-law, and his father respectively.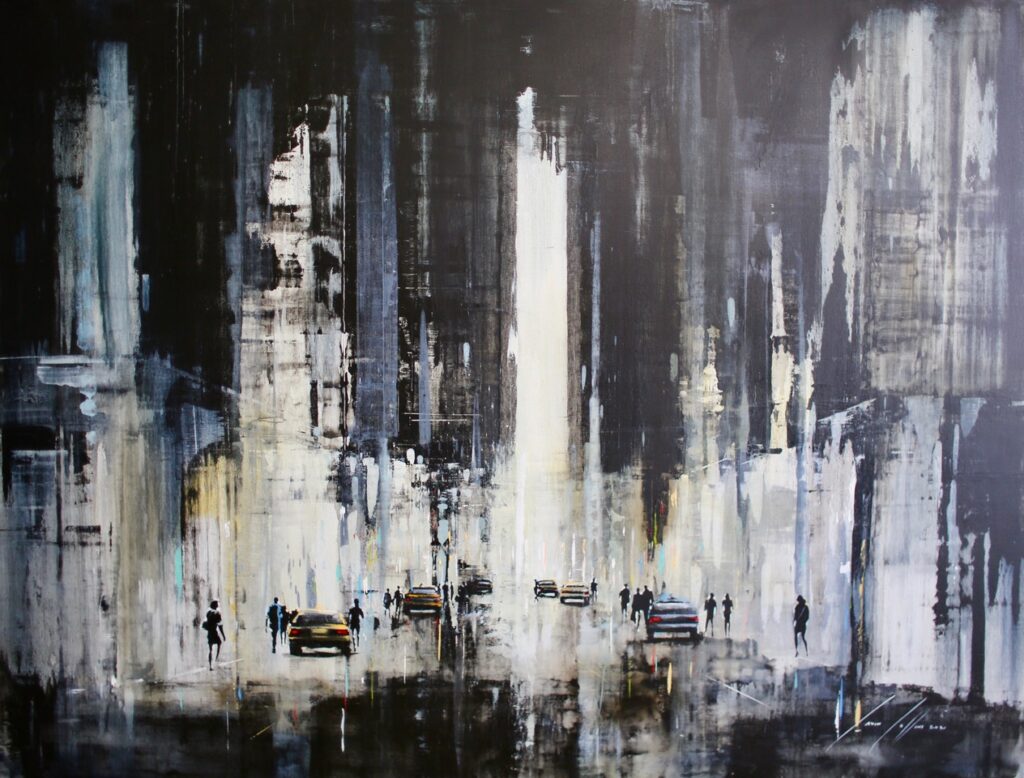 IS Art Gallery
29 Church St and 138 Dorp St, Stellenbosch Central
The Ilse Schermers Art Gallery, curated by Ilse Schermers-Griesel, is a well-established contemporary art gallery, which is unmistakably marked by the monkery on the bench at its entrance.
A recent exhibition, Hailing the Mothership: New Translations from the Mothership, which was open until 28 February, featured marble and sandstone sculptures by Jacky Lloyd.
According to Carolin-Fij Schermers, an assistant at the gallery, Lloyd's work "discusses a variety of significant topics, such as climate change and the socio-economic environment that the world is faced with."
Schermers says, "A significant part of our role as a gallery is to offer everyone the chance to learn more about what is happening within the art scene and explore their interests."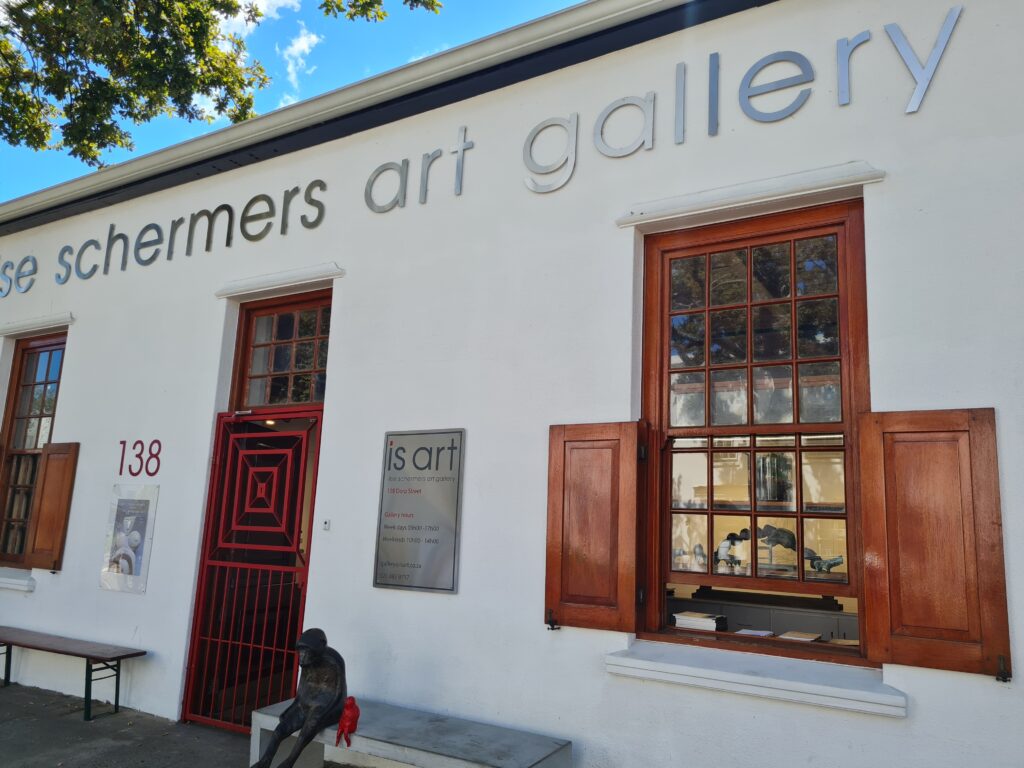 Gallery University Stellenbosch (GUS)
Cnr. Bird and Dorp St, Stellenbosch Central
As an extension to the Visual Arts department, GUS is a beautiful building that exhibits the works of SU students.
Currently running until 27 March is a group exhibition curated by Clara Babette, named Charting the Uncharted. This exhibition is a collaboration between historians and artists, and seeks to communicate the stories of those excluded from the conventional stories within history in a digestible way.
The art scene in Stellenbosch is vibrant, and the importance of supporting and celebrating local artists cannot be overstated. Perhaps students planning their next bar-hopping expedition can swap out the bars for galleries instead.