BY SKYLA THORNTON
Vegans across the globe celebrate 1 November as World Vegan Day each year, typically doing so through a mixture of events, seminars, exhibitions and, of course, food! With this celebratory date in mind, Die Matie talked to local restaurant owners and vegan students about the best vegan restaurants in Stellenbosch.
The day is commemorated in honour of the Vegan Society, founded in the United Kingdom in 1944 by two individuals who broke away from the Vegetarian Society by removing all animal products from their diets and lifestyles. Fast-forward 77 years, and the United Nations estimates a total population of 79 million vegans worldwide in 2021.
According to the Vegan Society, veganism can be embraced in many ways. Fundamentally, vegans agree on consuming no meat, dairy, eggs, or honey. They also avoid products tested on animals, wool, leather, and silk, and do not support places that use animals for entertainment.
A typical misconception is that veganism is an expensive lifestyle, particularly as a student. Whilst this can be true if one uses many meat replicas in meals or buys expensive milk alternatives, a vegan lifestyle can still be affordable if one is willing to make sacrifices. In the end, it comes down to the question of why. Many vegans choose the lifestyle for health or environmental reasons, or due to their care for animals.
Danielle Grave, a BAHons (International Studies) student, says "Veganism is so much more than a diet. To me, it is about compassion and both physical and planetary health. This lifestyle has truly been a happy transformation in my life, as not only does it connect me to my food choices, allow me to be more aware of our place as humans in the world, and reduce my carbon emissions and water usage, but it also gives back to me in terms of delicious and nutritious food options. It's a win-win-win."
As the movement of plant-based eating gains traction, restaurants have to keep up and get creative. This is particularly exciting for vegans, who are used to having to resort to the plain focaccia, Greek salad with no feta or dressing, or a side of chips when they go out to eat.
In Stellenbosch, the culture around veganism is increasing in popularity, and the number of places offering vegan options has increased in a short period of time. In the years to come, vegan food will hopefully become even more affordable and accessible to students who follow a plant-based diet.
La Coco C Food Purveyors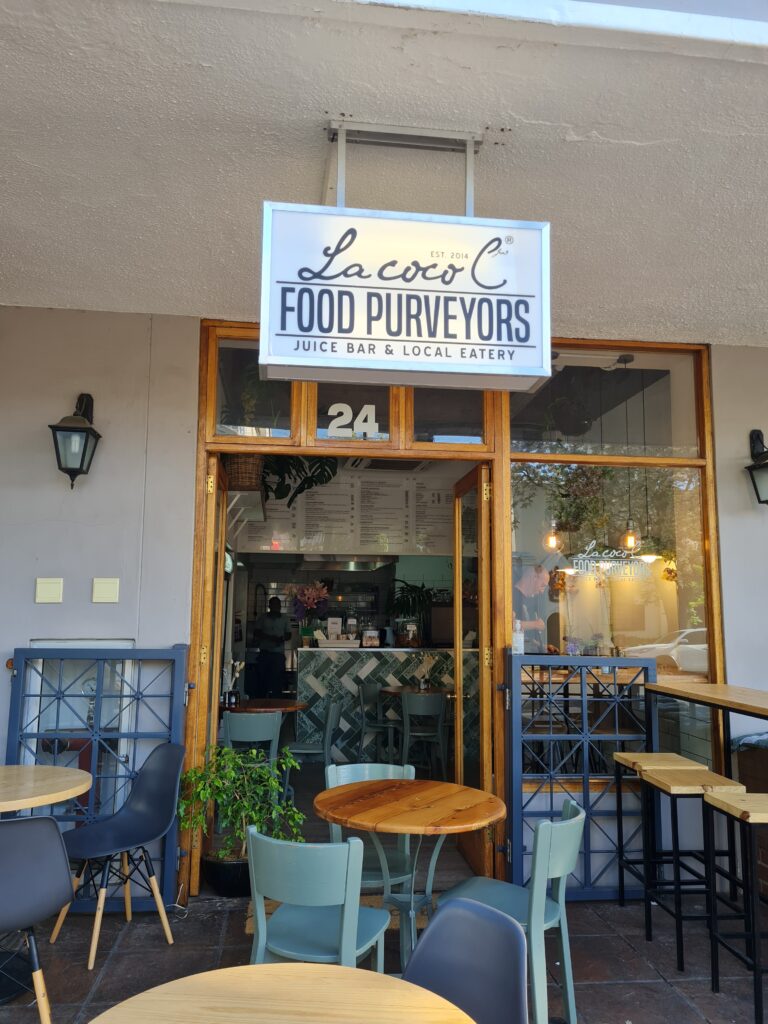 Next is La Coco C Food Purveyors on Plein Street: a quaint, health-oriented restaurant with a range of vegan and vegetarian meals on their menu.
Meg Siddle, a fourth-year BAcc student, tells Die Matie, "La Coco C is by far the best place I've been to in Stellies. They are not only conscious in providing plant-based food, but their whole ethos is environmentally conscious."
With their servings of various bowls, curries, salads, the tastiest brownies, and vegan nachos, La Coco C's manager, Kirsten De Wet, says, "Our mission is to provide quality food and beverage products, as well as meeting and exceeding the diverse nutritional needs of our customers. We aim to create a sense of community around what we serve by offering an extraordinary health experience."
Juvenate Conscious Eatery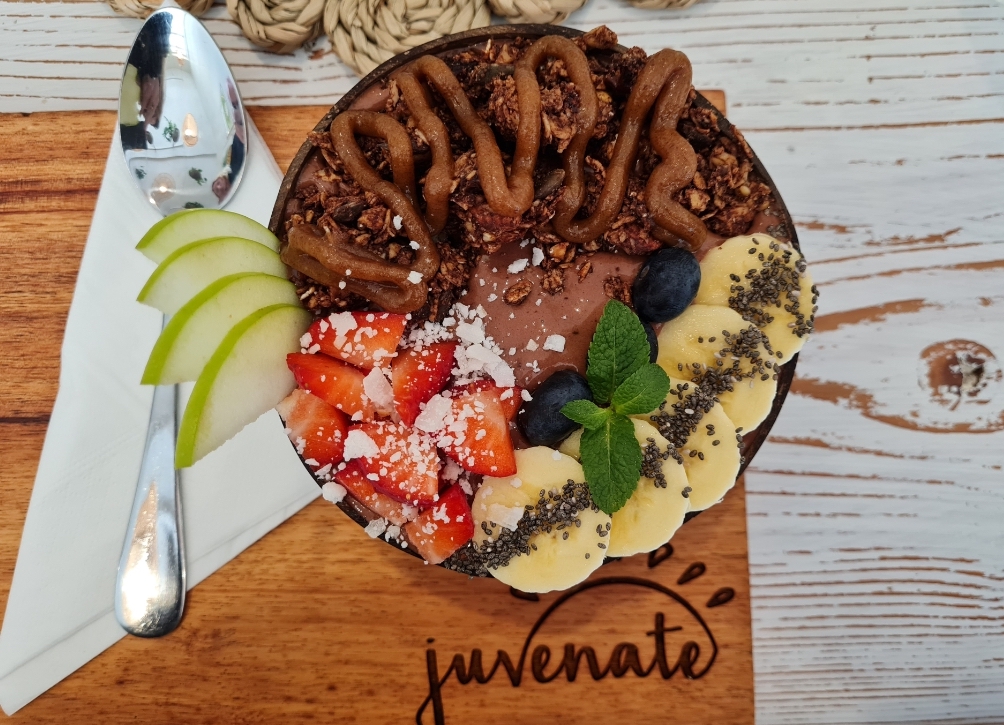 One of the favourite places amongst vegan students in Stellenbosch is Juvenate Conscious Eatery on Dorp Street. Their menu is 100% vegan, and the place itself is vibrant and clean, and always has good music. With smoothie bowls, great coffees, wraps, juices, and so much more, students are guaranteed to leave feeling nourished and rejuvenated.
"My experience of Juvenate was awesome and showed me how easy and delicious vegan food can be," says Bianca Mairs, a first-year BSc (Biodiversity and Ecology) student.
"As our slogan goes, 'living consciously', our aim is to normalise healthy food choices and really educate people that plant-based meals can be delicious without the use of animal products," says the owner and founder of Juvenate, Chanel Carstens. "It's all about being conscious … of what goes into your body and where it comes from."
Best Vegan Burger: Stud and Hudsons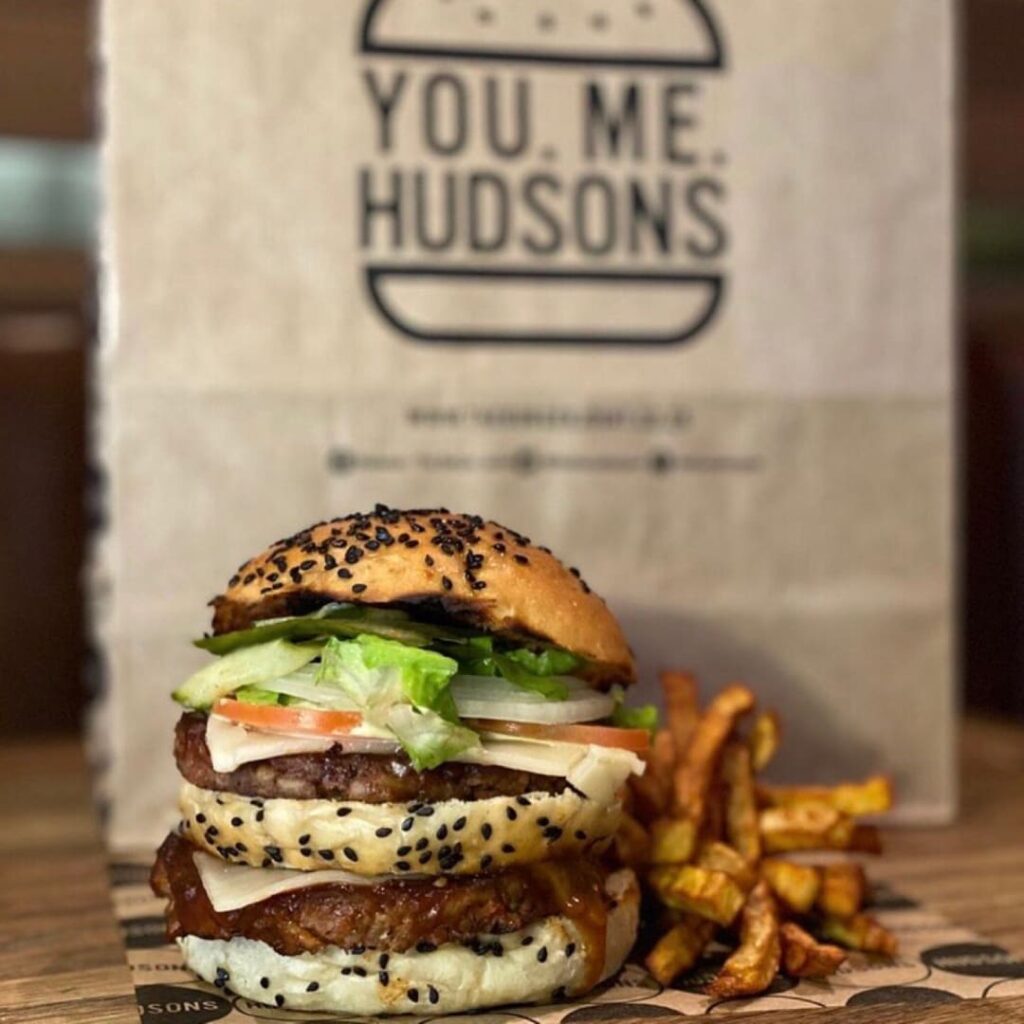 A question amongst Stellenbosch students who are interested in the lifestyle remains: What is the best vegan burger in Stellenbosch?
Stud, on Plein Street, comes highly recommended. Whilst they only have one vegan burger, the patty is remarkable, being made from natural pea protein and vegetable fat. Topped with pickles, vegan cheese and onion, it is definitely worth the try.
Hudsons, on Dorp Street, has six vegan burgers with various toppings and patties, from pea-protein-based to mushroom-based patties, and toppings such as caramelised onions and guacamole. Some of the vegan burgers are half-price on Mondays! They also make wonderful oreo and strawberry candy floss vegan milkshakes.
As interest in vegan food increases amongst students, the demand for vegan food in Stellenbosch is on the rise. Any of these restaurants would be a great place to start for anyone interested in trying the vegan options available to them, even if it is just for the sake of trying something new rather than switching to a vegan lifestyle.