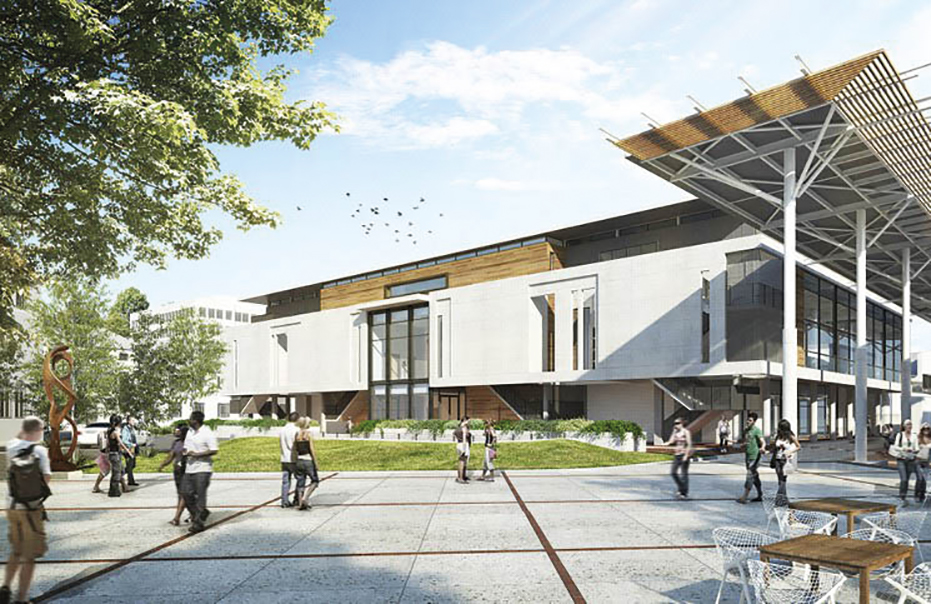 Smart centre finished in 2020
CATHARINA VAN DER MESCHT
THE CONSTRUCTION of Stel­lenbosch University's (SU) new building, the Jan Mouton Learning and Teaching Centre, is scheduled for completion in the first half of 2020.
Professor Stan du Plessis, SU's Chief Operating Officer, said the construction of the Centre start­ed "on 1 November 2017 after SU approved the construction of the new Jan Mouton Learning Centre in September that year. An initial planned completion and occupa­tion date of 20 January 2020 was agreed upon."
According to Du Plessis, "Group Five Construction, the main contractor, notified SU on 12 March 2019 that their company would be placed under business rescue". This apparently caused "severe delays on the project and two full months were lost relative to the original project plan". Oc­cupation of the building is now planned for the start of the second semester (July) of 2020.
Situated between the Neelsie Student Centre and the Polymer Science Building, the Jan Mouton Learning Centre will allegedly be a sustainable building with a low-carbon footprint.
According to Martin Viljoen, SU spokesperson, the building will include a greywater system that will serve the ablutions. The infrastructure will also be readied for a future photovoltaic roof panel installation, while rain and groundwater will be collected and stored. It will include an atrium and terraced seating, with group-work classrooms respectively seating 350, 270 and 150, a gather-and-share communal space, an undercover walkway that will link the centre with other campus buildings and a restaurant.
"The building will be a state-of-the-art learning facility for stu­dents with 2 large lecture halls on the ground level and 2 large audi­toriums on the second floor.
This additional lecture hall ca­pacity will address the need for additional large lecture hall ca­pacity and create spare capacity so that Facilities Management and IT can renovate existing lecture facili­ties," Viljoen said.
He added that "there will be 130 parking areas available to re­place the original parking area at the Neelsie. 99 of the spaces will be in the basement and 30 outside. This includes delivery parking for ground level and base­ment deliveries."
The funds for the project were acquired in 2016 via a donation of R50 million by Jannie Mouton, SU alumnus and founder of PSG, a financial services group. The De­partment of Higher Education and SU also contributed to funding the project. "I believe in making a positive difference in society to the benefit of our future generations and this is how I do it.
For me, this donation is more than an investment in a contempo­rary learning space that will enrich the learning experiences of our students. This is an investment in the future and the continued excel­lence of Stellenbosch University as a world-class institution of higher learning," Mouton said to a SU representative.