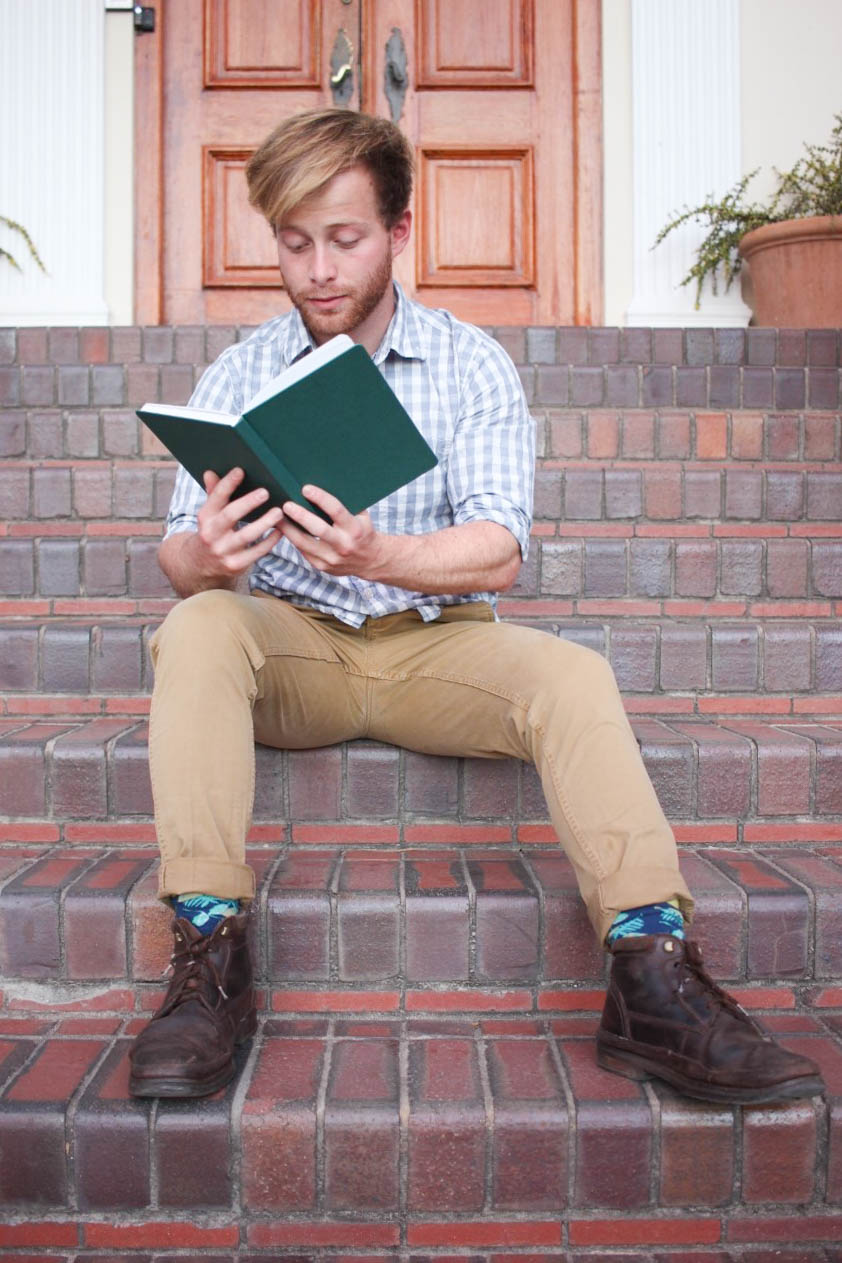 Willow-Ruby van der Berg spoke to James Smith about his business, Amano, which makes appealing and affordable environmentally-friendly notebooks.
Eco-anxiety is starting to take over our lives with the majority of the news that we consume featuring the ever-increasing temperatures, threatened ecosystems and dread­ful reports about the Amazon. Internationally, school children and university students have put their education on hold in order to stand up against this tragic en­vironmental problem that faces us all.
A final-year BA Humanities student from Stellenbosch Uni­versity, James Smith, is also tak­ing a stance against this problem and inspires hope through his notebook business called Amano. Amano was launched last year and sells notebooks that are 100% sustainable and affordable.
"Last year I hand bound a notebook as a gift for a friend. I really enjoyed the whole process and started to experiment with different binds and materials. I decided that it would be a really fun way to make some extra cash so I built a website and started selling the notebooks online and people were really interested from the start. I was very conscious about the negative environmental stigma around paper notebooks, so I sourced 100% recycled paper to ensure that the notebooks were as environmentally friendly as possible. Of course, I could have made more money by using unsustainable materials, but caring for the environment has been the core of Amano from the beginning, and always will be. I want to show people that environmentally friendly products can be beautiful and affordable," explained Smith.
Many are under the impression that environmental­ly-friendly products are more ex­pensive and not necessarily as aesthetically pleasing, but Smith has shown us that it is possible to have notebooks that are afforda­ble, sustainable and appealing.
A new addition to his range are notebooks that have cover pages made from Bier Paper, which is made from old beer labels, is already a favourite amongst many students on campus.
Smith has some Italian and Maltese heritage and this shows in the name Amano which is a contraction of the Italian phrase "a mano" which means "by hand".
"I was in Italy when I decided that I really wanted to make a busi­ness out of my bookbinding so it just made sense at the time. Amano doesn't hand bind the notebooks anymore as I simply couldn't keep up with the demand, but the legacy of being handmade and personal remains. The name means a lot to me as it shows how far the business has come in such a short time," Smith elaborated.
Smith also mentioned how Amano has grown over the past year. "It has gone from a hobby that made me a little bit of extra cash to a fully-fledged business. These days we produce both soft­covers and hardcovers that are both as environmentally friendly. The notebook style has changed and I am loving the new look with rounded corners and neat stitch­ing. Amano launched a new web­site last week, all of our books are available for online purchase using card payments and we ship the notebooks to your door anywhere in the country. I see Amano as a totally new company than what it was earlier this year, but the mission of environmental sustain­ability has remained. It has been amazing to see the support for eco-friendly products recently, I am glad Amano has risen to the oc­casion and is now more eco-friend­ly than ever before."
Amano is an innovative lo­cal business that focuses on sus­tainability and also supports other local businesses through­out its production line. By doing so it not only makes use of environmentally-friendly ma­terials but it also reduces car­bon emissions. Smith also gave us a breakdown of exactly how Amano is sustainable and making a difference.
To Smith's knowledge, Amano notebooks are the most environmentally friendly notebooks available in South Africa, and possibly in the world. All their writing paper is 100% recycled and is certified by Blue Angel, FSC and Eu Ecolabel as being environmentally sustainable.
Their cover papers are each eco-friendly in their own right and range from produced using 100% post-consumer waste to paper made using only wind-power and old beer labels.
The thread that is used to bind the notebooks is made in Cape Town by a carbon offset factory that runs on 30% solar power.
"Our books are bound in Cape Town by a fully black-owned busi­ness that meets the Empowerment Index prescribed by the South Af­rican Department of Labour. Every consideration has been taken into account to ensure that Amano notebooks are as environmentally and socially sustainable as pos­sible, and this will always be the case," said Smith.
Amano has managed to pro­duce these eco-friendly notebooks, whilst keeping their prices afforda­ble for students as well as drasti­cally lower than their competitors in the luxury notebook industry.
"I want to prove that environ­mentally friendly products can be better quality and more afforda­ble than their environmentally damaging competitors', currently we are achieving this and it will only get better from here," said Smith.
It also does not stop here for Smith as he plans to take Ama­no even further. James has plans to make the notebooks a globally recognised eco-friendly product. He is in the process of making the books available for purchase inter­nationally, which should be organ­ised by Christmas this year.
Locally, James is in discussions with Shop Zero in Cape Town and the online store Faithful to Nature – Amano notebooks will be availa­ble on their shelves soon.
"I am also going to start a publishing division of Amano next year, this will work as a platform for local writers and artists to get their work published in an environmentally ethical way, and without the red-tape of going through a corporate publishing house. I hope this will especially encourage South African students to share their writing and tackle environmental and social themes," said Smith.
Like Smith, each of us is responsible and able to make a difference in order to help our environment. Smith believes that if we do it out of a place of love then we will be able to make the changes that are necessary to help reduce the negative impact on our environment.
Smith elaborates on this point by stressing that we need to think of the bigger picture when it comes to environmentalism.
"There are many big and small things we can all do to curb the environmental crisis. I believe that the best eco-tip is just think. We need to just think about our actions and the greater impact they have on the environment, as we of­ten forget the choices we have in our daily lives. It shouldn't be a case of "do Nike or Adidas have more sustainable shoes" it should be "do I really need a new pair of shoes? Could I simply get mine re­paired?"
"I also think that eating more vegetarian meals is a great way to be environmentally conscious. We need to eat every day, so en­suring that we eat a few meat­less meals every week has a positive long-term environmen­tal impact, and it's easy to find delicious vegetarian meals online."
This goes to show that there is no need to lose hope in this battle. Smith is truly making a difference one notebook at a time. Check out their website at www.amanobooks.org.