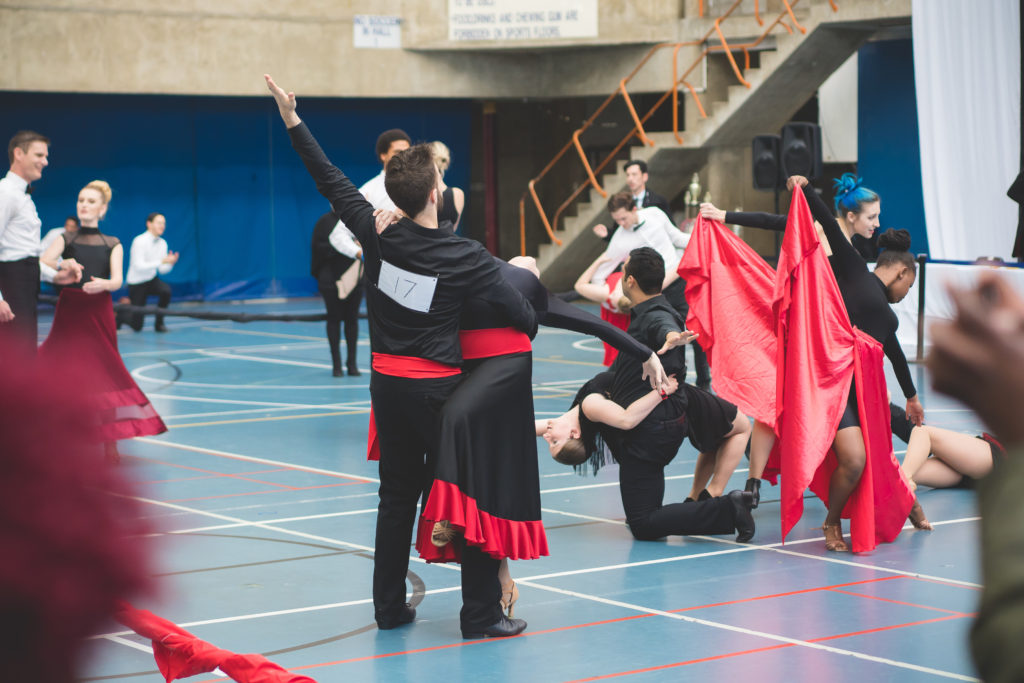 Maties waltzing their way to victory
LAUREN WESLEY-SMITH
LAST Saturday saw the Maties Ballroom and Latin Dance Society (MBLDS) dance their way to victory at this year's Intervarsity (IV) Ballroom and Latin Dance competition.
This year, Stellenbosch competed against the University of Cape Town (UCT), Nelson Mandela University (NMU), and the University of Pretoria (TUKS) at UCT's Sports complex. The event was comprised of 22 categories, with levels ranging from beginner to championship; as well as several categories open to all levels, a team category, and a formation category.
Maties were crowned overall victors for the second year in a row, with UCT as runner-up. MBLDS placed second in the team event, second in the Formation event, as well as winning gold, silver, and bronze medals across many categories. "This is our only competitive event, so it is very important," said Khaila Naude, the chairman of MBLDS.
According to Naude, the society's large size is a key factor in its success: while the dance societies in most other universities average approximately 150 members, Stellenbosch University's society boasts almost 600 members.
Another contributor to Maties' success is the society's coach, Gladys Bullock. As the Chairman of the Board of Adjudicators, Bullock is, in accordance with the South African Dance Teachers Association (SADTA) syllabus, the most qualified dance coach in the entirety of South Africa.
In addition to their other achievements, Maties also won the Spirit Cup for the second year in a row, for their enthusiasm and cheering throughout the day. "I'm exceptionally proud of the society winning the Spirit Cup. In my eyes, that's the most important achievement we could have, simply because it really emanates the attitude we as a society have: one of family, of camaraderie, one of encouragement, and just the joy of dancing. Winning this award highlights how much we enjoy dancing, and how proud we are of our society, and of each other in all our accomplishments," Naude said.
According to Herman Van Staden, a Maties finalist in the beginner Latin category, the support from the sidelines was a definite boon, "I believe the support we got from all of the dancers and the few people that came to support us from Maties helped some of our LAUREN WESLEY-SMITH more apt dancers, resulting in us winning – which was awesome!"
Overall, this year's Intervarsity appears to have been a success for MBLDS, "I think the only thing I could say is I'm exceptionally proud of all of our dancers. They've been training so hard over the last few weeks to work on their technique, to work on their showmanship, and I feel like the spirit on the day was absolutely lovely. So I'm very proud of everything everyone's put in to make it possible, and for our participation in Intervarsity." concluded Naude.
"Maties will definitely keep competing in Intervarsity: it is an exceptional experience, something our dancers thoroughly enjoy, something we can work towards every year, and something that helps maintain and ensure that we dance with a competitive standard, so we want to definitely keep doing that."