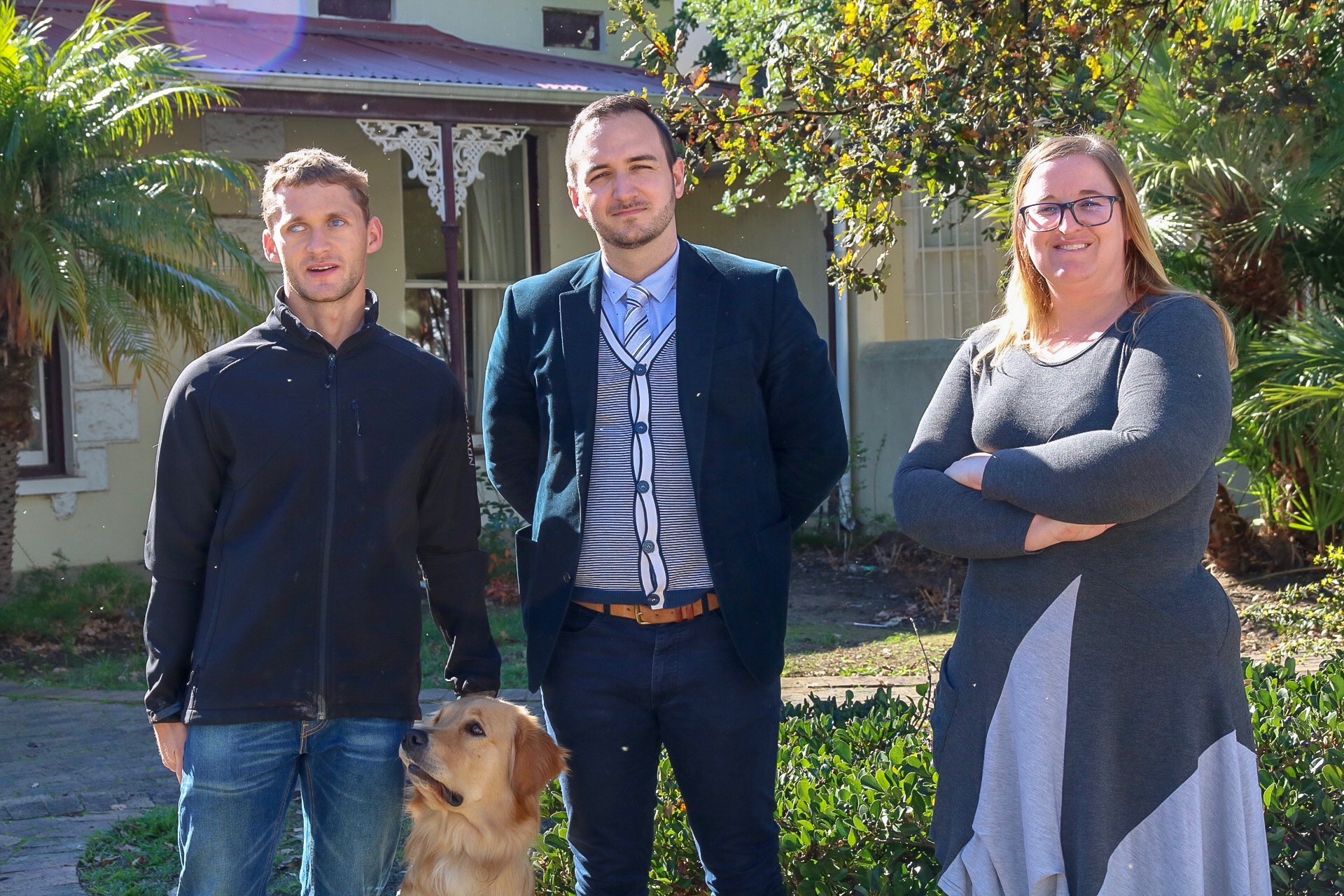 SU student sues for 'discrimination'
Dané Dooge 
Hendri Herbst, a master's law student and SA Paralympic swimmer is being represented by Stellenbosch University's (SU) Legal Aid Clinic in a case of alleged discrimination.
Herbst alleged that on 30 December 2014 he and his girlfriend's (at the time) family wanted to have lunch at Durbanville Hills Winery when the hostess of the restaurant refused to let Herbst dine inside due to their policy disallowing dogs in the restaurant. According to Herbst, he attempted to explain to the hostess that his dog was not merely a pet, but emphasised that it is a guide dog. The hostess reportedly claimed that she was aware that his dog is a guide dog, but that the restaurant's policy prohibits the entry of dogs into the restaurant.
Herbst said that when he wanted to speak to the manager, the hostess said it would not be possible and they would have to sit outside.
"Towards the end, I asked the hostess if I could use the restroom [and] she stated that I can only use the restroom if someone else escorts me. My guide dog was not allowed to escort me. We ended up going to another place and, ironically, they were fine with my guide dog. They even offered some water for my guide dog. It just shows you that it is not all places [that prohibit dogs], and therefore it is unacceptable that some places can get it right and other places get it horribly wrong.
"You and your dog are an entity, you cannot be separated. My 'eyes' have a wet nose. It is similar to saying to someone with a wheelchair that 'you cannot come inside, you have to leave you wheelchair outside'," said Herbst.
"The message they are sending is that you are not worthy of going into their institution, regardless of on what grounds it is. This affects your human dignity and your worth. It is embarrassing not only for yourself, but also for friends and family, because they are also subjected to the whole uncomfortable situation," Herbst said.
"We have to do something to actually change this trend of instances. That was the reason I pursued legal action. This is not just about me, it affects everyone else who uses guide dogs. Everyone I know who uses a guide dog has experienced something similar on numerous occasions. We are fighting to be treated equally. You are guaranteed the right to equality in the Constitution, but when it comes to the implementation thereof it is completely lacking and is a fallacy on paper. We are not asking to be treated differently. We just don't want to worry if we want a bite to eat and have to wonder about access issues."
According to Durbanville Hills, Herbst's claim has prescribed and they did not unfairly discriminate against Herbst. Dennis Matsane, Communications Officer of Durbanville Hills, said the matter
between Herbst and Durbanville Hills is currently before the Equality Court where the parties' allegations and arguments will be fully dealt with.
"Durbanville Hills however points out that the press statement (made by the Legal Aid Clinic on 10 May) does not properly record Durbanville Hills' position in respect to the matter. Although Durbanville Hills argues that any claim of Mr Herbst, would have prescribed as the result of the operation of the Prescription Act, it also disputes that it unfairly discriminated against Mr Herbst. Durbanville Hills denies that any of its employees during December 2014 refused Mr Herbst and his family a table at its restaurant on the basis that the winemaker's policy does not allow dogs in the restaurant or refused him access due to the fact that his guide dog was with him. Durbanville Hills further denies that Mr Herbst was refused the use of the restaurant's toilet facilities unless a male member of his party (and not his guide dog) accompanied him.
"It is Durbanville Hills' policy that blind persons and their guide dogs are welcome to visit any part of the public areas of the cellar, the tasting room and restaurant. Durbanville Hills' building is also equipped with ramps and a lift in order to accommodate persons in wheelchairs. As a company, Durbanville Hills respects diversity and is committed to treating everyone in a way that ensures that every person's human rights are respected."
According to Dr Theo Broodryk, head of the Legal Aid Clinic, the nature of the issue is one of discrimination against people with disabilities.
"Specifically in this case, discriminating against a blind person who needs his guide dog to navigate is something that occurs on a daily basis. We took on this matter because we feel that it is an important issue that not only speaks to the need of our client, but speaks to the broader community for individuals in a similar position, who may not necessarily have access to legal resources to litigate. We want to attempt to create precedent to deal with this situation," Broodryk said.
"If we get a favourable ruling, it will be impermissible and unlawful to discriminate against a person with a guide dog. It will send a strong message to the public at large that there will be no basis to discriminate against someone in the presence of his guide dog."
Attorney of the Legal Aid Clinic, Monja Posthumus-Meyjes, stated that South Africa doesn't currently have any legislation that is specifically aimed at protecting people with disabilities in their day-to-day activities.
"There is a great need to develop the law to ensure that people with disabilities have access to sufficient protection."
According to Herbst a date for a directions (preliminary) hearing is not set yet. The matter will be set down in front of Judge Ndita for the hearing before the trial takes place.
Photo: Sindiso Dube