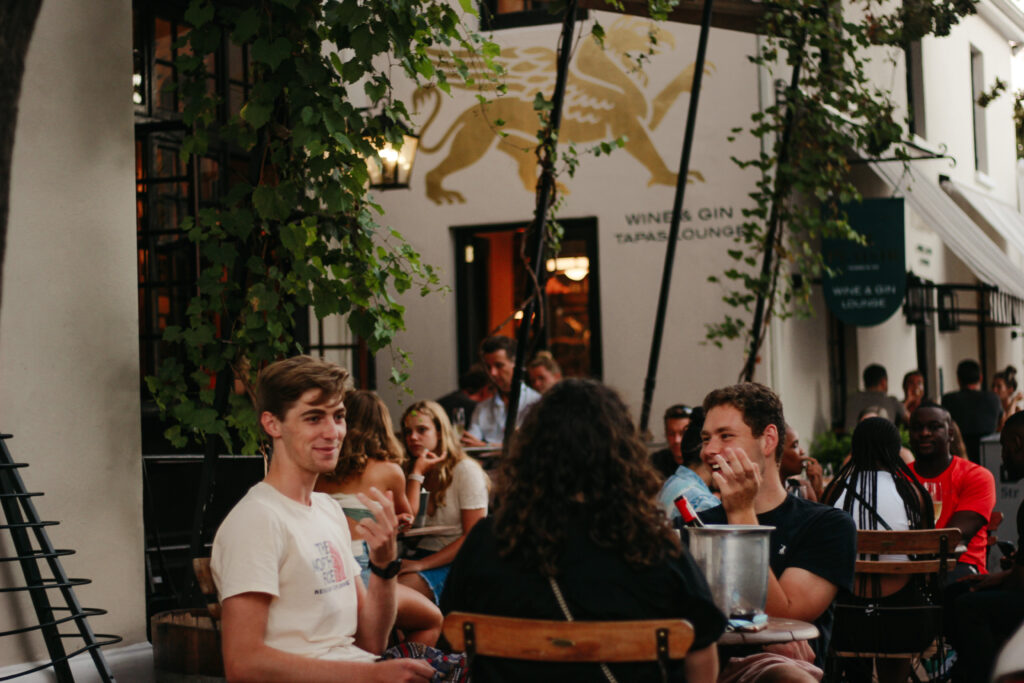 Vino-lovers Can Now Enjoy New Varieties
BY JEAN-MARIE UYS
It is no secret that wine culture has long been an integral part of the Stellenbosch experience. The charming streets of the old town welcomed new hangouts to indulge in a glass (or a few) at the beginning of this year, such as Qbar Wine Bar, The Stellenbosch Wine Bar and The Wine Glass Stellenbosch.
Qbar Wine Bar
De Wet ­Centre Courtyard, Church Street
Hidden in the De Wet Square courtyard with an atmosphere reminiscent of Europe, vino-lovers can relax in all that is green and gold at Qbar Wine Bar. The bar was opened on 23 December with the aim of bringing the tastes of Quoin Rock Wine Estate and the Knorhoek Valley to town.
The wine bar's selection includes, but is not limited to, multi-award-winning Namysto Shiraz Cabernet Sauvignon, Quoin Rock Black Series Méthode Cap Classique (MCC), and Knorhoek Chenin Blanc.
Qbar also offers Knorhoek's pink and clear craft gins for the not-so-vino-lovers. These can be enjoyed as is or as part of one of their unique cocktails.
The Stellenbosch Wine Bar
Church Street
Owner of Guardian Peak and Rust and Vrede wines Jean Engelbrecht opened The Stellenbosch Wine Bar's doors last year on 15 December.
"We only serve wine, water and coffee, so our main focus is our wine [which] is our owner's portfolio wines. All of the wines that we serve here are specifically Jean Engelbrecht['s] wines, and that's also quite a niche," said Christine Stapelberg, assistant manager at The Stellenbosch Wine Bar.
Stapelberg further explains how the bar is 100% European, an element that is apparent from the space's design to the food presentation.
"There are quite a few [wine bars] that just opened up as well, but I think for us it's just that we have excellent service. We've got great wines and great food here," said Stapelberg.
The Wine Glass ­Stellen­bosch­­
Ryneveld Street
With branches both in Hermanus and (since 1 February) Stellenbosch, The Wine Glass takes pride in offering a wide variety of local award-winning wines, bubbly and beers.
The Wine Glass Stellenbosch is a third-party restaurant considered to be a "varietal wine farm representative of the Stellenbosch terroir as well as the Stellenbosch wine region," said Greg Lorimer, front-of-house manager of the restaurant.
"You can classify [our food] as Mediterranean. We've got oysters as well as steaks and everything with a Mediterranean undertone," said Lorimer. Patrons can also enjoy tapas, chef plates, main courses at lunch and dinner, as well as varietal tastings ranging from premium to entry-level options.
"Towards the beginning of March we'll open for breakfast as well," said Lorimer.